Hello, parents and teachers! Welcome to my first review post with Mister Maker Craft box! If you love crafting, then you will be thrilled to receive crafting boxes right to your door!
We tested Toucan Box, so I thought – why not try this craft box as well? Mister Maker is interesting because I believe that his name makes him more interesting to boys.
He is the creator of many craft videos (check out some videos HERE), and he has pared with Toucan Box to create his own crafting box. The first box is free, you should only pay shipping.
This is the box and the contents inside:
The box has the child name printed on the cover, just like the Toucan Box.
It is a tad smaller and has 1 craft inside. The activity book was ok, but nothing special. It is appropriate for 3-4 year-olds. The colors were vibrant and the quality of the printed paper was great, but the content of the activity book seemed as if it was made in a hurry.
I wish they put a labyrinth, a puzzle or maybe a word search inside. A story about the puppets or dialogue to follow with the finished product would also be a nice touch.
Craft materials
As for the craft materials, I have to admit that I am disappointed by the box. The craft materials were so thin and the socks snapped during the puppet making, even though we were very careful. We got two cute stickers and 2 coupons for 50% for 2 new subscribers.
The other sticky parts for the puppet were good and there were a lot of them, so we can use them for another craft. This part of the box was good and they had good quality as well. The eyes for the puppet kept falling off and their back was not sticky enough, so we needed to add glue.
One thing that I like is that the box opens and gives you a picture frame with a nice design, and sturdy cardboard, so you can actually reuse the box.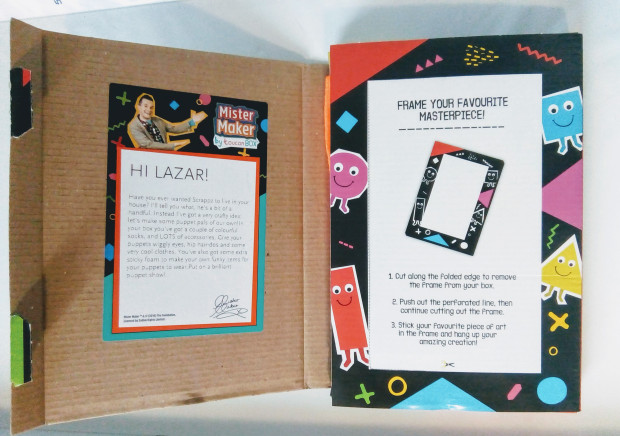 Finally, here are our puppets. They look pretty nice, and it was fun making them.
All in all, I am not quite pleased with this box. The shipping was around 7 pounds for 2 boxes and I don't think it was worth it. We ordered 2 boxes for different ages (3 and 7), for our neighbor, and we got exactly the same boxes! If you are interested in affordable craft boxes, Toucan Box would be a better choice. Let me know what you think of in the comments Mister Maker review. Would you order the Mister Maker craft box?