We all know that our children have too much screen time. Luckily, there are many things that we can avoid nowadays. One of them is fun, full of content, and jolly podcasts made by children or adults for children!
You can use them with your children and with the kids at school as well – the kids will be entertained, and they will learn seamlessly since peer learning is a very effective learning method. In addition, they will practice their listening skills and comprehension while they acquire new content seamlessly. The post is separated into science podcasts, story podcasts, arts and culture, and current events.
Let's dive into the fun world of podcasts for children with this amazing list!
An NPR children's podcast is about science and technology. Hosts Mindy Thomas and Guy Raz (from TED Radio Hour and How I Built This) are exploring things, along with sound effects.
For Ages: 6–12
Average Length: 25 minutes
American Public Media's podcast Brains On talks about one complex topic in each episode. How do instruments work? What are chameleons? Children join interviews with experts in the field to answer these questions and more.
For Ages: 10+
Average Length: 30 minutes
Shabam combines scientific facts with a fictional story to create a fun adventure. Mel is an emergency room doctor, and he works with a group of intelligent and curious children after a pandemic begins. The podcast is similar to the Magic School Bus cartoon.
For Ages: 8–12
Average Length: 30 minutes
Random questions made by children answered by experts! As fun as it can be!
For Ages: 7–10
Average Length: 25 minutes
Seven-year-old Nate explores the science and various interesting topics with the help of an adult. Interesting and colorful!
For Ages: 6–8
Average Length: 15 minutes
This podcast has a different approach – it helps kids understand basic science, and they also try to make them understand how science works — and that it can't answer every question.
For Ages: 5–10
Average Length: 15 minutes
STORY PODCASTS for children
Are you bored with conventional stories? These stories offer fun characters, and they are great alternatives to movies and books. Great for falling asleep.
The stories usually turn into a great, fabulous, long tale, and the children love it!
For Ages: 3–8
Average Length: Varies significantly by episode
This podcast creates dramatizations of various stories told by a child author.
For Ages: 3–8
Average Length: 10 minutes
The Adventures of Superman was created in the 1940s, and it was a very popular radio drama. Now it is back in motion, and the whole family can listen to it! It has over 300 episodes released so far.
For Ages: 7+
Average Length: 15 minutes
Story Nory has a library with online books, songs, and podcasts. Some of them are modern, and some are traditional. They also have many themed posts (Christmas, Halloween, etc.), and they include content from a lot of different cultures.
For Ages: 3–8
Average Length: 5 minutes
ARTS AND CULTURE PODCASTS for children
This podcast tells you a story behind well-known pieces of music. It mentions interesting facts about the composers, and each composes a few episodes. A great way to get introduced to classical music!
For Ages: 5–10
Average Length: 6 minutes
If your child likes discussing, then this is a post for you. Each podcast has a part where a child expresses its opinion about a book, an interview with the book author, and a famous actor reads a part of the story.
For Ages: 8–12
Average Length: 20 minutes
Done in the style of old-time radio, this podcast features characters who interact with important historical figures with a slight tone of comedy.
For Ages: 8+
Average Length: 5 minutes
An amazing podcast! It covers so much historical information in such a short time. The children will love it and learn so many things!
For Ages: 7–12
Average Length: 30 minutes
CURRENT EVENTS
A crazy podcast with a lot of moral dilemmas! Is Dumbledore as good as he seems? Do you need to love your siblings? This podcast covers so many various topics, and there is a list with questions so that you can continue the discussion with your family!
For Ages: 7+
Average Length: 25 minutes
A daughter and a mom interview all kinds of interesting people! You will hear about many different occupations, and the listeners are welcome to join in the live podcast!
For Ages: 6+
Average Length: 20 minutes
JoJo Story Podcast is filled with stories and rhymes for ages 3-6 years. In addition, each podcast has a story starter for children to make up their own tales! This is a live audio writing prompt podcast for children, and it can spark their imagination with great sound effects and step-by-step writing guidance.
For Ages: 3-6
Average Length: 5 minutes
What do you think about this podcast list for children at home and in the classroom? Tell me about it in the comments or via the contact page!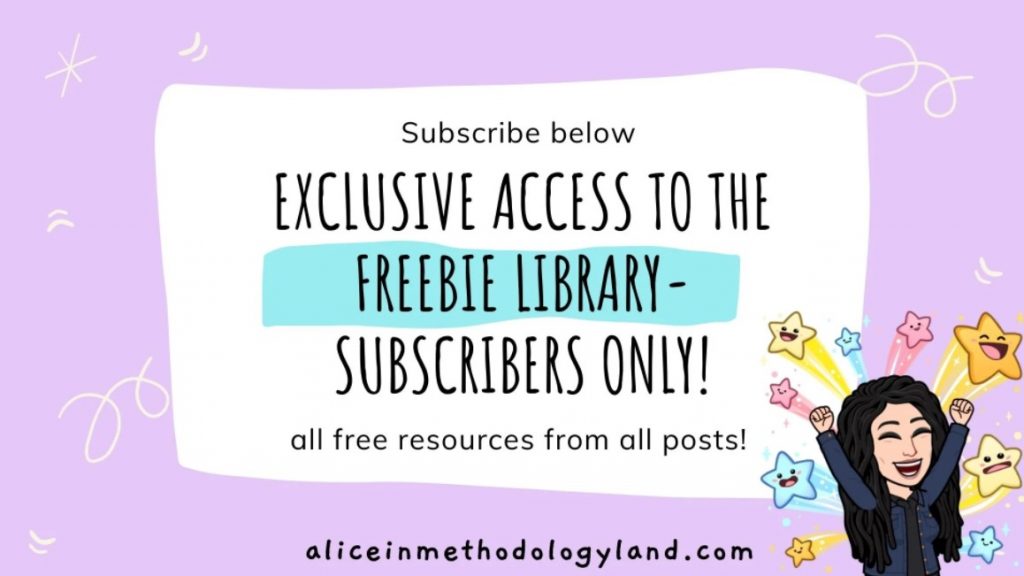 Click here to explore my store where 99% of materials are forever free!
All the materials except lesson plans and 30+ page interactive activity books will be free FOREVER! Why? Because sharing is caring, and 2020 hasn't been kind to all of us. Please consider donating so I can keep making FREE materials for everyone and keep my website open for all of you.

Don't forget to leave a review when you download materials! It's just a minute of your time, and it means a lot to me.
P.S. The store and the freebie library are not the same thing – the freebie library has some extra materials like conference presentations and webinar recordings which are not available in the store ✨
The subscription link for the store is below my bio in every post. ?