Take a stroll through our free storytelling workshop gallery
Our program with free storytelling workshops for children is conducted face-to-face in Cultural Station Barka in Novi Sad, Serbia by Milica Alice. The program is supported by Womple Studios, who are donating their amazing Womple boxes for our program. The cultural station is located in Klisa, an economically underprivileged suburb in Novi Sad, and the goal is to learn English together through interculturalism, arts and crafts, and engineering/building.
How are the free workshops for children organized?
Group organization – number and age
The group cannot have more than 15 children because of space limitations and quality of work.
The children in the group will not change since they make an 'informal' class. Despite this being a program in an informal learning society, language learning requires structure and reusing the vocabulary in context. If the group members keep changing, we will see no progress in language acquisition. Also, the play, the communication, and collaboration in the class develop with every workshop we have.
Language level and age – The children in the group have to possess basic literacy skills. To participate in the program, they have to had studied English in school for at least two years to achieve fluency needed to use and understand the books we have in the program. We can take into consideration children from the 2nd, 3rd, and 4th grades.
Organized with the support of
The local Cultural Center Barka or KC Barka kindly gave the space for the program. Womple Studios was kind enough to gift their educational boxes and support our program, and we're very happy to bring the joy of uncovering a new country each time through unboxing.
Cultural Station Barka, Novi Sad, Serbia
The workshops are done in the facilities of the Cultural Station Barka, a cultural center in Novi Sad, built during the program Novi Sad – European Capital of Culture.
About Womple box and Womple Studios
What is Womple box all about?
Womple is an amazing educational box that takes children around the world in order to explore different countries and cultures. Each box has materials for two country-related crafts, some of which can include art and some include engineering and building. We especially love the addition of stickers, huge informational posters, and a chapter book about Womple's adventures from various countries. The crafts have detailed instruction posters, so for us, this is another chance to practice English by following and decoding instructions.
Womple: Chief Travel Officer
Each country is followed by Womple, our amazing CTO – Chief Travel Officer! Womple is our dear plushy friend present in each workshop, and he is our guide to all these amazing cultures, countries, and languages. We will reveal a bit more about Womple in each workshop so you can follow our journey around the world to see what will happen next!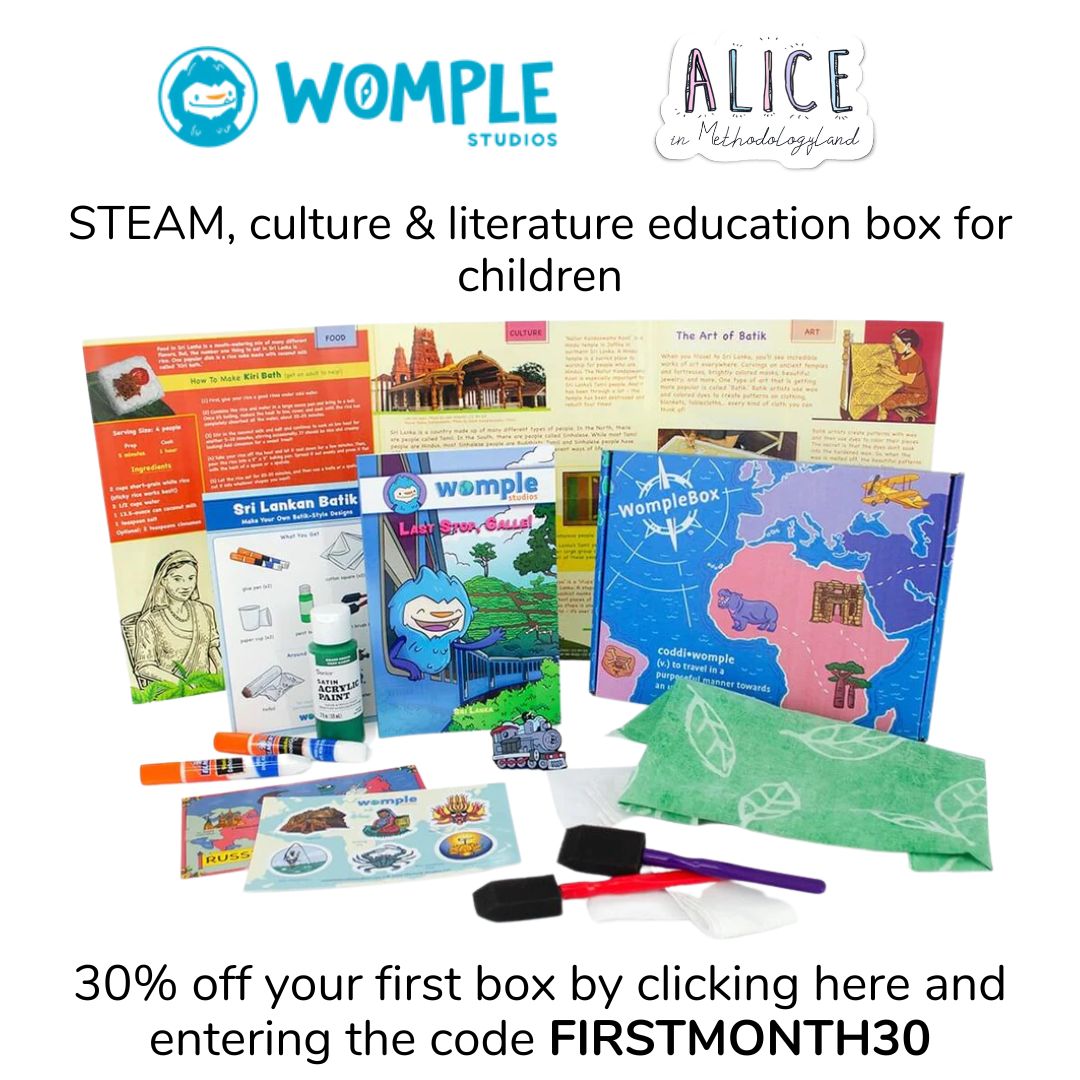 A small peak into our culture and STEAM program
How are the workshops structured?
The general structure of the workshop
1st hour of the workshop – exploring the Womple box, analyzing the country map, language, and culture, and learning more about it through discussion, reading, and research.
2nd hour of the workshop – crafting workshop with recyclable materials connected with the country we are visiting at the moment. to review the motives through practical activities. Activities can be anything from art to science and engineering, all exploring the beauty of another country's culture.
The end of the program
The end of the culture & STEAM program will have an exhibition where we can share all of the artwork and structures from different cultures the children designed during the program. They will be featured through 12 countries, along with Womple country maps!
What are the curriculum outcomes?
The program focuses on learning English through literature, travel & science. Each workshop has a dedicated book from a country we visit, where we follow our main character Womple on his travels. The science focus is present through exploring different phenomena from different countries (from the animal to the human world) and engineering (building various structures from cardboard and wood.)
The overall aims of the program include the following:
Vocabulary acquisition through play,
Developing awareness about other countries and cultures,
STEAM – using science, technology, engineering, art, and mathematics (primary school level),
21st-century skills – communication, collaboration, creativity, critical thinking,
Dramatic activities – gross motor skills (body movements) and gesticulation (facial expressions),
Crafting – workshops with the book theme and fine motor skills development (using fingers).
Detailed summaries with activities of example workshops

If you are a company or an organization looking to give back, consider being a donor to our face-to-face program for children and help us keep it free and running or help us design a new free program for children!