In this post, I will describe a WebQuest example I created for the Granny Cloud in Genial.ly. You may wonder what the Granny Cloud is?
Every child and every classroom is a story in itself, but the Granny Cloud is even more special because you can volunteer and join a virtual classroom no matter where you are. We, grannies, are there to support and guide the children through self-discovery, and we do not do any teaching. There is no curriculum, and you do not have to be a teacher to become a granny- you need to have the proper equipment for video chats, some free time, and a lot of love for children! Every center is different, but all the granny sessions have the same goals:
The Granny Cloud session goals
What is a WebQuest?
A WebQuest emphasizes higher-order thinking, such as creative and critical thinking, rather than just acquiring information.
It teaches children to collaborate, communicate, and brainstorm together. It also develops their visual skills by making them identify certain objects, photos, and links quickly. Ultimately, WebQuest promotes media literacy and the ability to recognize fake information online while working on technical information, communication, collaboration, creativity, critical thinking, and problem-solving skills. (Van Laar et al., 2017).
How to create a WebQuest?
A WebQuest has 5 essential parts: introduction, task, process, resources, evaluation, and conclusion. Make sure that the children understand what is expected of them before you start your quest. Then, start from the top and try to observe the quest from the children's perspective.
Select the topic you want to cover.
Test the online tools you want to use.
Select the websites you want to visit.
Make a storyline/list and follow it.
Create videos and additional materials if necessary. Use Video Scribe for sketchnoting, Bandicam for recording your screen or a simple online webcam recorder.
Start putting together your materials.
Go through all the materials when you finish. Check if everything is working properly and that's it!
Your WebQuest is ready!
Genial.ly – an interactive gaming and presentation tool for this WebQuest example
Genial.ly is officially my favorite educational tool, next to Padlet, Edmodo, and Canvas LMS. You can easily create an interactive infographic, presentations, or gamify your classroom. Last but not least, you can create and play board games and use plenty of other classroom management tools. I will write more about Genial.ly in the future, but here is a part of the WebQuest I created for now. It is based on recognizing websites and digital tools we used so far in our sessions.
Why did I create a WebQuest for my Granny Cloud session?
I decided to make a WebQuest in Genial.ly because I was traveling, and I did not want to cancel our sessions. We always focus on searching, discussion, and exploration, and I wanted to do the same this time. I chatted with the children during the whole process and led them through all the steps via Skype chatbox.
WebQuest example steps for the Lion group in Genial.ly (steps to help the teacher/session coordinator follow the process):
Go to our Padlet board – thinking wall.
Find a BLUE box with a WHITE picture that says WEBQUEST.
Click on the link you see there. (These are steps for teachers, so it will redirect you to this link.)
Play the game below. The game is interactive and it is created on Genial.ly.
Click on the arrows in the right bottom to make it a full screen.
One child will read a question and they should answer together.
When you answer correctly, you will get the next clue!
The teacher should only translate if necessary.
The teacher should not read the questions – the children should do the quest and use the computer completely by themselves!
When you complete the game a video will open.
Watch it carefully and do what the video says.
It will lead you to another task – go back to Padlet and search for another blue box – WEBQUEST 2.
Take a look at the picture in this box – it will tell you how does the video you need to open look like.
Follow the last step as written in the box – (Go to IMAGES on Google and type time capsule box children. Open a photo you like to see how time capsules look like.)
Think about how can you create your own, personal time capsule! Start designing your time capsules!
Take a paper and draw it! We will continue together next time! :)
WebQuest example steps for the second group – Lily (steps to help the teacher/session coordinator follow the process):
The second group I work with is a bit shyer, so I am working on making them more comfortable by exploring their favorite things, and this activity is just a straightforward quest, unlike the one for Lion.
Go to Padlet and find a gif of a DANCING SPONGEBOB, LISTENING TO MUSIC.
Follow the steps there. The steps are:
Go to YouTube.
Search for your favorite song.
Past the link of your favorite song in 2020 in the comments of this post. I already posted my favorite song!
I will use your songs to make a game next time!
The text box is connected to STEP 2. Read it, take a look at the picture and follow the instruction. The instruction says: Draw HOW YOU FEEL when you listen to your song. Don't draw yourself – DRAW YOUR FEELINGS. IMAGINE HOW THEY LOOK LIKE. :)
While you draw, LISTEN TO YOUR FAVORITE SONGS, ONE BY ONE.
Thinking Wall on Padlet: WebQuest example activities
Finally, here is our Thinking wall on Padlet, where I track our sessions and what we have covered so far. We submit feedbacks on our sessions directly on the platform, but I also like having a session collection on my own.
I am a visual learner, so I enjoy creating mind maps and boards, and I believe it also helps children remember what we learned.
To conclude
Not being able to talk doesn't have to mean a session needs to be canceled!
Learning can take place anytime and anyplace, as long as tools are provided! The children loved it, but they still wanted to see me, so the conclusion is that this method works, but it cannot replace the real conversation. This WebQuest I created for the Granny Cloud in Genial.ly was a complete success!
If you wish to know more about the Granny Cloud and what it takes to be a granny, please consult the official website. I plan to write about my first session and the application process in separate posts. I will also write about all the things I created in Genial.ly in another post, including other WebQuests and escape rooms.
Have you ever considered volunteering online? What do you think about creating a WebQuest in Genial.ly (do you like this example) or volunteering for the Granny Cloud? Do you believe that you can impact children via online sessions? Write in the chatbox or via the contact page. I would love to hear your opinion!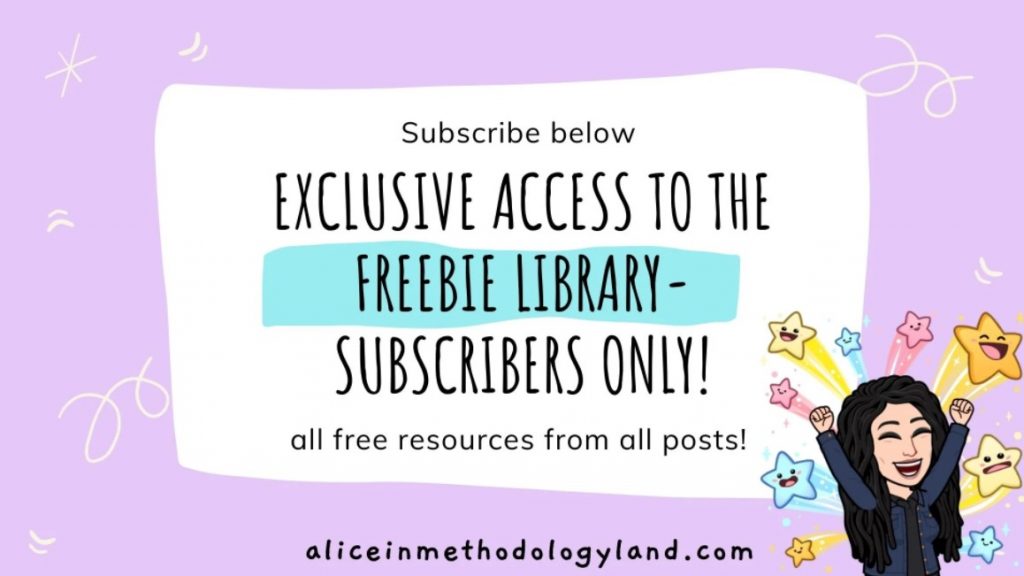 Click here to explore my store where 99% of materials are forever free!
All the materials except lesson plans and 30+ page interactive activity books will be free FOREVER! Why? Because sharing is caring, and 2020 hasn't been kind to all of us. Please consider donating so I can keep making FREE materials for everyone and keep my website open for all of you.

Don't forget to leave a review when you download materials! It's just a minute of your time, and it means a lot to me.
P.S. The store and the freebie library are not the same thing – the freebie library has some extra materials like conference presentations and webinar recordings which are not available in the store ✨
The subscription link for the store is below my bio in every post. ?