We are constantly trying to improve our instruction and to add something fresh and new to our classroom. Unfortunately, sometimes we end up going in circles and pushing certain teaching innovations upon ourselves without having a clear idea where they will take us. The concept of a teacher as a researcher is as old as time, but somehow we still don't value teachers as teachers the same way we do professors.
What would happen if we stopped reinventing the wheel and just tried to reimagine it? What would happen if we stopped reinventing teaching and just stopped to reimagine it in the current time and age and adapt and improve what we already know? Whit this goal, the TESOL conference in Northern Macedonia, Greece, Thessaloniki decided to give itself a hard task to reinvent the way we see ELT. Let's see what did the plenary speakers and the workshop facilitators have to say!
Dr. Christine Irvine Niakaris – Reimagining Language Classrooms as Research (Plenary presentation). The concept of a teacher as a researcher
Dr. Christine opened the conference with her plenary, which perfectly fit the conference's theme and title. She presented the aspect of teachers being researchers and posted the following questions:
Do language teachers think of themselves as researchers?
Should they think of themselves as researchers?
What are the pedagogical issues teachers are worried about?
She argued that if we imagine research as a pyramid, we would have the academics or applied linguists at the top, testing experts, and teacher educators at the bottom. In contrast, the situation should be the opposite.
Her research showed teachers have no time to read the research and feel no need to read it. However, the research also showed that searching for ideas online counts as research and that teaching is a profession that requires research by default.
She identified reflection, applying approaches, and evaluating plans and students as basic research skills. Realizing that different disciplines influence the ELT methodology was also important, along with the fact that teaching is evidence-based and needs action research. The concept of a teacher as a researcher can't be more valid, and everyone in the ELT community needs to work to make this a more acceptable practice.
Some of the research questions her university students identified as issues in their own research are
Use of L1 with young learners;
How and when is L1 used?;
Parent-teacher communication;
Bilingual context in nursery;
Assessing communicative competence in speaking tests;
Intercultural awareness.
To conclude, she proposed an effective plan for an effective research base which consists of intertwined professional development in context, reflection, reading current research, and most importantly – teaching!
A conference sketchnote
Have you ever researched in your classroom? Do you believe that practitioners can be effective researchers? Does the phrase teacher as a researcher sound good to you? Please write in the comments or via the contact page. I would love to hear your opinion!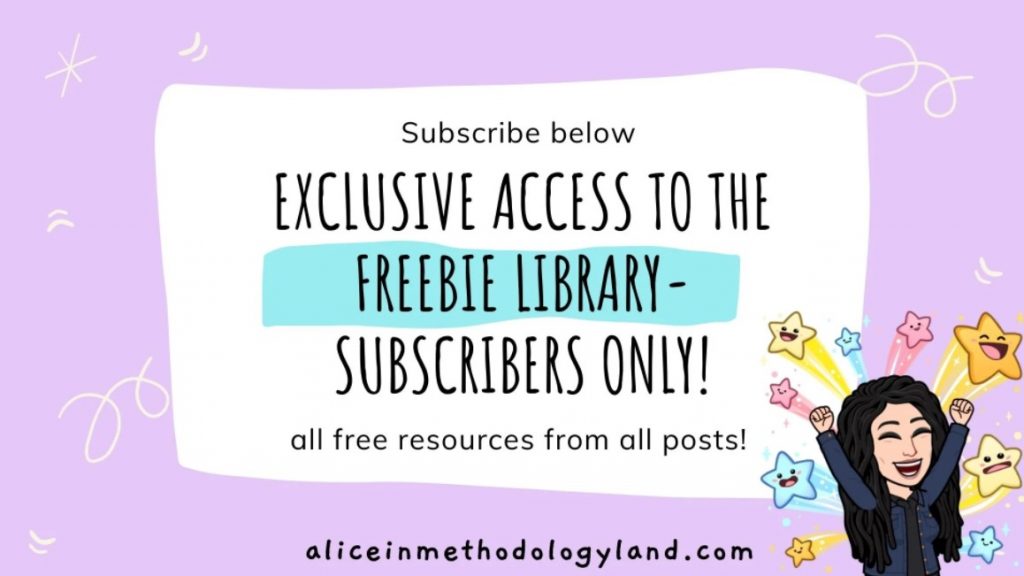 Click 

here

 to explore my store where 99% of materials are forever free!
All the materials except lesson plans and 30+ page interactive activity books will be free FOREVER! Why? Because sharing is caring, and 2020 hasn't been kind to all of us. Please consider donating so I can keep making FREE materials for everyone and keep my website open for all of you.

Don't forget to leave a review when you download materials! It's just a minute of your time, and it means a lot to me.
P.S. The store and the freebie library are not the same thing – the freebie library has some extra materials like conference presentations and webinar recordings which are not available in the store ✨
The subscription link for the store is below my bio in every post. ?