Hello, my dear colleagues! This post is meant to serve as a quick activity playlist where you can reuse songs to do oral storytelling without too much prep. I will also share some possible activities to transform a song or any piece of music into one of the best stories your class will ever hear.
Nursery rhymes
Nursery rhymes are great for starting storytelling with a problematic situation because all of the songs have a character who is in trouble/who has some problem to be solved. Start by telling the story and have the children brainstorm how the problem can be solved. Every single song below can be transformed into a story by using a problematic situation!
Bonus – with Row, Row Your Boat, you can use the song's atmosphere for description with TPR. Once upon a time, a boy in a small kingdom liked to row, row, row a boat (demonstrate). Continue the narration by playing the video below and muting it to get only the video without sound. Describe the nature and ask children to help you create the ending together. What will happen when the boy reaches the end of the river? Will someone wait for him there?
Modern songs
Modern songs are great for various projects and actual singing because the melodies are repetitive and easy to follow. The projects can be anything – from cooking to crafting and dressing up.
Chants
Chants are great for games, learning rhythm, intonation, and TPR (total physical response). A rhythmic orchestra includes making easy DIY instruments with recyclables and using them to follow the song's rhythm while singing.
The group of children forms a circle. The teacher decides whose name will be called first (or we can use a choosing rhyme). The group asks the question and answers it with the given name. The person whose name is used refuses the accusation. The group insists. The person refuses once more. The group then asks who. The person gives the name of someone else in the group, and it goes on like that. Change the tempo during the game from normal to fast and slow.
Favorite channels!
Here are some of my favorite channels with easy songs for young learners
A methodological tip + a happy example
Your stories don't need to be too complex! You can narrate the song with some flashcards or use your body to demonstrate as you are narrating. This example below shows that the only thing that matters is your enthusiasm because using lyrics for storytelling requires some creativity and energy!
Masterclass: Telling Stories through Songs – Exploiting Lyrics for Storytelling in the Classroom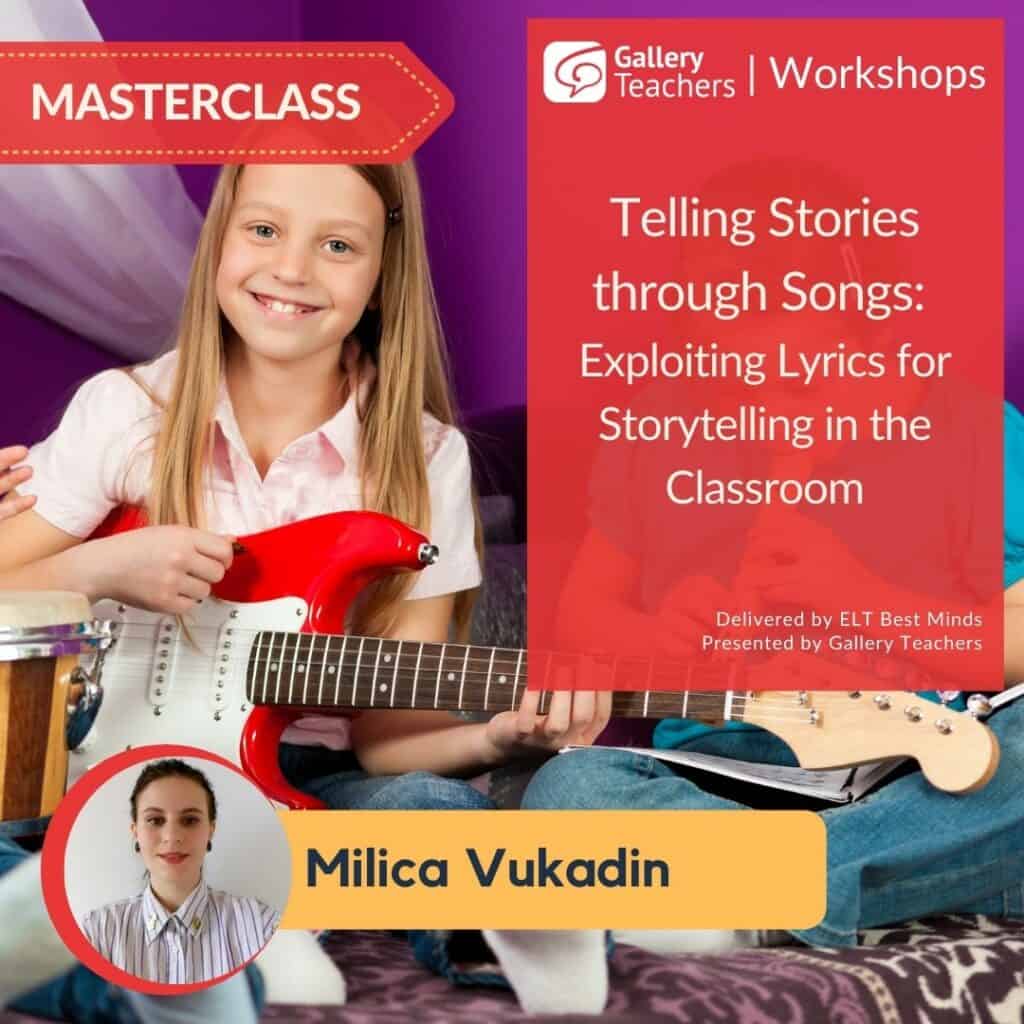 Have you ever thought of using lyrics and music to conduct storytelling in your young learner classroom? The workshop will explore 3 methods that can be used to exploit lyrics to conduct storytelling in the young learner classroom. It will practically present how to conduct all of the methods through real classroom examples and offer solutions so you can include music in your storytelling class regardless of your talent or aptitudes towards music.
We will also share further learning resources and demonstrate the scaffolded method of learning songs in the live session of the workshop.
What do you think about using lyrics to start a story in your ESL classroom? Do you have any activities that you would like to share? Please write in the comments or via the contact page. I would love to hear your opinion!
Cannot invest in printed books for your classroom? Find thousands of titles online for free!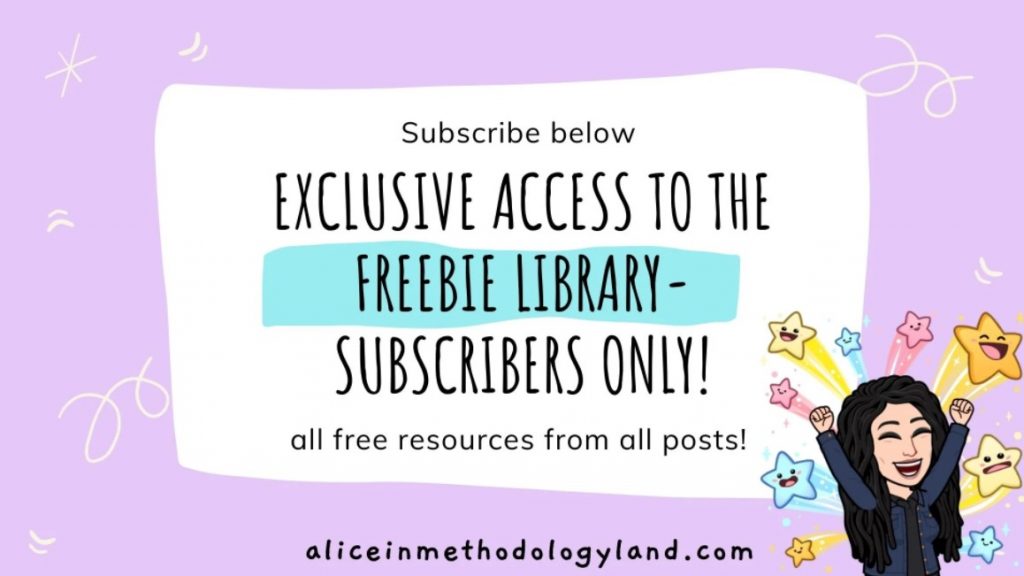 Click here to explore our materials corner where 99% of materials are forever free!
All the materials except lesson plans and 30+ page interactive activity books will be free FOREVER! Why? Because sharing is caring, and the past few years have not been kind to any of us. Please consider donating so we can keep making FREE materials for everyone.

Don't forget to leave a review when you download materials! It's just a minute of your time, and it means a lot to us.
P.S. The store and the freebie library are not the same things – the freebie library has some extra materials like conference presentations and webinar recordings which are not available in the store
The subscription link for the store is below the author's bio in every post.
*Our articles may contain affiliate links, which is one of the ways we keep our organization functioning, and we might earn a small commission on links, at no cost to you