Hello, my dear colleagues, and welcome to another amazing guest post where we will have a chance to hear more about CELTA, see Poppy's experience, and read a review with some easy tips.
Here comes a completely honest, CELTA review from personal experience, along with some amazing tips!
If you are reading this post, the chances are that you are interested in the CELTA course. However, if you are anything like me, you have probably spent an unholy number of hours scouring the net for even a nugget of information to decide if this path is right for you. Well, I invite you to keep reading about my CELTA experience and my detailed review!
In other words, you have read posts, discovered recommended reading lists (and already found the books and took a glance at the contents), and even downloaded some assignments uploaded on the internet by successful candidates of the course! At this point, you are probably:
Someone who is still trying to decide if you want to invest money and time, or
Someone who has already applied to an institution to be accepted at the course and is eagerly awaiting his/ her interview.
First of all, allow me to, very briefly, state my case!
Well, in either case, I hope that you will gain valuable insight that will help you along the way. First of all, allow me to, very briefly, state my case! I am a 34-year-old EFL teacher who holds an M.A. in Political Analysis, no degree in teaching (if you exclude my C2 language certificates), and have only worked as an EFL Teacher in her life! So, yup, you've read that correctly!
To clarify, during my 14-year career as an EFL teacher, I was always honest with parents and students and did my best to balance the fact that I didn't have any formal qualifications in teaching. Finally, last summer, I decided that enough was enough and that I was sick and tired of trying to prove myself and my abilities. Therefore, I went through my options, had long and heated discussions with my husband (all the while rocking my baby boy to sleep!) about spending a reasonable amount of money, and decided that the CELTA certification was the right thing for me at that moment. Subsequently, I filled the requested papers and went to my interview, holding my head down.
The interview
Self-doubt was the prominent feeling. I didn't hold a B.A. in English Literature. How could I do this???
However, being an optimist and flower girl at heart, I went in with my watery smile plastered on my face, trying very hard to woman – up. It turned out that I needn't have worried so much! The woman, who later on was my tutor, asked me some questions (involving some English grammar), we had a chat, and before long, I was an official candidate for the CELTA certification! This is an experience most people won't write about in their CELTA review.
Little did I know what the course really entailed! Let me be crystal clear here: no matter the amount of time you spent reading about the course and the certification process, nothing will prepare you for the actual course! Absolutely nothing! I was a bundle of nerves on my first day trying to quiet my demons (Will they like me? Will they look down on me? Will I be able to make it? For Christ's sake, I have an M.A., how hard can this be?).
The first two weeks of the course
The first two weeks of my CELTA experience were great! A cognitive overload, but great! 12 hours of input each week, and I learned many great things, both from my tutors and my classmates (who turned out to be lovely people after all!). More often than not, I had a pounding headache, but I was ecstatic! I. WAS. LEARNING!!!! Mind you, totally different things and ways of teaching than the ones I was using, but I was there to learn, and I took everything in and implemented everything on my own students (my poor guinea pigs!), and it was working!!!
The TP part
Then, my bubble burst, and it was time to go through Hell!!! During the CELTA course, each trainee has to deliver 8 lessons (or Teaching Practices – TPs- as they are formally called) to real students while being observed by tutors and colleagues!
My first TP was a disaster! I was babbling, sweating, my hands were like blocks of ice, and in my mind, I was sucking my thumb and asking incessantly for my mummy! However, my tutor and my colleagues were extremely supportive during feedback (bless their hearts!), and as time went on, I became a totally different teacher (keep reading to find out more about that!).
The only thing that came a bit easier during my CELTA experience to me was the assignments. During the course, you have to submit four assignments that focus on different things. Because of my academic background – and because my master's thesis got accepted with Honours – it was relatively easy for me to write three or four pages each time. Needless to say, I was the only candidate in my group to pass three out of the four assignments in my first attempt. However, you can always resubmit! And the great thing? Resubmitting an assignment will not affect your overall grade!
What was the CELTA's impact on my teaching?
CELTA, plain and, changed me as a person. I know what you are thinking "Isn't she overreacting a bit?". No, I am not!
Firstly, my CELTA experience opened my eyes and broadened my horizons, which is one reason I feel the need to share this review with you. During the course, I made peace with myself: ok, I didn't have any official teaching qualification, but I could do this quite well, as it turned out. The acceptance that I gained from my tutors and colleagues was a blessing to me. To put it differently, no one looked down on me. No one made me feel unwelcomed or undeserving. Everyone was interested in what I had to say.
More importantly, acceptance paved the way to confidence (I have a long way to go still, but I am a bit of a perfectionist), which showed even in my body posture. In my 8th and last TP, I had a technical difficulty, but I could handle it like a pro, and the students were none the wiser! Me, who during the 1st TP wanted to hide somewhere and never see the light of day again!
Some tips for making the most out of your CELTA experience: the most important part of the review!
If I may be permitted some tips here:
Wholeheartedly embrace the observations and feedback and
Self-reflect!
This is where the magic happens!
Open your hearts and minds;
Be honest with yourselves and with the others;
Discuss;
Ask for thoughts and opinions and train yourselves to accept them gracefully and act on them;
Ask questions, ask clarifications, JUST ASK! This is how you evolve! No one is perfect. There will always be professionals who are better than you. This is ok. Come to terms with it and learn all you can;
Everything is a learning opportunity and experience, especially mistakes;
On the other hand…
On the other hand, take comfort in the fact that no one is you. You are a unique blend! Use that to your advantage! What is more, discover your strengths and your weaknesses! Acknowledge the fact that you will have both and act on them.
So, make your strong points stronger and improve your weaker aspects. Just try, experiment with new ideas and techniques, and, please, do make mistakes! If you think about it, it's exactly what we – EFL teachers – ask of our students! So, critically examine your mistakes and see what went wrong in each case. And if something went great, don't rest on your laurels and never take anything for granted! Just shoot for the stars already!
The CELTA course prepares you for the efficient aspects of teaching (even some administrative tasks as well), and anyone who enters the course with a willingness to learn and evolve will do just that! In addition, understand that your tutors are there for you and will help you in any way that is permitted to them (don't expect them, though, to write your assignments for you or your lesson plans!). Take it from me, who entered the course without having ever written a lesson plan! You will learn and improve, but you have to want it and be ready to give your blood, sweat, and tears in the process! Sure, it's not an easy thing to do, but it is very much worth it. After all, this review is trying to remind you not to forget that the CELTA course was created exactly for people who had absolutely no experience in teaching!
To conclude
In conclusion, the CELTA course ended on a triumphant note for me as I managed a pass B! Looking back to the EFL teacher who entered the course, I can hardly recognize her anymore! The EFL teacher who has replaced her changes everything in her profession and career! She keeps and will never part with her love for teaching, her students, and learning from everyone and everything around her! Because, let us not forget that "Who Dares to teach, must never cease to learn" (John Cotton Dana).
Are you an EFL teacher who is thinking of taking the CELTA course? Or, are you a survivor and have a CELTA experience to share? Do you have questions or need further clarification? What do you think about this CELTA review – experience and tips? Please write in the comments! I would be happy to hear your thoughts and answer any questions! You can also contact Alice via the messenger button or the contact form on the website to get my email and get in touch to discuss this CELTA review and my personal experience further!
Poppy Alexopoulou is 35 years old. She is a CELTA certified EFL teacher with 14 years of experience in teaching English to children and adults. Moreover, she holds a B.A. in Political Sciences and an M.A. in Political Analysis. She hopes that in the future, she will be able to combine her two chosen fields in the form of Academic English after finishing her DELTA training which is due to start any time now!
A word from Alice
I don't know about you, but I loved Poppy's CELTA experience, the overall review, and the tips as well. They were just amazing! So if you are reading this and taking your CELTA soon, good luck – you can do it, believe in yourself!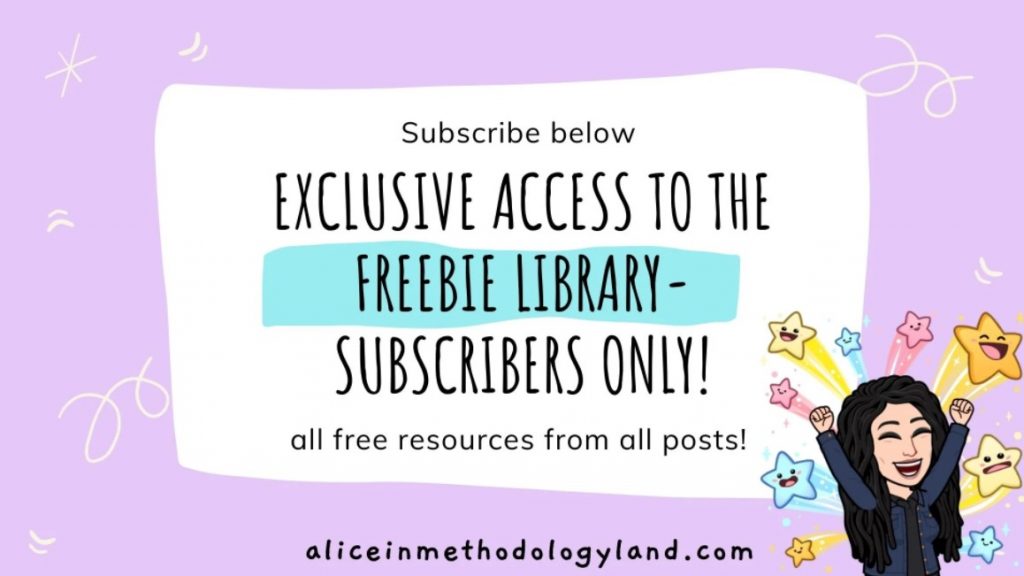 Click

here

to explore my store where 99% of materials are forever free!
All the materials except lesson plans and 30+ page interactive activity books will be free FOREVER! Why? Because sharing is caring, and 2020 hasn't been kind to all of us. Please consider donating so I can keep making FREE materials for everyone and keep my website open for all of you.

Don't forget to leave a review when you download materials! It's just a minute of your time, and it means a lot to me.
P.S. The store and the freebie library are not the same things – the freebie library has some extra materials like conference presentations and webinar recordings which are not available in the store ✨
The subscription link for the store is below my bio in every post. ?