Hello, dear parents and teachers! We cannot wait to share our second workshop reflection and a review of an educational STEAM exploration box we used in our Around the World with Alice & Womple program! The local Cultural Center Barka or KC Barka kindly gave the space for the program. Womple Studios was kind enough to gift their educational boxes and support our program, and we're very happy to bring the joy of uncovering a new country each time through unboxing. This article will explore our program aims and what we did in the second workshop, and we hope you enjoy it as much as we did.
About the Womple STEAM educational box
Womple is an amazing educational box that takes children around the world in order to explore different countries and cultures. Each box has materials for two country-related crafts, some of which can include art and some include engineering and building. We especially love the addition of stickers, huge informational posters, and a chapter book about Womple's adventures from various countries. The crafts have detailed instruction posters, so for us, this is another chance to practice English by following and decoding instructions.
Who hasn't been swept away by a story? Great stories transport you to new places: spelunking in underwater caves, trekking through hot and humid jungles, climbing to the peaks of treacherous volcanoes. Stories also help kids understand complex topics and other people by immersing them in new experiences and putting them in others' shoes. Stories illuminate new concepts, expand kids' worldview, and build empathy.
Each country is followed by Womple, our amazing CTO – Chief Travel Officer! Womple is our dear plushy friend present in each workshop, and he is our guide to all these amazing cultures, countries, and languages. We will reveal a bit more about Womple in each workshop so you can follow our journey worldwide to see what will happen next!
Our second Womple box
Our second Womple box was about an amazing place called Rapa Nui. It included a large horizontal map of Rapa Nui, materials to build a map, materials to build a canoe, stickers, postcards, keychains, and of course, a book about Womple's adventures on Rapa Nui! These crafts were really hands-on and required a lot of fine motor skills to complete! This is probably my favorite Womple box because we rarely get to explore places and cultures that are so remote to us.
Workshop methods and program aims – in case this is the first Womple box article you are reading (we add the methods to each post)
The program focuses on learning English through literature, travel & science. Each workshop has a dedicated book from a country we visit, where we follow our main character Womple on his travels. The science focus is present through exploring different phenomena from different countries (from the animal to the human world) and engineering (building various structures from cardboard and wood.)
The overall aims of the program include the following:
Vocabulary acquisition through play,
Developing awareness about other countries and cultures,
STEAM – using science, technology, engineering, art, and mathematics (primary school level),
21st-century skills – communication, collaboration, creativity, critical thinking,
Dramatic activities – gross motor skills (body movements) and gesticulation (facial expressions),
Crafting – workshops with the book theme and fine motor skills development (using fingers).
The program has around ten children, and the spaces are limited. The present children need to be able to write and read the Latin alphabet. To participate in the program, the children need to have completed at least one year of language learning in school since the program is not for absolute beginners. The program is open to children from the 2nd, 3rd, 4th, and 5th grades. The group is permanently formed, and the same children attend from the beginning to the end of the program.
The grand opening
1st crafting activity – building a canoe
Since we had many students and just one canoe, I decided to make it by myself at home to be able to just share this amazing activity with you. I considered getting materials because we could make canoes easily. Still, mapping was more crucial to me as an important, transferrable life skill, so I decided to leave the canoe-making for one workshop where we will make things we didn't manage to finish in other sessions.
Also, we will probably add some water and let the canoe swim in the Rapa Nui part of the final crafts exhibition!
Exploration and critical thinking
Rapa Nui was so fascinating to the little ones (at the time of writing this article, they had already completed workshop 6, and they still mention Rapa Nui all the time!) because most of them had never been to an island, let alone to an island like this. We explored the map in detail, listened to the children share all they know about volcanoes, discussed who built the statues, how they managed to build such enormous structures, and most of all, why? What are these statues, and what do they represent? The children talked about this for at least 15 minutes, which intrigued them, so they decided to watch a video on YouTube to learn more.
2nd crafting activity: Learning the importance of mapping and mapping out our yard
The kids were a bit jumpy because the weather outside was amazing, so instead of mapping the indoors of the building, I decided to take them to the playground outside, and we had a task to map the playground we played in. We learned what map legend is, how to make it, why it is so important, and the historical importance of maps. We had our second brainstorming session, where we discussed why the ancient people of Rapa Nui needed such complex maps and how they originally made them.
First, we explored the activity Womple sent us, and based on his instructions, the children made their maps. The student who opened the box today got to work on Womple's map, and the others got cardboard, pencils, sticky notes, glue, and scissors, and we all shared the wax sticks to complete our maps.
One of the most important things in this workshop was that some kids understood maps faster, and then I delegated them as teacher assistants to help others. After some time, the other children started asking their peers for help, and I just observed them and enjoyed the nice weather (if we are being honest.) I absolutely love those moments when the students turn to each other for support and stop coming to me for help.
Outdoor mapping
Finished maps
Ethical dilemmas and discussing "serious business" as the children called it
Every time we discuss something important, the children call it "serious business". This time, we wanted to discuss the island's original name and why some people call it "Easter Island" instead of "Rapa Nui". We brainstormed, and the kids came to their own conclusions that it must have reminded some people about Easter. We posted an important question – is it ok to rename a place that has existed for thousands of years? Why would we rename it? Who renamed it? How can we respect the culture and history of Rapa Nui and similar places?
Info: Between 600 and 800 A.D., a group of colonists from an unidentified location in Eastern Polynesia settled on Easter Island after sailing in a southeasterly direction for many weeks. Easter Island originated with the European explorer Jacob Roggeveen, who first saw the island on Easter Sunday, 1722.
This topic is personally challenging for me because colonialism is a really serious topic to discuss with such small children, and it is really hard to stay objective. We also call Rapa Nui Easter Islands in our native language. To make it child-friendly, we explored it from a distance and concluded that we decided that to honor the heritage, we need to call places as the local nations and people originally named them. We posed a big-brain-time situation: If we lived on Island and someone from another continent came to it for the first time in thousand years, could this person rename our island?
Hello, everyone!
Prošle nedelje smo posetili Rapa Nui, ili na engleskom Easter Island i fokusirali smo se na mapiranje i koordinaciju u prostoru kao što su radili starosedeoci Polinezije.
Istraživali smo mapu ostrva, vulkane na ostrvu, i gledali praistorijske spomenike.
Deca su postavljala vrlo pametna critical thinking pitanja: Odakle ti spomenici? Ko ih je napravio? Kako? i najbolje pitanje: Zašto?
Na srpskom možete potražiti uskršnja ostrva da biste saznali više, mada je svakako bolje zvati ih Rapa Nui ili Polinezija jer je to pravo, (pod pravo mislim na ne anglo-saksonsko iliti pojednostavljeno u engleskom jeziku) ime koje poštuje njihovu kulturu. :)
Devojčice su se malo gurkale i svi su bili vrlo energični, ali sva sreća plan je bio da se mapira dvorište i da se nauče osnove kartografije i orijentacije kao i šta je legenda i kako se čita tako da smo pola vremena proveli u parku.
Much love to the little ones,
Milica Alice Vukadin
Alice in Methodologyland
To conclude
This workshop was amazing! The children had many how and why questions, and we managed to improve their critical thinking skills. We are so excited for the next workshop, and we hope to have many other transferable life skills as we had here – reading your surroundings and learning how to map is a fundamental life skill we don't teach children often! We also had an introduction of fairly new concepts, such as heritage and colonialism, and we managed to explain those appropriately.
If you are interested in getting your WompleBox and want to use it at home, you can click here or the image below to get 30% off your first box by entering our special code FIRSTMONTH30! We want to thank Womple once more for this gift because the children have been more excited than in any program we've done so far!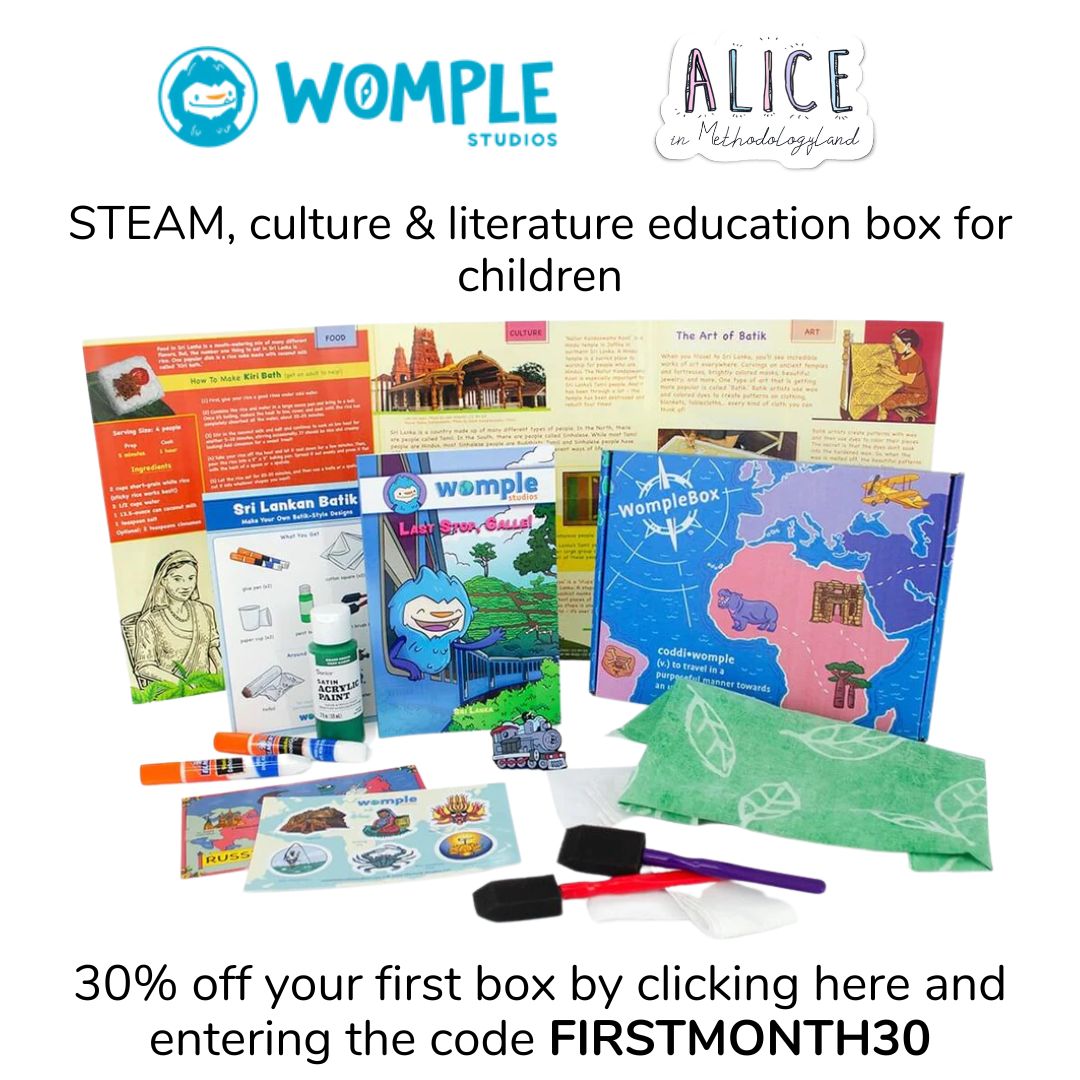 What do you think about our second workshop? Do you think world travel and practicing English are a good fit? Have you ever tried to explore different cultures with your little one?