Many preschool teachers are fond of daily rituals and use them consistently, but on the other hand, many teachers find them tedious, and they stop using them after a certain period. These rituals are indeed important, but they are useless if teachers don't enjoy them as well.
This post is about daily classroom rituals, which we will use in the following school year. Classroom rituals develop a sense of routine and establish a connection between the child and the preschool. They also develop the teacher-child relationship and children's emotional intelligence and prepare children to enroll in elementary school.
Here comes a list of my daily preschool rituals
Literacy day
At least one day in the week will be spent on storytelling and dramatizing. Ideally, the book will match the thematic unit and be connected to the topic, but any book will do just fine if that's not possible. If you have friends in the UK, you can shop for your classroom library and get many affordable books for a pound or two. For example, I purchased 25 new books for under 30£.
The Book People & The Works UK
Morning/afternoon greeting
Morning or afternoon greetings (depending on your shift) are a great way to start your day with a smile and a little touch. The circles are hung next to the door, and the child points a finger to the picture, names it, and salutes the teacher. If children like the activity, they can choose a greeting for other children in the class! I know that some teachers question this activity since, if forced, it doesn't have any effect, but we will try to implement it naturally this year.
This song is straightforward, but it is also very melodic. The children's names are added during the singing, and it is a great activity to start the day after the morning greeting routine. Click here for Hello, hello, what's your name flashcards.
Interactive attendance chart with magnets + calendar
After the singing, the best thing to connect the activity to the daily calendar and the day's questions.
Who is here today?
Who is absent?
After that, we will fill our calendar and do ordinal numbers, days of the week, month, season, and weather.
We will also use a small calendar to describe the weather and count present and absent children. The calendar is themed, and I plan to use "The Very Hungry Caterpillar" as our calendar theme since I have many graphics connected to the book. The book is classic but still not very famous in our country. After the singing, we will connect the activity to the daily calendar and the day's questions.
The weather song and calendar + TPR singing activity
The teacher will use flashcards until the children learn the song, and then they will sing it without flashcards. It can be sung after the calendar to describe the weather. Also, there are movements for each type of weather, and they can be used for morning PE. You can also speed up, slow down, sing it silently or loudly.
What's the weather like today flashcards.
This is the way we wash our hands
This song is also very appropriate for circle time and morning activities. This is a karaoke instrumental, so you can change the lyrics and sing about different body parts you can wash to promote hygiene.
Circle time – morning greeting and worry box
To start your day with a touch of positivity, do a morning meeting after the singing and calendar filling. This builds a sense of community, and the children can share their concerns and put them in the worry box. The students can also share news, talk about their previous day or what they would like to do during that day. Worry box is currently one of my favorite preschool daily rituals.
Word of the day
A great way to reuse your conference name tags and teacher goodies is to wear them around your neck and introduce a new word every day. It's important to learn at least one English word per day, and there is no better way to present it than a sight word dangling around the teacher's neck all day long.
We can also play with rhymes, find synonyms, antonyms, translate them to Serbian, use them in sentences, and so on.
Question of the day
When students come into class in the morning, a question will already be posted on the board. The students, not the teacher, create the questions. Then, every Friday, the students submit a question to the "question of the day" box. The teacher uses these questions during the week. The teacher should help the student write their question on paper, or the parents can write them down when they pick them up. I adore this activity because it is one of the simplest daily preschool rituals, yet it is so important!
Morning Yoga, PE or TPR during the singing
Morning yoga can be turned into dramatic play, singing, and dramatization. It's also a great listening activity for children. (Walking through the jungle yoga, for example.)
Cleanup song and-washing song
Easy songs sang to the tune of "Twinkle, Twinkle, Little Star" and "Frere Jacques" during hand washing or cleaning up the room are nice ways to introduce simple routines.
Goodbye song
Another great way to end your day is to introduce a new chant with a visual poster and easy rhythm. This song is great for learning new vocabulary and practicing rhyming. Goodbye poem – See you later, alligator!
The idea for the presentation is taken from Twinkl, but it is greatly adapted, and it will be changed even more as we progress with our science day. We will have a science day on Friday (or every other Friday, depending on your weekly thematic units), and it will be a semi-guided activity. We will discuss the given fact, investigate, draw, and do WebQuests. The children will be peer teachers, and the teacher will act as a moderator. We will also have a lot of science during the TBI units, serving as a more free, almost random scientific discovery.
What was your biggest challenge when it came to establishing daily preschool rituals? Let me know in the comments or via the contact page!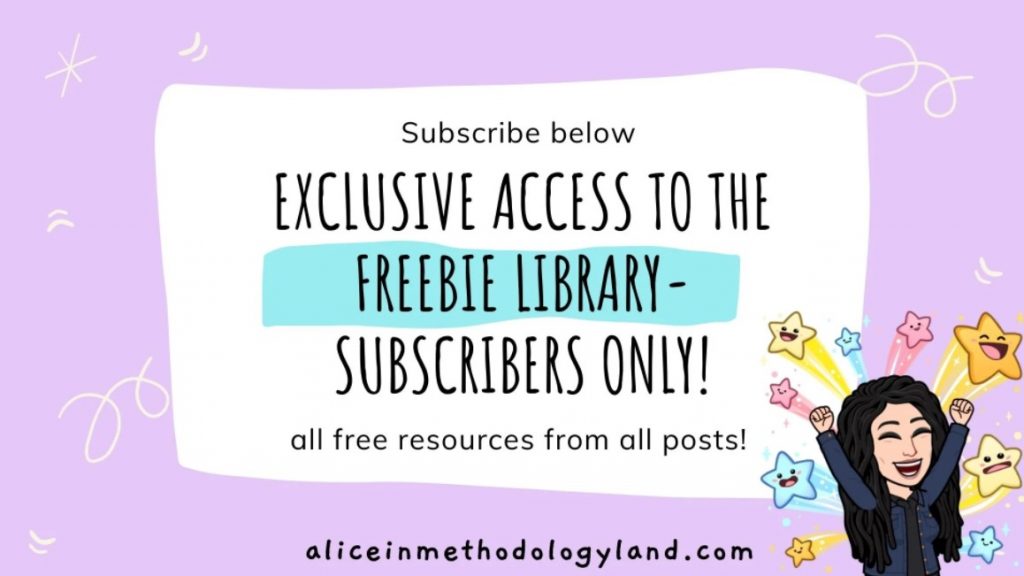 Click here to explore my store where 99% of materials are forever free!
All the materials except lesson plans and 30+ page interactive activity books will be free FOREVER! Why? Because sharing is caring, and 2020 hasn't been kind to all of us. Please consider donating so I can keep making FREE materials for everyone and keep my website open for all of you.

Don't forget to leave a review when you download materials! It's just a minute of your time, and it means a lot to me.
P.S. The store and the freebie library are not the same thing – the freebie library has some extra materials like conference presentations and webinar recordings which are not available in the store ✨
The subscription link for the store is below my bio in every post. 👇