Since I returned from Miami from EdmodoCon, my life has been so hectic. I haven't even had the chance to post short reflections about the presentations at EdmodoCon. This conference was life-changing, and I spent a whole week with such amazing colleagues! I will interview all the presenters, and you will have the opportunity to read about their projects in more detail. For now, here are the mini reflections of all the presentations.
Kate Baker – Edtech for the Heart and Mind
Here is what EdmodoCon says about Kate's presentation:
This session will focus on how teachers can leverage flipped-blended instructional design to support social and emotional learning in the classroom. Based on the work of Maslow, Bloom, and their contemporaries, participants will learn how to create and sustain efficacy, autonomy, and mindfulness in their classroom communities.
Here is what I say about Kate's presentation:
Kate was such an engaging speaker – I couldn't believe it! This was her first big conference, and she was probably the best speaker! She managed to explain what she does beautifully! The thing that I like the most is that she really applies Maslow before Bloom. This is something that doesn't often happen in teaching practice. We forget that to understand, apply, and create, the students have to have their basic needs satisfied first.
She also uses Edmodo and EdTech to be able to monitor the mental state of her students. She gave an example of how we can use Edmodo to see if students have some issues where we can help. For example, if a student writes or comments in the middle of the night or appears distant online, we should use this information to jump in and possibly prevent teenage suicide. Unfortunately, this actually happened to Kate, which made her who she is now. She is an innovative and caring educator who manages to blend social-emotional with edtech!
Aggeliki Papa– LOVE in Pedagogical Practice: Transforming Education for Sustainability and Prosperity
Here is what EdmodoCon says about Aggeliki's presentation:
Join the 'LOVE in Pedagogical Practice' workshop by Aggeliki Pappa, based on her unique lifelong Edu-journey in 'i love dyslexia' EFL-ESL school. Aggeliki and her team invented revolutionary Edu-practices as solutions to global challenges, touching the lives of millions. 3Dlexia MindMaps, Edmodo-Holistic-Workshops, and the SOS4LoveProject will enable participants to transform their classrooms into virtuous 'cosmic' communities, re-shaping education in a world of uncertainty and complexity, with the Power of LOVE.
Here is what I say about Aggeliki's presentation:
Aggeliki. Aggeliki is a universe by herself. She is immersed in what she does, and she also had one student who ended his life tragically because of bullying. That student had dyslexia, and he is the reason she decided to start the ESL school for dyslexic students. She managed to teach them a foreign language even though they have difficulties with their native language.
The thing that connected me to Aggeliki the most is that she has been fired from many schools before she became what she is now. I always felt solitary in my utopian educational battle, but after meeting people who were fired just like me – simply because their colleagues could not understand their efforts.
Jaime Grodberg – Remember to Breathe: A Mindfulness Practice for Struggling Students
Here is what EdmodoCon says about Jaime's presentation:
Remember to Breathe. A Blank Cape Project program provides mindful techniques that help students process their emotional, physical, and mental well-being to focus on their highest potential as students and citizens. Participants focus on mindful techniques that help them process their emotional, physical, and mental well-being.
Here is what I say about Jaime's presentation:
Jaime is the first person ever who made me meditate in her workshop, which elevated some stress from my body. She presented us with meditational steps practices in her classroom and discussed how we could meditate to improve our students' well-being. She also connected the feeling of anxiety with bullying. If we manage to decrease stress in our classroom, we can prevent bullying from even happening in the first place.
Gary Hite – Micro Moves: Small Efforts that Make a Big Impact on Students
Here is what EdmodoCon says about Gary's presentation:
Meaningful student learning only takes place when there is a social and emotional connection. Moving beyond those "get to know you" activities at the beginning of the school year. Fostering social and emotional learning requires intentional and ongoing efforts that meet students where they are. So how do we create a culture that welcomes students and builds their investment in their own learning? This session shares proven Micro Moves! They can be easily implemented by any teacher who wants to connect with their students.
Here is what I say about Gary's presentation:
Gary is such an amazing teacher! He has decades of classroom experience behind him, and he is still so energetic. I can only imagine how great it is to work with him. He bought me with a quote: "On Wednesdays we wear pink!" (Mean Girls), and as I recall, he actually said he WEARS a pink shirt on Wednesdays! Is there a better way to connect with your students than by knowing what they love, watch, and do? His Edmodo Con presentation was the most engaging one for me!
Windy Lopez-Aflitto – Developing Life Skills: Engaging Parents in Support of Social, Emotional, and Academic Learning
Here is what EdmodoCon says about Windy's presentation:
Effective parent-teacher communication is essential for expanding proven and emerging practices to support social, emotional, and academic development. Sharing new national parent research, this dynamic talk will show educators how to communicate with families about developing important life skills. In addition, participants can use, adapt, and modify shared resources to strengthen existing efforts in the context of local culture and community settings.
Here is what I say about Windy's presentation:
Windy's research is beyond amazing and necessary for quality practice. Being an English preschool teacher and online ESL teacher, I have to motivate my learners and their families to work with them outside of our lessons. The learning will not continue outside the classroom if there is no relationship between parents and teachers. If the parents do not understand why some activities are crucial, the learning will suffer as well. Using a lot of academic jargon can ruin the relationship with parents. One of our duties is informing parents of the importance of our activities using everyday communicational means.
WHO CAN BE A LEARNING HERO? Every Parent. You've got what it takes — you know your child best. We're here to help you along the way — with simple actions to help your child reach their goals.

https://bealearninghero.org/
Alison Tomko and JoAnn Kieffer – Elevate the Discussion: Technology and Language Strategies for Today's Classroom
Here is what EdmodoCon says about Alison's and JoAnn's presentation:
Alison Tomko and JoAnn Kieffer guide you to apply the Language Strategies for Active Classroom Participation and Edmodo. They will delve into how digital citizenship and effective communication can be achieved by using prompts that jump-start positive discussions and responses between teachers and students. The two will provide the baselines for these strategies to elevate your classroom discussions and discuss "Tickets out the Door." All of this leads to real-world and 21st Century communication and collaboration skills that students can apply outside of the classroom environment.
Here is what I say about Alison's and JoAnn's presentation:
Alison and JoAnn were so kindhearted and graceful in their presentation. They shared examples of how they organized their discussions and how they motivated their students to participate. One said: "Students often don't remember what they did in school, but how they did it." This is an amazing point of view since our goal is usually to transfer academic knowledge. But, unfortunately, we forget to develop the student's soft skills.
Sean Robinson – Let There Be Light: Empowering Students Through Connections-Based Learning
Here is what EdmodoCon says about Sean's presentation:
As the hundrED Organization says: "Connections-based learning should be the future of education." Do you long to break down classroom walls? Are you wanting your students to make a positive difference but not sure how to start? Teachers worldwide are leveraging local and global connections to ignite their teaching and activate positive change. Likewise, connections-based learning is leveraging connections with the community, experts, organizations, and classrooms worldwide for learning. Sean Robinson will share how easy it is to make a classroom connection and how to leverage that connection for learning and student empowerment.
Here is what I say about Sean's presentation:
Sean's presentation was probably the presentation that resonated with me the most. I also worked on turning my online and offline classroom into a classroom without borders this year.
Being a bilingual preschool teacher and an online ESL teacher for children, teens, and adults, I have had many opportunities to introduce different cultures into my lessons – I connected with children from Egypt, Thailand, and I am conducting free monthly group lessons for my online students. Sean proved that collaboration has a big influence on our students, and he showed us that peer-learning is one of the most effective ways to learn something. You can read about my classroom without borders in this post on British Council Teaching English.
Blair Fitzsimons and Dana MacDonald – STEM Learning Camps: Redefining Student Leadership for the 21st Century
Here is what EdmodoCon says about Blair's and Dana's presentation:
No supply teachers, no experts on staff, and no access to technology are real challenges educators face. Learn how a small K-8 rural school was transformed into a STEM hub of learning excellence. Blair Fitzsimons and Dana MacDonald will share various practical classroom examples that show how to introduce new technologies. (Makey Makey, Scratch, LEGO Robotics, augmented and virtual reality), fostered mentor-based teacher PD and created meaningful peer-to-peer leadership opportunities. With dynamic project-based learning tasks, see how Edmodo can be used to make 21st Century project-based learning seamless and efficient.
Here is what I say about Blair's and Dana's presentation:
Blair and Dana are very enthusiastic, and how they transformed their school is amazing! Blair said in one of our chats that they were lost at the moment they received all their equipment. They didn't know how to start incorporating it into the curriculum. It takes a lot of planning, studying methodology, and research to achieve what they did. Creating young leaders by showing them what they can do if they are determined is priceless. I despise hashtags, but I really want to write them now. Hashtags describe Blair and Dana so accurately in just a couple of words. #powerteachers #teacherstars
Here is my presentation – From Blended to Distance Learning: Engaging Large Student Groups Online
Here is what EdmodoCon says about my presentation:
Milica Vukadin developed an interactive online facilitated IELTS course for more than 500 students. The course combines synchronous and asynchronous learning. By creating a collaborative learning environment, students can become peer-teachers and participate in the assessment. The course consists of:
A diagnostic language test,
Separated modules for each live lecture,
Lesson recordings for revision, s
Self-grading listening, and reading tests.
That is to say. The course has collaborative activities that consist of discussion, oral, written presentations, and reflections. Present educators will hear effective examples of classroom differentiation needed to create a large facilitated course for adult students. In addition, the participants will be able to create an engaging course outline for their content area, along with course objectives and syllabus.
Here is what I say about my presentation on EdmodoCon:
First, I must say that I am pretty proud to be selected to speak at EdmodoCon. I still haven't dared to watch the recording of my presentation. Being watched by thousands of teachers in a live stream is something I still cannot quite grasp. But, on the other hand, it was easier to organize 700 students than watch myself speak about it as I did in my course.
I will make sure to write about my course in detail in another post. Meanwhile, I will enjoy not knowing how I performed.
Have you ever participated in an international conference such as EdmodoCon? If yes, what is your experience, and if not, would you like to test out your presenting skills? Write in the comments or via the contact page. I would love to know!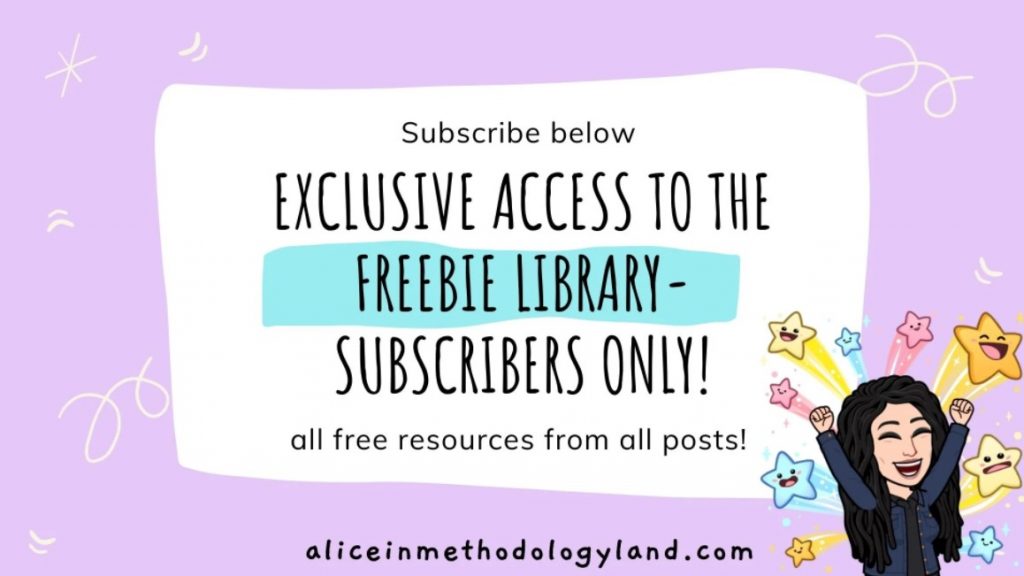 Click

here

to explore my store where 99% of materials are forever free!
All the materials except lesson plans and 30+ page interactive activity books will be free FOREVER! Why? Because sharing is caring, and 2020 hasn't been kind to all of us. Please consider donating so I can keep making FREE materials for everyone and keep my website open for all of you.

Don't forget to leave a review when you download materials! It's just a minute of your time, and it means a lot to me.
P.S. The store and the freebie library are not the same thing – the freebie library has some extra materials like conference presentations and webinar recordings which are not available in the store ✨
The subscription link for the store is below my bio in every post. ?