I am entering the interview office. I am wearing a professional buttoned-up long sleeve shirt, my CV, and my teaching portfolio. My dreadlocks are completely tied up in a braid and are not noticeable. I am positive and talkative. What I don't know is that I will probably face the worst teacher job interview discrimination in my life.
Somewhere in 2015…
My interviewer doesn't look as half professional as I do. She doesn't care about my CV or teaching portfolio. Might I add that this is a bilingual preschool, and since English is not our mother tongue, shouldn't my teaching portfolio be the most important thing that the interviewer is interested in?
She doesn't ask me about my Bachelor's degree in Education. Who cares if you studied for four years?
Who cares if you started learning English when you were just five years old?
She asks me for my basic information with a dry voice and then quickly adds: "How's your English?"
She asks this in Serbian, our native language, without letting me say a word in English. Then her eyes gaze to my perfectly unnoticeable hair, and she says with disgust in her voice: "Can you take those things off?"
I continue with a question:" Take what off?"
The interviewer says: "That hair", not even knowing the actual name for it. She then continues to talk about "personal hygiene", and how parents might perceive me in a classroom. She then realizes that she can be criminally persecuted for all the things she said, and she gives me a job offer based on my qualifications.
A job promise and more insults
Then she says: "We promise that you can start working for us if you lose that hairstyle."
Since I was desperate to teach the first year and get my teaching license, and since there are barely a few bilingual preschools in my city, even though the city is the second largest in our country, I accepted the offer. We made a deal to have a final interview before September, and I should call them 15 days before the school year.
If I were African or African-American, my hair would probably be perceived as a traditional part of my culture. In some countries, at least. As an anti-fascist, a punk, a person who has spent her life fighting for social rights and hoping that I will one day get to live in a socialist country, this hurt me even more. It represented just a fraction of racism and hate toward other cultures mirrored through my dreadlocks. I wasn't white enough.
Despite that, I still know of examples when the discrimination happened to those teachers as well, simply due to the overwhelming European whitewashing trend. You are perceived as dirty, as a person who is not taking care of personal hygiene, and as someone who is easily infested with lice.
I swallowed my feelings and my pride, and after days of crying and years of carefully grooming my dreadlocks, I let my best friend comb them out, and cut the ends. It took us five days of non-stop combing and tons of detangling products to get to an acceptable school hairstyle.
She couldn't even remember me
Fifteen days before the beginning of the school year, I gave her a call and asked to arrange another interview. She couldn't even remember me. I had to humiliate myself again and describe myself as "the teacher with dreadlocks", just to make her remember me.
She then said: "I'm sorry, the principal employed her acquaintance/niece…" That's the part where I stopped listening to a word she was saying because I was shocked.
Combing out and cutting my dreadlocks physically hurt me. I felt as though parts of my body were missing, and I was genuinely on the verge of a mental meltdown. It was terrifying to look in the mirror and see something that I don't like, but I love my profession, and I was ready to do anything to start working.
I have only one advice for all teachers:
NEVER CHANGE WHO YOU ARE IN ORDER TO GET A TEACHING POSITION.
Don't allow discrimination in any job interview, including the teacher one.
Don't blame yourself for the prejudices other people have since it's not your fault. You are educated, and you are more than enough. The fight is going to be long, but you can come out as a winner. Right now, I am the most qualified preschool teacher in Serbia. I am finishing my Master's degree in Education, and I also took 7 additional exams and completed the English methodology module for primary school teachers. I can now teach English in primary schools as well. That gives me 335 ESPB, while all other preschool teachers with a Master's degree have 300.
I am also probably the only National Geographic Certified Educator when it comes to preschool teachers, and I do many things including academic research, teacher training, and much more. I plan to start my Ph.D. studies next year and then open my own environmentally sustainable preschool, and apply innovative teaching approaches that preschool teachers usually do not use in their classrooms in our country. Last but not least, I became a board member of the teachers' association in Serbia!
Sky is the limit – just stop doubting in yourself and make a stand.
This event completely broke my spirit, but at the same time, it made me love what I do more. All of this never stopped me develop as a professional and I never let anyone else make me feel worthless like this interviewer did.
Have you ever had a teacher job interview full of discrimination? If yes, how did you handle it? Should teachers be allowed to choose how they look like as long as it is professional and not offensive?
Write in the comments or via the contact page.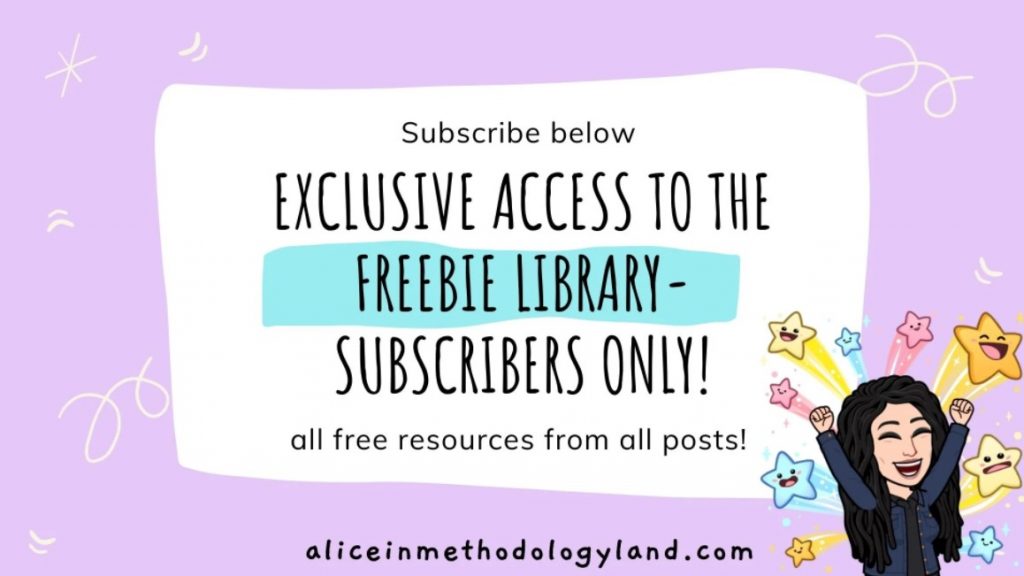 Click

here

to explore my store where 99% of materials are forever free!
All the materials except lesson plans and 30+ page interactive activity books will be free FOREVER! Why? Because sharing is caring, and 2020 hasn't been kind to all of us. Please consider donating so I can keep making FREE materials for everyone and keep my website open for all of you.

Don't forget to leave a review when you download materials! It's just a minute of your time and it means a lot to me.
P.S. The store and the freebie library are not the same thing – the freebie library has some extra materials like conference presentations and webinar recordings which are not available in the store ✨
The subscription link for the store is below my bio in every post. 👇