Hello, my dear colleagues! I was honored to be able to present ELTA at the TESOL conference in Greece this year. The conference was amazing, but that is a story for another post. In this post, I will reflect on my workshop on using drama and various activities with young learners to enhance literacy and build confidence.
27th Annual International Conference TESOL MTh 
My conference presentation was created in Genial.ly. Take a look at the full presentation below.
Let's wake up with PPAP!
Let's wake up – morning ice-breaker to practice focus, repetition, body language, gesticulation, and pronunciation! Last but not least, this activity promotes just plain fun! The participants liked it the same way children love this song.
How can drama activities support language learning, acquisition, and cognitive development in young learners?
After we rested from the morning drama ice-breaker, we continued with a little theory. The participants were asked to write the answer to the following question: "How can drama support language learning, acquisition, and cognitive development?" on Mentimeter by adding 3 associations.
Here are the benefits of drama in the young learner classroom, according to the participants:
The benefits of drama we want to focus on in this workshop are:
The development of 21st-century skills;
Contextual language learning in authentic situations;
Development of social and soft skills;
Fluency, intonation, and contextual use of new vocabulary and structures.
Developing imagination and creative thinking;
Building confidence in your students;
Bringing literature to life!
After discussing the benefits, I quickly introduced two examples. One example contained a guided drama practice, and another contained a more free drama practice.
Example 1 – Free dramatization – Edible atom models
A practical example of free dramatization with edible atom models!
The children created edible atom models in a climate change thematic unit. They tried to represent how molecules and particulates in air bind and what happens when too much carbon dioxide. They made different models and then acted out and role-played actual atoms discussing what causes global warming and how they feel in this situation.
Example 2 – Guided dramatization in the form of a video
A reflection video from the National Geographic Educator Certification, a course which included a dramatical role-play with one of my advanced young learners. Read more about it here: How National Geographic Certified Educator Course Changed my Perspective on the World and Teaching + Course Overview.
These examples were only mentioned, and the participants were asked to learn more about the examples after the workshop.
What are the means/objects/tools we can use to create a play?
The answer is ANYTHING! A play/drama activity for young learners can be created by using everyday objects, situations that happened in the classroom, books, music, movies, etc. We can use any part of the lesson we are currently teaching to introduce drama. This is exactly what I did in the air pollution lesson, where we used edible models to dramatize the atoms. Using inanimate objects and giving them life to discuss an issue or solve a problem is one of my favorite forms of drama!
What are some most frequently asked questions when it comes to using drama activities in the classroom with young learners?
I presented these questions to the participants, and we brainstormed the answers together.
How to select a suitable play and drama activities for young language learners?
Use books, cartoons, songs, and even funny videos or photos to develop a script! Of course, you course, you can use a script and edit it, but the best thing is to individualize the script as much as you can to enhance their engagement.
How to help young learners learn their lines in plays?
It depends on the age of the students you teach! If they are younger, dramatize yourself, have them act it out after you, and have fun. Allow mistakes to happen and do not force accuracy. Another way is to approach the script as a song and scaffold the learning. Learn line by line while singing and include some movements to promote TPR. TPR can easily develop into a play, so you can even have a musical. If the children are older, expressive reading and group/pair learning may be more appropriate.
How to introduce a play in the classroom?
Present realia, flashcards, and make sure that you pre-teach all the necessary vocabulary. You can also use crafting projects, storytelling, WebQuests, pirate maps, or even outdoor activities. It all depends on the age of your students, how fluent they are, and how much time you have in your classroom for the introduction. Whatever the case, make sure that the script is connected to something they are already familiar with. Do not introduce too many new words and grammatical structures at once.
How to conduct reading and listening comprehension with a script?
Reading comprehension can be conducted through:
Jigsaw reading;
Filling in the blanks;
Comprehension questions or similar.
Listening comprehension can be conducted in many ways:
Have one group of students act, while others watch, listen and complete tasks;
Record the play and create an interactive video in which you can test their grammar, spelling, word order and many other things through listening.
Finally, you can make a short audio podcast to read the play and go with the usual listening activities. Whatever you do, make sure that it is interactive and try to move away from the paper-based materials and include more digital interactives.
Introduction and problematic situation
Name and action game for remembering names and people! – We had no time, so we skipped this activity because we already knew each other. The game goes like this: Have students stand in a circle. One at a time, each student states his name and makes an action that reflects his personality. In unison, the rest of the class repeats the student's name and action. For a more challenging version, have one person say his name and do an accompanying action. The person to his right then repeats it, and says her name, and makes her action. The third person repeats the first two and then adds her own. This continues around the circle. The last person will have to remember all of the names and actions of the entire group!
I presented a problematic situation to the participants – they were supposed to find a book I lost in the classroom. If there was no book, then there wouldn't be any drama! This way we motivate children and engage them to help us solve a problem, and as a result, they are more interested to participate.
Circle time and dramatization
Circle time and dramatization – We sat in a circle, and I introduced the book by dramatizing page by page. I decided to change my workshop material the night before since I found an amazing book in a second-hand store in Thessaloniki. This book is a part of my international book library, where I collect books in various languages, from all over the world. I chose this book to show the participants that you do not need to know the language to use a book! I dramatized the book page by page. The dramatization was interactive, and I asked the participants what can we do in our script and how could we present every page. I connected the illustrations with some social issues such as introducing and discussing different races, activities such as bullying, or emotions such as shame. We also had fairy tale music in the background, and the lights were dimmed to create a suitable atmosphere. The original name of the book I used is Ένας πολύ γλυκός λύκος and it is written by Leda Barbarousi. The name of the book in English is A very sweet wolf!
Here is a video of a lady reading the book in Greek, and the video also has animated book pages! It is really amazing!
Wheel of games
After dramatizing and discussing how could we make a play out of the given book, we used the "Wheel of games" to select a drama game we can use and adapt to fit our story. Click on the picture below or on the link above to access the wheel. The wheel of games contains the following drama games: ways to greet each other, expert double, gibberish, exaggeration circle, energy circle – share the love, body game, campfire, interview game, team pantomime, let's focus, association walking, name and action game, and theater pronunciation walking. By using the wheel of games we give the children the right to choose their next activity, and we increase engagement.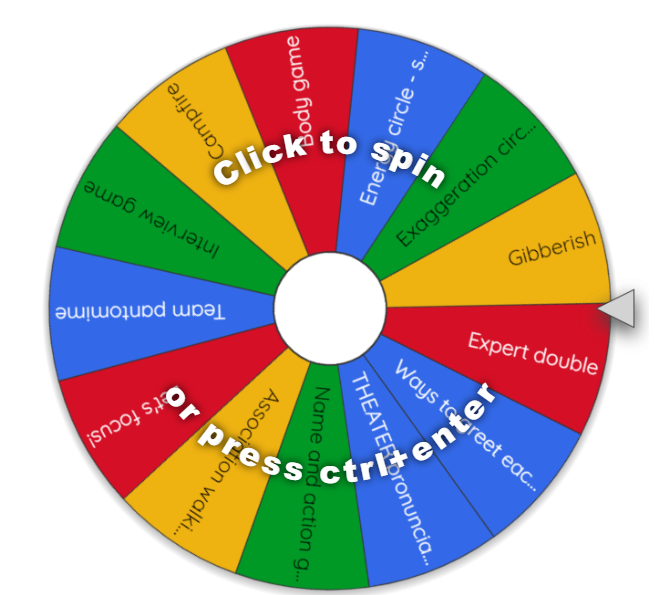 "Wheel of games" – copy-paste this link into your browser if it doesn't open via the link wheelofnames.com/ptz-j3h
Padlet board with games
After we selected the activity, we went to the Padlet board I created for this activity, and we had the task to find, read, and do the activity. We needed to modify it so that it fits the theme of our book. Our activity was "Let's focus – washing machine", and it goes like this: the student in the middle "spins" as the two students either side create the walls of the washing machine. Since we had a wolf who made cupcakes and ice-cream with a sheep, we modified this activity. Two people were a bowl, and 1 person was the dough/cream which was blending inside. Activities like this help the children work in groups, and they have to be in-sync with another child, just as they do in a play. The participants of the workshop loved this activity. :)
We had no more time to continue with writing down our play, but I hope that we will create one together online after the workshop. The participants agreed to share their emails so that I can share the workshop materials, and I can't wait to make a play collaboratively online! I will update the post if this cooperation happens.
All in all, the TESOL conference was amazing! I met amazing educators, learned new things, and took a refresher course on some old things I learned a long time ago.
What do you think about using drama activities in your classroom with young learners? How can drama enhance confidence, autonomy, and literacy in your young learners? Please share your experiences and opinion in the comments!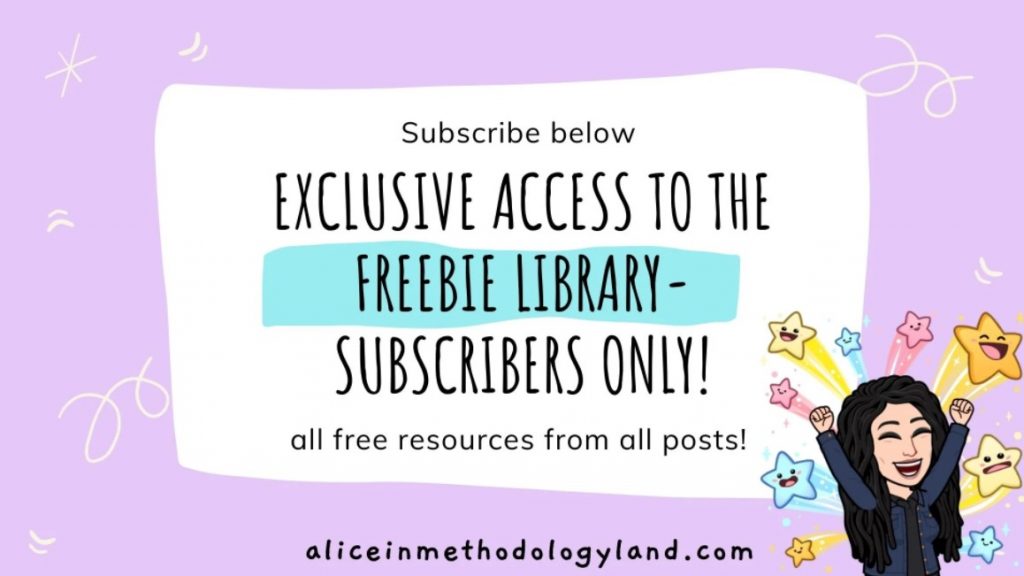 Click 

here

 to explore my store where 99% of materials are forever free!
All the materials except lesson plans and 30+ page interactive activity books will be free FOREVER! Why? Because sharing is caring, and 2020 hasn't been kind to all of us. Please consider donating so I can keep making FREE materials for everyone and keep my website open for all of you.

Don't forget to leave a review when you download materials! It's just a minute of your time, and it means a lot to me.
P.S. The store and the freebie library are not the same thing – the freebie library has some extra materials like conference presentations and webinar recordings which are not available in the store ✨
The subscription link for the store is below my bio in every post. ?