Hello, my dear colleagues! I will shortly go through the Harry Potter-themed escape room (room one was named The Potion Solution) I've made for a professional development workshop in International School Savremena in Belgrade. This Harry Potter escape room is interdisciplinary, and it connects all school subjects, which can ultimately provide a very engaging assessment in multiple subjects.
Does an escape room belong in education? And if yes why?
I would dare to say YES! Escape rooms are exciting, and they can test multiple 21st-century skills in students, not to mention the content knowledge and logical thinking skills. In addition, escape rooms can serve as a group assessment or even as ice-breakers at the beginning of the year. They also provide an opportunity for teachers from various subjects to collaborate and connect their subjects.
Hints for all the riddles
I had to create a Google Sites site because all the school's apps and websites have to be authorized and installed in their system. This actually served me well because I used an option to create a dropdown menu for hints. When you make an escape room, it is crucial to have hints if the participants get stuck with a task/riddle. (I completely forgot about that, so I created the hints right before the escape room.)
The Potion Solution
Classroom setting: Envelopes with the Hogwarts letters are hanging from the windows. There are 4 tables in the corners. 1 tablet on each table with pdfs and experiment bottles and ingredients.
Sorting and house crests
Online group sorter We had around 20 teachers, and we needed to have approximately 5 teachers per house to maintain the group balance. We didn't use the group sorter since the teachers selected their places spontaneously, and there was no need for a sorter. The sorter would be useful for the students. I didn't want to make a sorting hat because that would take time to make.
After they got sorted, they got a cardboard tie with the house crest to signify their team.
The participants had to find their house crest and take the letter with the crest. When they opened it, the riddle inside the letter told them to go to their house 'corner' and complete a task. This was group work. The sign on the blackboard said: Follow the house crest. It will tell you what's next!
Paper bounties marked the house corners.
Every corner of the classroom had a table, and there was a tablet on every table. There was a pdf with 1 experiment at each table, and the participants had to complete it to get a code.
Every experiment resulted in a different color – red, green, purple, brown/black. Their task was to count the letters from the word and make a number: red – 3, purple – 6, etc. The experiments used imaginary ingredient names, which were simple, real-life ingredients. Finally, they had to make the potions: Exploding filibusters, Snape's slime, Mandrake restorative drought, and Forgetfulness potion.
Making potions – experiments
They had to order the code in the order the crest appears on the Hogwarts crest. Then, the participants could check the order in their letter (this was one of the hints.)
They got a 4 digit password, and they had to select a correct answer out of 3 given answers on the Genial.ly in Google sites.
Harry Potter periodic table of characters
When they selected a correct answer, a periodic system of characters appeared, and their task was to order the Weasleys according to age. When they guessed, I unlocked the room and led them to the next clue.
Here is the full potion task created in Genial.ly
To conclude with room 1
The first room included doing experiments and solving the riddles. The subject which was predominantly present in this first room was chemistry, although it was easy enough so that any teenager can do it. The codes required logical thinking and a certain level of English language proficiency. I will continue writing about rooms 2 and 3 in separate posts due to the article's length. I wouldn't change anything in room 1, but there are some things that I would change in rooms 2 and 3.
What do you think about using escape rooms in your classroom? Do you think that this Harry Potter escape room and potion making were engaging? Can they be used as an engaging assessment? Please write in the comments or via the contact page. I would love to hear your opinion!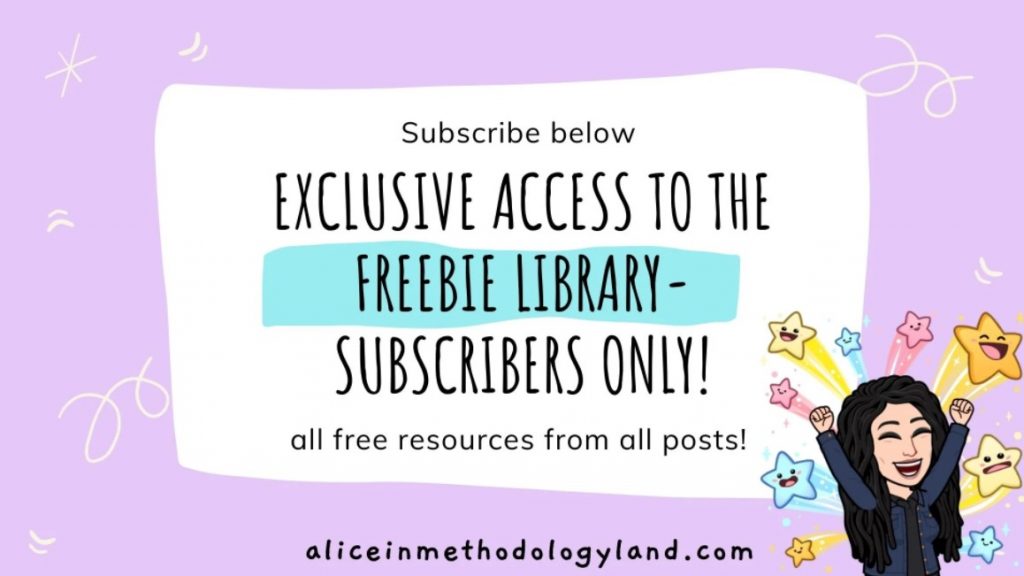 Click 

here

 to explore my store where 99% of materials are forever free!
All the materials except lesson plans and 30+ page interactive activity books will be free FOREVER! Why? Because sharing is caring, and 2020 hasn't been kind to all of us. Please consider donating so I can keep making FREE materials for everyone and keep my website open for all of you.

Don't forget to leave a review when you download materials! It's just a minute of your time, and it means a lot to me.
P.S. The store and the freebie library are not the same thing – the freebie library has some extra materials like conference presentations and webinar recordings which are not available in the store ✨
The subscription link for the store is below my bio in every post. ?