Big holidays always leave enormous piles of garbage behind them, and teachers need to reduce the ELT footprint in any way possible. So keep reading this post to see how you can make a low-waste Halloween Zombieland lapbook!
I love creating lap books, and I make them from many recyclables – I desperately try to promote low waste in my classroom. Every material in my shop begs buyers not to print the first decorative page and use dry erase pockets for materials to reuse.
My monster-in-law, pardon, my mother-in-law printed the first page and the disclaimer page as well, although I specifically told her not to do it! It turned out all right because she printed it in black and white, so I was able to use the first page of the lap book as well. Also, the lap book is printed on already used papers – there's text on the back of most of the papers.
2. Cut out the shapes. Save the excess paper in a folder for crafting!
3. Leave a bit of paper behind the zombie so that you can use it to glue it in your lap book.
4. Fold the shapes in the dotted lines.
5. Prepare your pizza box – I love using old pizza boxes for lap books because they are sturdy, and they are often non-recyclable – if they get greasy from the cheese, they are useless.
6. Decorate the box. I used a random catalog to cut out the shapes for the front page.
7. Decide where you want to glue the cut-outs. Try to organize it so that there is extra space between the shapes for decoration or to make it easily readable.
8. Start gluing, then color it! I colored it with watercolors to make it messy and fun.
9. When you finish, start writing your introduction to Halloween, told by a Zombie.
Zombieland – A Story About Halloween
The story starts with a Zombie waking up in the afterlife and being confused about what is happening. He meets many monsters (a vampire, a ghoul, a witch, etc.), and they slowly explain what Halloween is. The ending is open, and anything can happen – it's up to you! Here is some writing prompts when it comes to important features of Halloween:
When I became a Zombie, everyone was talking about Halloween…
The origin of Halloween is connected to…
On Halloween, we play…
When it's Halloween, we eat…
On Halloween, we wear costumes because…
A few ways to use the low-waste Halloween lapbook:
Use it for guided writing – make one and let children manipulate the little pages to find writing ideas inside. Guide them to writing a story, but make sure to leave an open ending so that everyone can follow their own imagination.
Use it for storytelling and dramatizing – make an interactive storytelling activity and have one child help you share the story about a new Zombie joining Halloween.
Share the printable as a home project so that the children can create a lap book with their parents. Have them bring back the lap book to school and create a lap book fair on Halloween.
Fold the lapbook (unpack the pizza box), store it for next year, or gift it to someone – just don't throw it away.
Grab the lapbook here!
How can you organize Halloween-themed lessons without creating too much waste in your classrooms? What do you think about lapbooks used for storytelling? Did you enjoy this low-waste Halloween Zombieland lapbook? Let me know in the comments or via the contact page!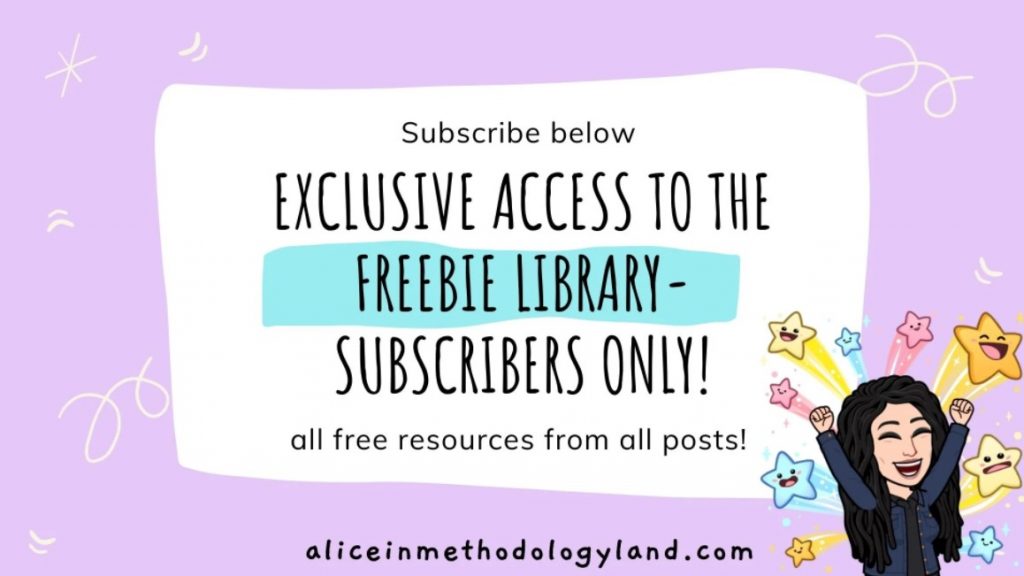 Click here to explore my store where 99% of materials are forever free!
All the materials except lesson plans and 30+ page interactive activity books will be free FOREVER! Why? Because sharing is caring, and 2020 hasn't been kind to all of us. Please consider donating so I can keep making FREE materials for everyone and keep my website open for all of you.

Don't forget to leave a review when you download materials! It's just a minute of your time, and it means a lot to me.
P.S. The store and the freebie library are not the same thing – the freebie library has some extra materials like conference presentations and webinar recordings which are not available in the store
The subscription link for the store is below my bio in every post.