Are you one of those talented teachers who want to teach online but haven't had any luck? Have you lost a student in the first lesson, and they have no ideas on how to engage the student? Are you a good English speaker with a great methodology, but you are not very confident about the sales part of your lesson? If the answers to all questions above are yes, then keep reading this post! You will find out how you can turn the first lesson into a regular student. Then, you will see how you can become a successful online English teacher!
Before you even start the first online lesson and brainstorm any activity ideas make sure that:
Your home office is clean and presentable.
You are clean and presentable.
Your desktop is clean and presentable – you will be sharing your screen and you want to be organized and neat.
I know that the steps above seem ridiculous, but you'd be surprised at how many people think working online is not a real job. You are doing something, and you get paid for it – that's the dictionary definition of working.
Here are the practical steps and ideas for a first lesson with your online student:
Greetings – Meet and greet properly, with a smile and chat about your day. Introduce professionally and help your student introduce as well by eliciting questions.
Discussing the results of the level test
Presenting the mistakes positively as areas of improvement motivates your student to learn. Inform the student that you will focus mostly on the learning gaps in the grammar, so they won't need to learn things they already know.
The motivation for learning – What is the student's motivation for learning? How do your lessons fit in their plan?
Learning goals – What does the student want to achieve? How much time does the student have, and are those requests realistic?
Teaching the first lesson
You can start with the first lesson in your curriculum, let the student choose the lesson, or prepare a special first lesson you always want to do with your new students. Just make sure that you spend at least 20 minutes of your first lesson actually teaching – this also helps your student imagine how would your future lessons look like.
Teaching style
Talk about your teaching methods – in my case, my teaching methods are connected with the additional opportunities I offer. I focus on learning grammar in context, communication, and practicing all 4 language skills. I also coach students – I help them achieve learner autonomy and study by themselves.
It is also important to showcase the following things:
The additional opportunities you offer
In my case, that's interactive homework, Edmodo classroom for group communication, 2 free group lessons per month (if you want to do that), individualized curriculum, Quizlet for vocabulary, personal student portfolio with lesson summaries on Edmodo, and even audio/video recordings of the lesson if the student wishes to review the content.
Ask for feedback and follow-up questions from the student
Ask the student if they think about your methods, first lesson, and what they want to do next time. This is simply a positive rapport, and it shows that you wish to continue lessons with this student.
Discuss your availabilities for future lessons
Try to accommodate the student, but also let the student know that you have open time slots and cannot do much if nothing fits their calendar. Both sides have to compromise! :)
Offer assistance with booking, platform, or conference app use (Zoom, Skype, or whatever you decide to use.) Make sure to write this in the message after the lesson as well. Some students struggle with this, and they always appreciate the help. You can make 3-minute tutorials by just recording your screen. You will do it once, and you can use the videos forever.
Being an online English teacher does not make the teaching process less meaningless and easy. The most important thing is that you MUST have a syllabus, curriculums for all levels + online materials, and textbooks. You can't just call the student and chat about what they ate for 60 minutes. I mean, you could, but, likely, you won't see them ever again. Ever.
First online lesson presentation: full of ideas!
The presentation below is something I created recently for a friend. Put a full screen and feel free to use it! I designed it to fit and engage any student!
I have been working successfully through Preply for the past 3 years and am very happy with my regular students. If you are interested in teaching at Preply, let me know, and I could help you join. I already helped many teachers create a successful tutoring profile on Preply!
Last, but not least, be POSITIVE and SMILE! Remember that the first lesson is stressful for the student as well. Nobody said that being an online English teacher is easy. Virtual classroom is just another type of 21st century learning environment.

Think about it as a first date – you are there because the student liked you, your accent and your qualifications .

The student made the first move by inviting you to a lesson. Now you need to close the deal by taking your relationship to the next level. Sounds better?
Do you love using specific methods or edtech in your online classroom? Do you follow certain steps/ideas in your first online lesson, or do you like to be spontaneous? Let me know in the comments or via the contact page. I would love to chat!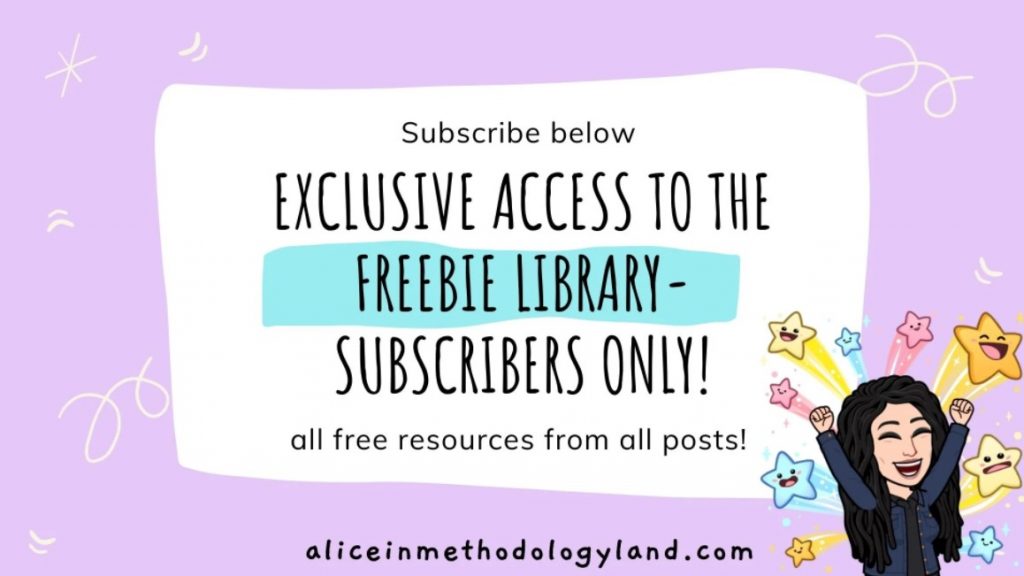 Click here to explore my store where 99% of materials are forever free!
All the materials except lesson plans and 30+ page interactive activity books will be free FOREVER! Why? Because sharing is caring, and 2020 hasn't been kind to all of us. Please consider donating so I can keep making FREE materials for everyone.

Don't forget to leave a review when you download materials! It's just a minute of your time, and it means a lot to me.
P.S. The store and the freebie library are not the same things. The freebie library has some extra materials like conference presentations and webinar recordings which are not available in the store ✨
The subscription link for the store is below my bio in every post. ?