Assessment represents a gray area for all teachers, especially differentiated assessment, so this post will provide some practical examples. We constantly fear that we haven't fulfilled the learning objectives, and we ponder on the things we could have done differently. If we take a step back and think about it, we will conclude that we have to individualize the assessment and create a differentiated classroom.
Many research proved that by differentiating our classroom, students learn more, and they can achieve a greater learner autonomy. To apply a differentiated assessment and "break the rules", we need to learn the rules by heart. That means that we have to know how to develop our curriculum by ourselves, and we need to use many different instructional designs.
We can differentiate our classroom in these areas:
Content;
Formative assessment tools;
Performance tasks;
Instructional designs.
When differentiating the assessment, I follow these steps:
I start with the diagnostic assessment, and then I explore the student's aptitudes by applying the Multiple Intelligence Theory.
I develop personalized and task-oriented assessment.
And last, but not least, most of the assessment I conduct is formative.
The examples in this article come from my online classroom. The ideas for differentiating assessment can be modified, and used in any online or offline classroom. They are conducted in large groups, as well as individual lessons.
Here are my differentiated assessment examples!
Ages 8 and 10 – a girl and a boy from Poland
A. and B. are brother and sister, and they both had issues with communicating in the beginning. They performed well on the grammar diagnostic tests, so I began exploring other reasons for their poor communication skills. The problem was that they were not motivated when we followed my curriculum. I suggested that they make a list of topics they like, and based on that I created TBI units, which the children loved.
Types of assessment included recording a video game tutorial and narrating using present simple and present continuous. A. created a collection of photos of her best friends, and we revised a lot of vocabulary and functional phrases by describing her best friends and their relationship. Additional types of assessments included creating a comic book and a rap song since the boy loves rap music.
Ph.D. student, an adolescent from Turkey
B. is a Ph.D. student, and her greatest problem is stuttering when she speaks, even in her native language.
Her stutter cannot be detected easily, and it sounds as if she is using a lot of crutch words. She didn't share this information with me, and she was trying to improve her speaking by herself.
When I realized this, I changed the methods of assessment. We are now using Edmodo (an online platform for students and teachers), and all my students are part of an asynchronous learning group, where they collaboratively discuss and compare the topics we cover in lessons by text, audio, and video.
B. is an engraving artist, and she started writing blog posts about the events she attends. She also shared things from her personal life and talked about the engraving process. This was the best way for her to be assessed since she had the time to meaningfully prepare the posts and vlogs, while also recycling the language structures we learned.
700 students in an IELTS preparation course
Besides giving individual online English lessons, I also collaborate with an IELTS preparation center from Nigeria as a lecturer and IELTS course facilitator. We currently have a group of 700 students, and surprisingly, assessing their knowledge does not represent an issue. I developed an online interactive course, which allows the students to get an automatic grade for listening and reading tests. Before starting, they all completed a diagnostic level test to determine their learning gaps. 
We have weekly lectures and collaborative activities which consist of discussion, oral and written presentations, summaries, reflections, and surveys. The students do oral and written summaries regularly, and other students are peer-teachers – they help me correct their mistakes. We are using Google Docs for the writing practice, and students can see and correct all the essays collaboratively. In every lesson, they share their reflections about their progress and practice speaking at the same time. They also submit audio recordings of their speaking section, and we analyze them together and comment. I can see the individual assessment and progress on the platform, including the hours they logged while practicing.
To conclude
The differentiated assessment comes naturally in my classroom environment, simply because I do not have to grade students traditionally, using summative assessment and this is why I truly hoped you like these examples. I am not very keen on standardized tests, and my professional opinion is that they are obsolete – they do not prepare the students for the 21st century life, and they do not develop the necessary 21st century skills in students. To properly assess our students, we must remember just one thing – one size truly does not fit all.
References:
This article was originally published on British Council Teaching English.
How have you differentiated your assessment in the past and do you have some examples to share? Share difficulties or successful assessment activities you implemented! Let me know in the comments or via the contact page what do you think of this topic.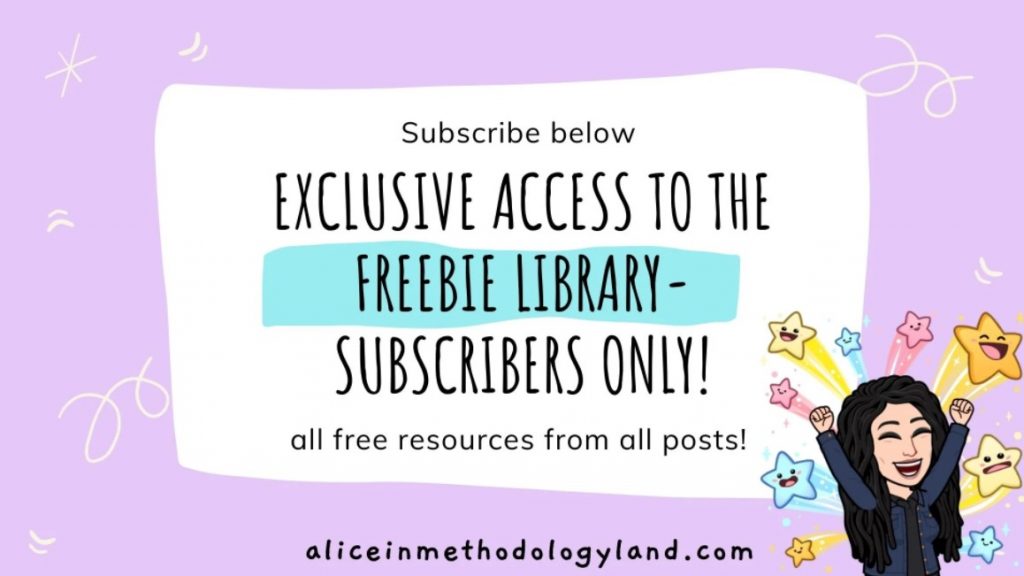 Click here to explore my store where 99% of materials are forever free!
All the materials except lesson plans and 30+ page interactive activity books will be free FOREVER! Why? Because sharing is caring, and 2020 hasn't been kind to all of us. Please consider donating so I can keep making FREE materials for everyone and keep my website open for all of you.

Don't forget to leave a review when you download materials! It's just a minute of your time and it means a lot to me.
P.S. The store and the freebie library are not the same thing – the freebie library has some extra materials like conference presentations and webinar recordings which are not available in the store ✨
The subscription link for the store is below my bio in every post. 👇