Hello, my dear colleagues! Last week I presented at a distance learning conference organized by Primera that focused on sharing examples of good practice. Here is what they say at Primera about the objectives of their conference:
Many teachers made distance teaching effective. Our role as the Erasmus+ courses provider is to make them visible. At Primera, we have decided to take the initiative and organize a Pan-European Zoom conference to enable teachers across Europe to share their best practices in distance learning with their colleagues.

2nd Pan-European Conference on Distance Teaching: Learning from Best Practice

My presentation – Milica Vukadin: Formative Assessment Dos and Don'ts
I will not write about my presentation in this post since this post reflects other presentations, and this reflection is already long enough. I will write about my presentation in a separate post. For the time being, here is my presentation. There are many clickable parts where you can explore and see examples of good practice when it comes to formative assessment activities. ? Also, take a look at this post which summarizes my formative assessment and Edmodo training.
Ksenija Kos – Emotions – Our Inner Compas
Ksenija is a psychotherapist and a teacher for children with special needs in Primary School Preska, Slovenia. She opened the distance learning Primera conference with a presentation titled Emotions – Our Inner Compas.
Ksenija's presentation consisted of the following aspects:
Understanding emotions;
Working with emotions;
Presenting practical examples of how to discuss emotions with children, both online and offline.
First, she started by posing great warm-up questions: What are emotions, and what are feelings?
Ksenija said that "emotions are associated with bodily reactions that are activated through neurotransmitters and hormones released by the brain, feelings are the conscious experience of emotional reactions".
She then presented relational needs in the form of a pyramid to showcase various levels of emotion:
Security (I am safe);
Valuing (I am important);
Acceptance;
Mutuality (feeling empathy);
Self-definition;
Making an impact;
Having the other initiate (initiate the change);
Expressing love.
Take a look at Ksenija's full presentation below
The presentation continued with examples of teaching children to regulate their emotions by themselves, both online and offline. Some of the examples include:
Connecting situations and emotions to an animated movie called "Inside out";
Coloring coloring pages with specific colors to represent our current emotion;
Observing and drawing what makes us feel in a certain way;
Helping children understand emotions they feel by using illustrative infographics;
Drawing and completing a worksheet on how different body parts feel while we experience different emotion;
Focusing on anger as a negative emotion and ways to express anger;
Finding the root of an issue by drawing a tree and connecting the causes and effects;
Filling a worksheet with anger triggers and another worksheet which shares ideas on how to calm down each child when they experience strong emotion;
Self-regulation cup;
5 steps to managing your own emotion by using your fingers;
Circular drawing while lying on the floor to relax and create art.
Ksenija's presentation was a nice refresher regarding the theory of emotion and behavior, and she presented great ideas on how to help children learn how to self-regulate their emotions creatively!
Elisa Kolodziej – Art in Long Distance and Isolation
Elisa Kolodziej is an art teacher at the Instituto Compresivo Fara Sabrina, and she had many great ideas when it comes to using art in distance teaching.
She presented a few ideas on how to teach art and then touched on the following topics:
How to continue the methods she presented in the presentation in distance learning?;
Access to technology and ways to overcome these issues;
How to promote student empowerment?
Some ways to overcome issues with access to technology were: (taken directly from her presentation)
Overcome bureaucracy.
Get in touch directly with families, get to know their difficulties, their realities, their different members, how they really live.
Get around problems.
Creativity and solidarity.
Appeal to stakeholders to assist with IT devices and Internet connections.
Distinguish material difficulties from emotional learning obstacles such as fear, anxiety, panic disorders.
Some ways to help students to start using technology properly were: (taken directly from her presentation)
Review assignments' delivery procedures.
Cancel unnecessary steps.
Reduce to essentials.
Focus on key elements.
Stop superfluous requests.
Research for software, apps, games to facilitate IT comprehension and manipulation in the specific area, e.i. Art.
How to promote student empowernment?
This was one of my favorite parts of Elisa's presentation, and I believe we need to address student empowerment more often. She mentioned the following ideas and observations (taken directly from her presentation):
Some students who were quiet/indifferent in class blossomed online.
A delayed response usually means a more thoughtful response.
Following up on students' evolution is easier even if we lack face to face meetings.
Many students find that online dialogue is less challenging in terms of emotional costs.
Propose different activities considering different students' interests and potentialities.
Elisa also touched on the aspect of assessment in art and stressed that fun is the key to achieving success in learning. At the bottom of her presentation, she also shared lists of various digital tools and websites you can use in your classroom (click on the yellow buttons on the bottom to explore).
One essential part of Elisa's presentation that stuck with me was this:
Unfortunately, what Elisa says is true, and I wish more art teachers had her courage to step up and show how important their subject is! ?
Irene De Laurentiis – A forward-looking online learning environment for career orientation: the "FUTURE Time Traveller" project
Irene De Laurentiis is an EU project manager, and she presented aspects of game-based learning that could be used in career orientation with students.
Irene presented the Game-Based approach as the future of learning. Here is a direct quote from this presentation: Developing a 3D game-based VR platform to transform orientation around future skills, jobs, and career prospects of Generation Z. The GBL approach creates a highly engaging and immersive experience. In addition, the combination of game mechanics and learning aspects can produce motivated, enthusiastic, focused, and interested learners.
Irene also showed screenshots of a game that requires students to travel to the future, explore the needs of this society, and become ambassadors of the future by exploring the future of work.
The main learning objectives of the game-based approach are:
Navigating in the world of work;
Interacting with others;
Getting the work done.
Each objective has its own skills and abilities. The game can be played as a single-player, multiplayer, and COOP.
She also shared what makes learning in the game successful:
Finally, Irene pointed to many 21st century skills developed in this project:
Problem-solving;
Critical thinking;
Creativity;
Collaboration;
Cognitition;
Emotional inteligence;
Communication, specifically negotiation.
To conclude with Irene's presentation, I want to say that game-based learning is definitely one of the best ways to learn something which seems hard or stressful. Given that the carrier orientation is very stressful for young students gamifying the process is a great idea. It also equips them with various 21st-century skills, which is a preparation for the job market itself.
Annabelle Azzopardi – Distance work with students with learning difficulties
Annabelle Azzopardi is an educator at the St. Theresa College Lija-Balzan-Iklin in Malta, and her presentation discussed Distance work with students with learning difficulties.
The thing I cannot forget after Anabelle's presentation is a very simple fact: parents would help their children better if we use tools they are using at work or are already familiar with. Of course, parents can't know all the tools we use, but the basic communicative tool can be selected based on their knowledge. A great idea to start organizing your online communication and synchronous lessons.
Anabelle started her presentation by talking about online lesson etiquette, rules for students, and online safety guidelines. Then, she discussed a very nice schedule tool and shared a collection of web tools she uses.
After that, she presented an example of a Math lesson, English lesson, self-assessment ideas, and she also shared a page of useful links for your online classroom.
I liked the most in her presentation: the games and ideas she shared about gamified online writing and spelling. These ideas can be used with students with difficulties and all other students. Take a look at some ideas below:
Anabelle's presentation was very practical. It showed us her daily and weekly activities, aka her teaching routine, which can be really useful to teachers who are just starting to teach online and need some structure.
Take a look at Annabelle's presentation below:
Danae S. Tsapikidou – The Easter Story: A Case of Combining Digital Tools
Danae S. Tsapikidou is a primary EFL teacher, and her presentation was titled: The Easter Story: A Case of Combining Digital Tools.
Unfortunately, I had to prepare for my lesson before the last presentation, and I can only share the presentation. I read through it, and I believe that the Easter project was interesting and that students had a lot of fun because they got to explore a very common topic differently. ?
Take a look at Danae's presentation below:
To conclude
The conference was outstanding, and I think there should be more conferences with short presentations, given by practitioners with as many examples of good practice as possible. However, the atmosphere in this distance learning conference Primera organized was great. I got new ideas from every presentation, making it a complete success (in my humble opinion).
Have you participated in conferences/workshops that shared good practice examples, just like this distance learning conference organized by Primera? If yes, did you get any new ideas? If not, do you believe that examples of good practice are equally important as presentations that share methodology? Write in the comments. I would love to hear your opinion.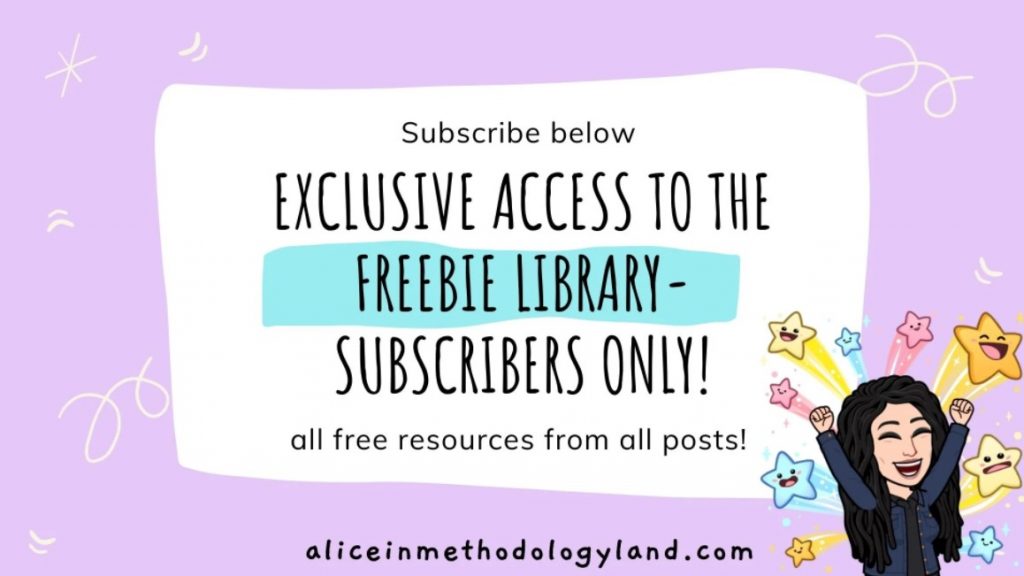 Click 

here

 to explore my store where 99% of materials are forever free!
All the materials except lesson plans and 30+ page interactive activity books will be free FOREVER! Why? Because sharing is caring, and 2020 hasn't been kind to all of us. Please consider donating so I can keep making FREE materials for everyone and keep my website open for all of you.

Don't forget to leave a review when you download materials! It's just a minute of your time, and it means a lot to me.
P.S. The store and the freebie library are not the same thing – the freebie library has some extra materials like conference presentations and webinar recordings which are not available in the store ✨
The subscription link for the store is below my bio in every post. ?