Hi, my dear colleagues!
In August 2022, I had the chance to lead a Distance & Blended Learning Erasmus + training with Primera from Slovenia. You can explore and read more about my program on the official program page at Primera. I developed this program in 2020, but because of the pandemic, we had no chance to have a face-to-face program until now.
I will share my thoughts on the course's positive and negative aspects and things I wish we had done differently.
About the training 1: Objectives
The participants of the course had a chance to redefine their classroom and develop distance learning
materials, which could also be used in the blended learning classroom, where one part of the instruction is
happening face to face, and another part is happening online.
Throughout the course, the participants got familiar with the fundamental concepts of distance and
blended learning and their significance in contemporary education. The participants created content, developed their distance and blended learning classrooms, and felt empowered to implement digital tools in their everyday instructions.
About the training 2: Methodology
In delivering this course, we followed the following aspects of Cambridge's digital competence framework:
digital teacher, digital classroom, lesson preparation using digital tools, conducting a lesson using digital tools, and evaluating the learning process using digital tools. The course format was didactic, experiential, and interactive, with discussions, individual and team exercises, and content creation. The participants created a workbook with session summaries and a network that will be used to communicate, share resources, and mentor each other after the program. Resources to deepen understanding and practice were shared for further study.
The original plan
Here is a short breakdown of the original program plan – it was pretty open to editing and interpretation because I was aware that we would have participants with different skills and aptitudes, which often happens in digital skills and distance learning training.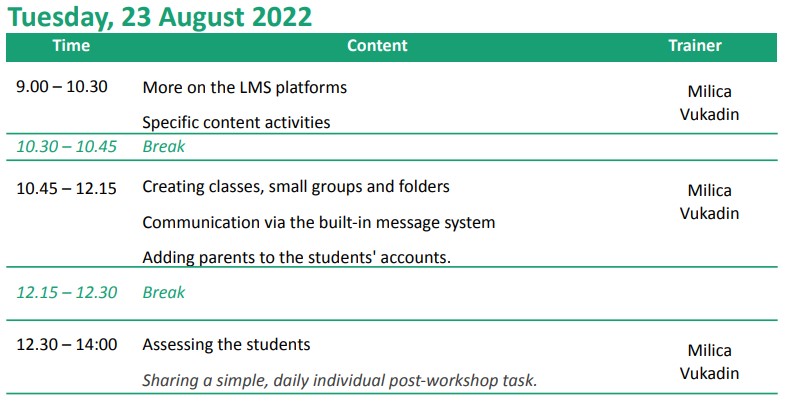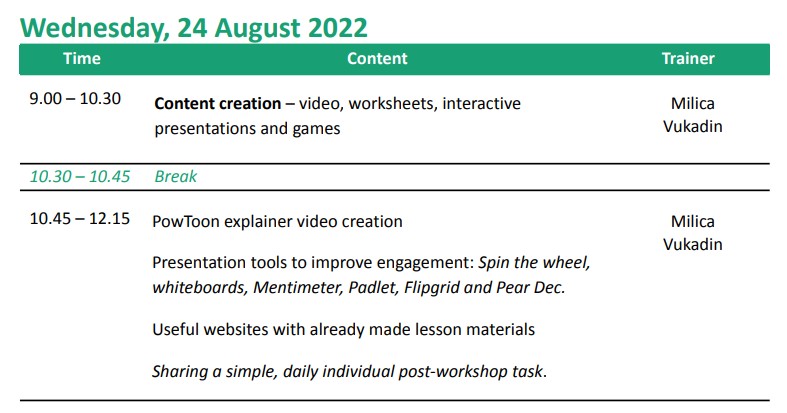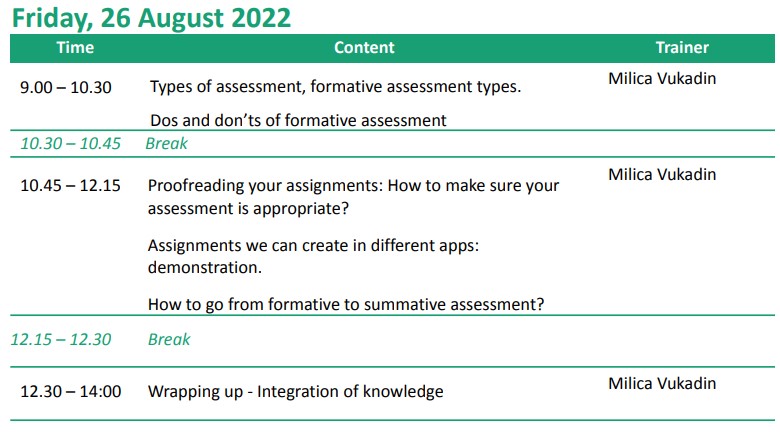 Why nothing went according to plan?
Well, the need for needs analysis should say it all. I love the freedom of Erasmus+ programs, but what other programs taught me, for example, British Council programs that are funded by the ministries of education of those countries who are organizing the programs, is that without the needs analysis, we cannot make sure that everyone has progressed equally. We used the Digital Teacher survey, which is the best tool we have to assess digital skills in more depth, but the test itself is long, and many participants didn't finish it, so we had no information from that part, and we wasted a bit of our time there.
The introductory training material: Day 1
The introductory material was to introduce the content and see where participants stand with their thoughts, opinions, and teaching methods regarding digital tools.
The edited plan
The plan was edited according to the participant's needs and teaching style because the original plan was not realistic and practical. The edited plan focused only on flipped learning, and we observed it from the face-to-face teaching perspective. I advised using this one because it can easily be done online. Sometimes, there is no need for changes in the plan or materials, just small adaptations.
The plan was made based on the wishes of the participants to focus on material creation and assessment.
Final day participant feedback – feedback I gave them
The participants were generally very pleased, and I am glad they found the program useful – the comments were really positive!
Final day participant feedback – feedback the organization gave them
This one has more information because it has multiple pages; it was so valuable for me as a trainer to read it. I cannot share it because it's not my feedback sheet, and it's not public, but there were some contradictory comments (some said the program was too fast, and some said it was too slow), and I pondered on those in the trainer takeaway below. Why? Because both sides were completely right!
What did I think about the program as a trainer
I loved leading the course because the participants were eager to learn, and even if it was too hard and stressful, none of them gave up. We had a chance to explore different cultures because the participants came from different countries and were very good at communication. The thing that I noticed is something that happens in every digital skill and distance learning training:
Teachers know of many tools, but they haven't had the chance to master any of them, and most are used superficially;
Teachers know the basics of most teaching methods, but the classroom implementation of flipped learning and digital tools has not been achieved.
These two reasons led to my decision to focus on the flipped learning method, adapt it for each classroom, and make a digital, interactive material in Genial.ly so that the focus is on one tool rather than piling up many tools not exploring them enough.
I am also happy with my decision to demonstrate one tool function on the projector and sit next to each participant to ensure they can use it. They also worked and supported each other in small groups, so while I was helping one educator, they also worked on their materials collaboratively.
Trainer takeaway: What could have been done differently?
Ideally, the groups could be split to have people with similar digital skills in one group. This is to prevent some educators cannot cope because it's too hard while at the same time, some are not learning anything new.
To make this happen, the educators need to take a survey at home before we start so that the information is used to develop a program that would fit everyone.
To fit different level groups, a trainer assistant would be very useful, and we can create additional fast-finishers activities – just like we do for our classroom because, in the end, teacher training is also learning!
I also wish we had the chance to have more movement and chat much more. Still, since we had material development as the main goal of our program, there were many things that each participant needed to do independently/in small groups, which took practice and quiet time because we decided not to take any work to the hotel after the program.
To conclude
Have you ever participated in an Erasmus + training? Do you see yourself using flipped learning in your classroom? Let me know in the comments, I would love to hear your opinion!
Click here to explore Alice's material website, where ESL materials are forever free!
All the materials except lesson plans and 30+ page interactive activity books will be free FOREVER! Why? Because sharing is caring, and the last couple of years haven't been kind to all of us.  Don't forget to leave a review when you download materials! It's just a minute of your time, and it means a lot to Alice as a material designer.
P.S. The store and the freebie library are not the same things
– the freebie library has some extra materials like conference presentations and webinar recordings which are not available in the store 
The subscription link for the store is below the author's bio in every post. 
*Our posts may contain affiliate links, which is one of the ways we can keep funding our organization.