Hello, my dearest colleagues! I have noticed a lot of questions and posts in all teacher groups about teaching online recently. These posts usually come from teachers who are forced to quickly switch to distance learning. I've been teaching online for more than 6 years, and I've developed, moderated, and taught courses with over 1000 students. Teaching online requires some skills that need to be developed over time, so do not feel overwhelmed by all the things you find online.
Try out multiple things and see what fits your classroom and your current EdTech knowledge.
A bit about my online teaching
I currently work for the B.Y.Mafit IELTS examination center as head of language studies. My distance IELTS preparation course currently has 1237 students. I will celebrate a year of teaching this extremely large student group online in June. Aside from the large IELTS group, I tutor 17 students from all over the world individually using various apps. I've had more than 3000 online teaching hours in total, and my courses have been rewarded and recognized – I presented my distance learning IELTS course last year at EdmodoCon in Miami.
Here is what Edmodo Con says about my presentation
Milica Vukadin developed an interactive online facilitated IELTS course on Canvas Instructure, and she is teaching large student groups online of more than 500 students. (This was the number of students at the time). The course combines synchronous and asynchronous learning. By creating a collaborative learning environment, students have a chance to become peer-teachers and participate in the assessment. The course consists of:
A diagnostic language test,
Separated modules for each live lecture,
Lesson recordings for revision,
Self-grading listening, and reading tests.
That is to say, the course has collaborative activities that consist of discussion, oral, written presentations, and reflections. Present educators will hear effective examples of classroom differentiation needed to create a large facilitated course for adult students. The participants will be able to create an engaging course outline for their content area, along with course objectives and syllabus.
Synchronous VS. asynchronous learning
Synchronous learning is learning in real-time (conducting a live lesson), and asynchronous learning consists of recording a video and sharing it later. The thing is that YOU NEED TO DO BOTH. It is much easier to spend 1 hour of your online lesson and answer all the questions, than spending 5 hours answering tons of comments or emails.
Make a list of apps and do not use anything other than these apps until you develop your online classroom – MAKE VIDEO TUTORIALS FOR YOUR STUDENTS
Do. Not. Pile. Up. Apps. – Think about all the things you need to use (the type of apps you need to use) and select only one app with this function. Record your screen and make tutorials on how to use these apps. This way your students will be able to learn how to use it easily without asking you 10.000 questions. Here is my super short tutorial on how to install FreeConferenceCall on your phone created for students.
10 quick steps to teaching large student groups effectively online
During my 6 year-long experience and hundreds of students, I've had the opportunity to explore tons of programs and platforms, and I will present some of the most modern apps which offer a lot of tools and possibilities.
Select the basic form of communication;
Select an LMS platform;
Choose a communicational platform (smaller group 10-15 students max);
Select a live/synchronous lesson app – Zoom or FreeConferenceCall;
Select a lesson recording app;
Find supplemental apps to use in the lesson/after the lesson;
Motivating your students online;
Create and design your pdfs;
Tools to cut and edit existing pdfs;
Content creation apps for your videos.
1. Select the basic form of communication
How will you communicate with your students? AVOID using emails, Facebook, or apps such as WhatsApp or Viber. You may wonder why? You will probably receive hundreds of messages, and you do not want that. LMS platforms usually offer a built-in messaging system, and you can communicate with your students there. Encourage them to read the articles, watch the videos you post, and ask all of their questions in class. Teaching online gives the illusion of you being available 24/7, so you need to draw the line. Set the time you will be online to respond to queries – from 4 pm to 5 pm, for example.
2. Select an LMS platform
Learning Management Systems serve as a way for you to build courses easily, complete the assessment, and communicate with your students. LMS platforms allow teaching large student groups online very easily. After testing and comparing all of those LMS platforms, I've decided to use Canvas Instructure because it offers so many amazing things, especially when it comes to assessment. I also used the official comparison site for LMS platforms, and this is how I narrowed my choice. Canvas offers quiz creation, modules, discussions, assignments, message center, a grade book, and honestly, you will never need anything else. I use Canvas for my IELTS course for the Nigerian preparation center, and it works amazingly, even with 1000+ students.
Here is a video on the platform and our course I created for my students.
3. Select a communicational platform (smaller group 10-15 students max)
If you are just starting with online teaching, and you have a small group, move no further than Edmodo – you can create simple assignments and do quizzes, create private folders and groups. Imagine using Facebook for learning – this is exactly what it is. Take a look at THIS article written by an amazing ex-teacher Kate on Edmodo blog.
4. Select a live/synchronous lesson app – Zoom or FreeConferenceCall
Zoom or FreeConferenceCall would be your best choice. AVOID Skype, and make sure that you have cable internet. I tested every single free conference app there is, and these two have proven to be the most reliable, and they offer a lot of features.
Zoom offers muting the participants as you wish, controlling the screen, sharing the screen, built-in whiteboard, built-in audio/video recording, taking screenshots inside Zoom, your students can also MANIPULATE your screen so they can complete an interactive task on your computer. Finally, you can use the virtual background option to be able to put anything you want behind you and really animate your classroom. Zoom also has a time limit and student number limit, and this is why I also want to add one free app with no restrictions – Free Conference Call.
Free Conference Call – FCC offers an UNLIMITED number of students in your class, including the options to lock the class so that no one else can join, screen sharing, drawing tools, and even recording. You cannot record indefinitely and the quality is not so good, but it can be used if you are not teaching too much. This is by far the best video conference app for teaching large student groups online.
5. Select a lesson recording app
If you have to record lessons online you need to select an app you are going to use for this. I have checked many recording programs, and tons of them did not offer what I wanted. I settled down on Bandicambecause I can pause the recording, and I can also record only audio if I want. Bandicam is amazing, and it has never failed me – it has too many options to count. You can set the exact part of the screen you want to record, hide/show the mouse, etc. On the other hand, I have a paid version, while the free version lets you record only 10 minutes at a time. Your school can buy a lifetime license pretty cheaply. A lot of people use Camtasia, but when it comes to the screen recording programs, you will probably have to invest some money. All of the other tools are free, but if you want quality lesson recordings, paying is inevitable. Bear in mind that your recordings will be there forever, and you can reuse them whenever you need to.
I like having audio recordings of our lessons so that I can use them as podcasts for the students, and all of our lessons are posted on the platform. Students can rewatch them at any time.
6. Select other apps to use in the lesson/after the lesson
Try not to make students install too many apps because you will have to record video TUTORIALS for all of the programs. The goal is NOT to use multiple apps and keep everything in your LMSor blog for easier use. I would only add maybe ISL collective for interactive videos since the students do not have to log in anywhere. If you have a blog you can use HP5 codes. By using HP5 codes you can build ANY kind of test you want right in your blog. Here are just some of the amazing things you can make:
7. Motivating your students online
Finally, read my article of the week on British Council – Think Like a Teenager – 10 Methods to Motivate Teenage Learners. The article was very successful, and it was reshared more than 4500 times. I wrote about how I use different apps in my online classroom to motivate teenage learners.
8. Create and design your pdfs
The only two things you need here are Canva and PowerPoint templates. You will definitely need to use some pdfs and presentations in your life lessons. Here are my favorite template websites
Slide Carnival – PowerPoint templates

Slides Mania – PowerPoint templates

Canva – A free, online designing tool which offers a lot of fonts, cliparts, and templates

Geniall.y – The most intearactive presentation tool ever with hundeds on templates – gamifying, options, board games, esape rooms, plans, infographics, and so on.
8. Tools to cut and edit existing pdfs
You probably have accumulated tons of books in pdf format over the years, and you need to cut your pdf when you share homework or lesson material. Ilovepdf offers all of this for free, without any registration! You can make an account, but it's really not necessary. You can cut, edit, compress, transfer pdf to ppt, doc, and vice-versa.
9. Content creation apps for your videos
When you have an interactive presentation and a screen recorder, you do not need anything else, but I also like using VideoScribe to create fun whiteboard videos such as this one.
10. Content creation – interactive presentations
Content creation – interactive presentations – Genial.ly to finish off, here is one of my presentations in Geniall.ly I created for a professional development workshop.
To conclude
I wrote about a lot of things I learned to use over the years, but you should not feel overwhelmed. You can start by creating a class on Edmodo, holding live lessons, and posting simple tasks. It all depends on your classroom needs, but whatever those may be, you still need to follow these 10 steps.
A group on Facebook (Amazing Educational Resources) shared THIS document with ed-tech companies who offered their resources for FREE to all the schools closed due to coronavirus! The resources are mostly for primary and middle school, but some apps can be used with teenagers and adults too, so make sure to check out the list!

Amazing Educational Resources
If you are interested in finding students online and teaching them individually, read these posts.
I will be writing more posts on organizing your online classroom and teaching large student groups online this week. Please write in the comments if you have any questions!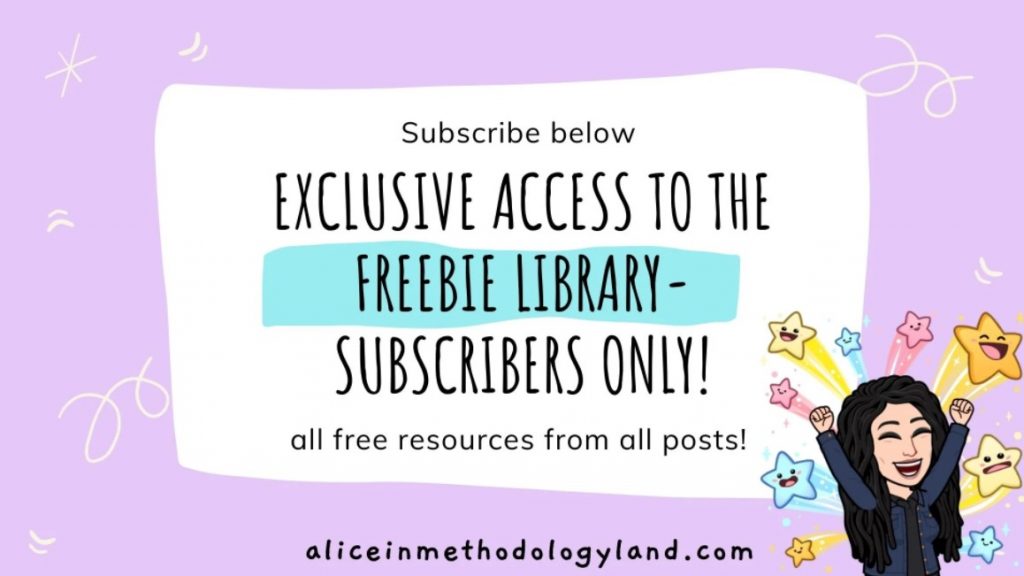 Click

here

to explore my store where 99% of materials are forever free!
All the materials except lesson plans and 30+ page interactive activity books will be free FOREVER! Why? Because sharing is caring, and 2020 hasn't been kind to all of us. Please consider donating so I can keep making FREE materials for everyone and keep my website open for all of you.

Don't forget to leave a review when you download materials! It's just a minute of your time and it means a lot to me.
P.S. The store and the freebie library are not the same thing – the freebie library has some extra materials like conference presentations and webinar recordings which are not available in the store ✨
The subscription link for the store is below my bio in every post. 👇