British Council, Macmillan and Cambridge University Press are organizing online teacher conferences. These online sessions will provide useful and practical advice that you can apply to your own teaching context. Attendance is free and open to all. Sessions will also be recorded and made available after the event. So whether you just want to casually attend, or interact in the discussion panels, these conferences are easily accessible to everyone! Above all, the presenters are well-educated, and the sessions are free.
5TH OF OCTOBER
Join IATEFL and British Council to celebrate World Teachers' Day with a one-day web conference. The conference features 16 separate sessions on a wide range of themes and issues. Some topics include inclusive education and materials development, life skills, learning technologies, classroom tips and advice, and many more. You will participate in:
Plenary talks;
Practical workshops;
Discussion forums on key topics;
Q&A sessions with plenary speakers.
Conference program:
Plenary 1 – Seminar Room 1 – 10:00 – 11:00
Antonia Clare – Taking Flight from the Intermediate Plateau
Seminar Room 1 – 11:15 – 12:00
Carolyn Westbrook and Richard Spiby – Assessment training for language teachers
Seminar Room 2
Georgia Papamichailidou – Developmental practice through evidence-based observations
Breakout Room
Plenary 1 Question and Answer session
Seminar Room 1
– 12:15 – 13:00
Joanna Budden, Joanna Gore, Kirk Moore, Jonathan Rickard – The LearnEnglish team's top ten tips
Seminar Room 2
Florence Muluh – Challenges to teacher professional development in low resource contexts
Breakout Room – Staff Room chat
Plenary 2 – Seminar Room 2 – 13.15 – 14.15
Konstantina Ntomprou – Life Skills: Lessons taught; lessons learnt
Seminar Room 1 – 14.45 – 15.30
Desislava Zareva, Nelson Arditto, Cristiana Osan, Teodora Naiba – Teacher educator discussion forum – Making the transition from teacher to teacher educator
Seminar Room 2
Vuyokazi Makubalo – Teacher reflections on learning and teaching through English as an additional language in South Africa
Seminar Room 1 – 15:45 – 16:30
Lucy Norris – Teaching for success: Establishing a culture of Continuing Professional Development
Seminar Room 2
Breakout Room – Staff Room chat
Plenary 3 – Seminar Room 1 – 16:45 – 17:45
Tyson Seburn – Tick boxes don't matter, representation does
Seminar Room 1 – 18:15 – 19:00
Bella Szyszkowska, Ella Watkins – Eyes Open – Celebrating Diversity in YL Literature
Seminar Room 2
Carolina Novak – My journey teaching SDGs and why you should start yours
Breakout Room
Plenary 3 Question and Answer session
Seminar Room 1 – 19:15 – 20:00
Roxana Zapata – Leveraging Communities of Practice for Continuous Professional Development
Seminar Room 2
Vicky Saumell – Digital projects to spark language use, creativity, and engagement
Plenary 4 – Seminar Room 2 – 20:15 – 21:45
Daniel Barber and Kath Bilsborough – Exploring our ELT footprint
2ND OF OCTOBER
In the Macmillan Teacher's Day online conference you will be able to hear 6 45 minute talks with a relaxed, non-academic tone. These sessions could motivate you and provide you with fresh ideas to start your new school year. Macmillan organizes online teacher conferences every year.
SATURDAY, 2ND OF OCTOBER
12:00 – 12:45 – Carol Read – How to survive and thrive as a language teacher of children
13:00 – 13:45 – Emma Reynolds – Mind full or Mindful? An introduction to Mindfulness for teachers
14:00 – 14:45 – Amy Blanchard – Teaching EFL and EAP
15:00 – 15:45 – Chia Suan Chong – Making the most of the Teacher's Book
16:00 – 16:45 – Jo Ramsden – Extending literacy beyond the classroom
17:00 – 17:45 – Russell Stannard – Collaboration and sharing: Ideas, approaches, and technologies that can help.
Opening the 'YL' Umbrella: Age-Appropriate Pedagogies in ELT
3-day event, 25 – 27 October 2019
This year's event features 9 world-class plenaries, 2 fascinating panel discussions, 1 interactive Q&A session. In addition, the event has 15 highly creative talks focused on early years, primary, lower, and upper secondary ELT! The web conference moves away from 'YL' as an umbrella term and showcases fresh pedagogies. See the digital program for more information and register here. Most importantly, IATEFL organizes online teacher conferences every year!
29TH OF OCTOBER – 31ST OF OCTOBER
In the Cambridge University Press Academic ELT Online conference you will be able to:
Listen to a variety of engaging topics delivered by academic experts. Topics will include critical thinking, vocabulary in speaking, listening skills, plagiarism and many more.
Discuss and share thoughts with like-minded people.
Join a talk and receive a certificate of attendance.
TUESDAY, 29TH OF OCTOBER
09:00 – Averil Coxhead – Focus on vocabulary in speaking in English for Academic Purposes
12.00 – James Dunn – Extending Critical Thinking Past the Text: Strategies for creating supplemental printouts that focus on students' needs
17:00 – Rhonda Petree – An intentional approach to syllabus design for EAP courses
WEDNESDAY, 30TH OF OCTOBER
09:00 – Gaby Lawson – Teaching HOT (Higher Order Thinking) Reading skills: teaching summarising more effectively with two strategies
12:00 – Diane Pecorari – Plagiarism and academic literacy: What EAP teachers need to know
TUESDAY, 31st OF OCTOBER
09:00 UK- Melissa Oldroyd – Using active listening skills to improve listening comprehension in expository discussions
12:00 UK – Racher Robinson – How to help students develop strategies for giving more effective presentations
What do you think about online professional development and online teacher conferences? Do you believe they can be equally good as in-person conferences?
Let me know in the comments or via the contact page!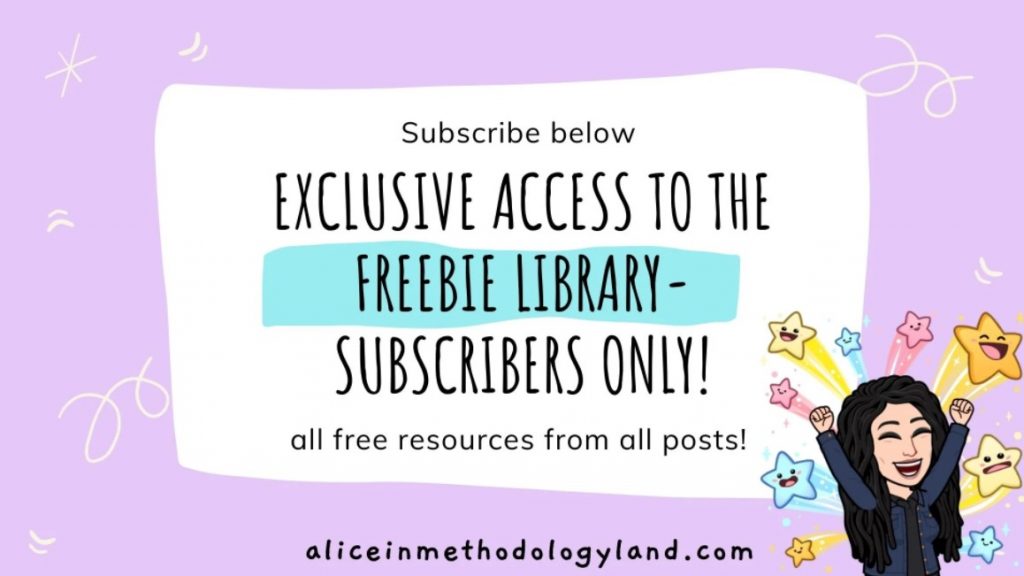 Click here to explore my store where 99% of materials are forever free!
All the materials except lesson plans and 30+ page interactive activity books will be free FOREVER! Why? Because sharing is caring, and 2020 hasn't been kind to all of us. Please consider donating so I can keep making FREE materials for everyone and keep my website open for all of you.

Don't forget to leave a review when you download materials! It's just a minute of your time and it means a lot to me.
P.S. The store and the freebie library are not the same thing – the freebie library has some extra materials like conference presentations and webinar recordings which are not available in the store ✨
The subscription link for the store is below my bio in every post. ?