This is one in the series of posts that will be describing working online in various companies, and it will be a review of Bibo Global Opportunity (now Engoo), along with a few tips on how to teach online. The future posts will include opinions and application processes in Native Camp, Preply, Fiverr, and a few more. So read this review to see how you can teach online in Bibo!
1. The first step is, of course, applying!
You can click here to APPLY.
Be careful when you write – do not make grammatical mistakes. If you are feeling insecure about your writing, use Grammarly to check your essay.
After a day or two, you will receive an email with the following information:
A link for booking the interview (you can choose the time in the calendar – you will have a lot of time to prepare).
To book the interview, you need to have a Skype account.
Thirty minutes before the interview, you will need to send a speed test result to your interviewer. Your interviewer will make a call at the booked time.
2. The interview:
Try to limit grammatical mistakes to a minimum!
They will ask you to introduce yourself – be brief! Tell them only the important information, your name, age, and prior education. After that, they always ask the most difficult question ever: "How can you contribute to Bibo Global Opportunity, and why should we hire you?" To answer this properly, point out your experience and your skills.
After that, there is a vocabulary question and a grammar question. I was asked to explain and give example sentences for "rage", "overwhelmed", and "population". The grammar is basic and includes questions such as: "What is an adjective?" These questions can be hard because you are required to explain to them as you would explain it to an absolute beginner, so keep it simple.
Last but not least, always smile. The interview itself is about 15 minutes long. If you pass, your interviewer will send you an email with the next steps immediately explaining how to book a session and conduct the demo lesson. Make sure to learn the lesson flow.
3. The next step consists of three parts:
Booking the training – You will be in the group with the other applicants who passed the interview. You should send the speed test result 30 minutes before the call to make sure your internet connection is stable. You can only reschedule this session once, so be careful. In the training session, you will get all the information needed to pass the demo lessons.
Memorizing the lesson flow – You will receive demo videos, to help you conduct the lessons properly. The lesson flow consists of greetings, AV check, checking the student's request, following the lesson materials, wrapping up, and finishing the lesson on time.
Conducting demo lessons – After the training, you will receive the student's Skype details and other lesson-related information.
Contact the student on time, at least 20 minutes before the lesson. Send them a nice message while adding them on Skype.
You will conduct two demo lessons, 15 minutes each. After the second one, you will receive your final evaluation. If you passed, congratulations! In addition, you will receive an email about your next steps. If you failed, however, you need to wait three months before you can apply again.
4. Here are the steps if you pass:
Signing the contract – Bibo employment team will send you an online version of the contract, and you will have to provide your ID number.
Setting up a PayPal account and submitting it– All you need is an email and a password to make your account.
Taking professional photos and videos for your Tutor Account.
Booking an orientation – 1-hour Skype group conversation, explaining (again) how to properly conduct a lesson.
Open the schedule and conduct the first lesson – The schedule is flexible. The two things you need to remember are clicking the ready button (strictly 35 minutes before the lesson) and adding your student on time (35 minutes before the lesson).
To conclude this review – Should you teach online at Bibo or Engoo?
Bibo is not great, but your schedule will be booked almost all the time, and most students are nice. If you are not a native speaker and not a teacher, you can still get hired anyway, which can be a nice company for beginners. I have a teaching degree, and I started with Bibo. We did have some ups and downs, but it made me a better teacher in the end. No company is perfect, but at least the payment was always on time, and you can make some nice student friends along the way!
Here are some links that depict working online as a home-based ESL teacher:
What do you think about teaching online? Did this review help you decide if you want to teach online in Bibo Global Opportunity, Engoo? Share your opinion about the review in the comments or write on the contact page!
*Disclaimer: This post may contain affiliate links (Grammarly), which will help me earn a tiny comission if you click on the link and sign up, at no cost to you. That is the only affiliate link in this post and I do not collaborate and I am not paid by Engoo in any way. All the opinions are 100% mine.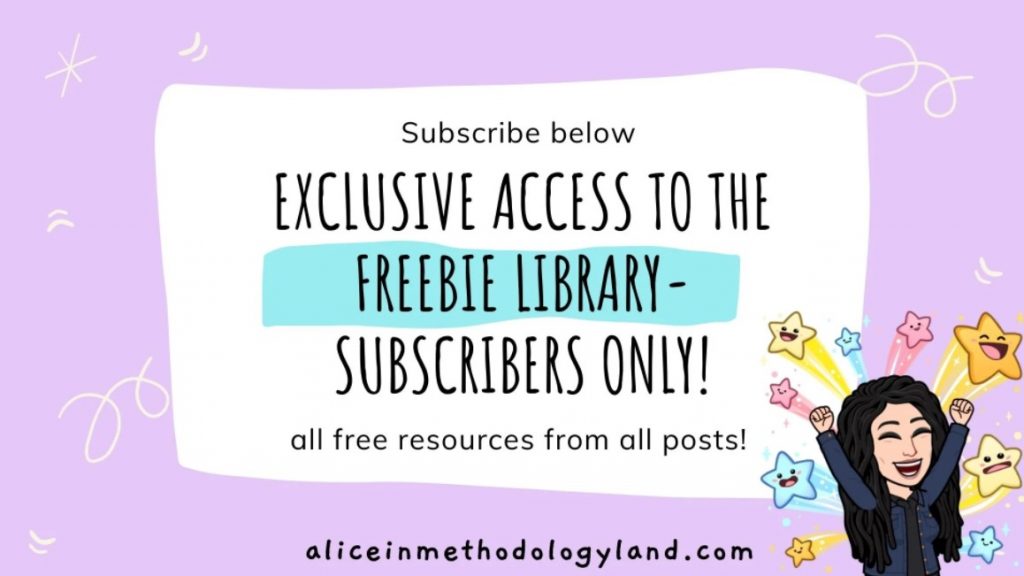 Click here to explore my store where 99% of materials are forever free!
All the materials except lesson plans and 30+ page interactive activity books will be free FOREVER! Why? Because sharing is caring, and 2020 hasn't been kind to all of us. Please consider donating so I can keep making FREE materials for everyone and keep my website open for all of you.

Don't forget to leave a review when you download materials! It's just a minute of your time, and it means a lot to me.
P.S. The store and the freebie library are not the same thing – the freebie library has some extra materials like conference presentations and webinar recordings which are not available in the store ✨
The subscription link for the store is below my bio in every post. ?