Have you ever wondered what does Swedish environmental education look like?
If you are a nature lover like me, the need to develop environmental awareness in your children will eventually creep in your teaching style and curriculum. This is why I became a National Geographic Certified Educator! I must say that it was a life-changing experience for me. After that, I completed two more programs at National Geographic: Geo-Inquiry Process and Teaching Global Climate Change in your classroom. I will write about all of these programs in separate posts.
Finally, I decided that the topic of my master thesis will be developing environmental awareness by learning English in bilingual preschools.
This is a pretty serious topic in my country since there are barely a few preschools who are bilingual, and also follow an environmental curriculum. All of this lead me to apply to an Erasmus + exchange. They selected me, and I spent around 10 days in Sweden, in a natural resort called Hellasgården. During my stay, I had an amazing opportunity to visit one of the best preschools in Stockholm.
All preschools in the Stockholm municipality follow the environmental education approach as their basic instructional motif. They build up their unique curriculums based on the connection between the child and the natural environment.
An introduction to Swedish environmental education
The preschool I visited is surrounded by forest, and it looks dream-like. It was a little cloudy on the day of my visit, so the photos are a bit dark.
All the teachers speak English very well, and their administrator speaks very well as too. The preschool is open to other preschools in the world! They have posters and photos of projects with other countries in the hallway. The administration organizes teacher mobility so that teachers can observe classrooms in other countries via the Erasmus + for education program.
They are currently video chatting with children from the UK and showing them what are they doing that specific day. The children speak very little English, so most of their communication is nonverbal and show-and-tell. It's still amazing how they understand each other.
The teacher's lounge looks amazing and comfortable.
Based on the organization of the classrooms and the present materials, I would say that they follow the Reggio Emilia learning approach.
The Reggio Emilia approach is an educational philosophy which focuses on preschool and primary education. It has a student-centered and constructivist pedagogy that uses self-directed, experiential learning in relationship-driven environments. The program is based on the principles of respect, responsibility, and community through exploration and discovery through a self-guided curriculum. The children form their own personality during early years of development and they know "a hundred languages". The aim of the Reggio approach is to teach how to use symbolic languages (e.g., painting, sculpting, drama) in everyday life.
Where are the classrooms?!
There are no specific classrooms for each class! The teachers rotate and share all resources, which is cost and space-friendly. I must say that I have never seen such a preschool in my life! The organization is completely different in my country.
The teachers have a schedule in which they rotate. This way, children get to use all the dramatic corners and all the classrooms. By doing that, they get to explore different settings and corners. They also mix with children who are younger or older than them.
The blocks in the math center which you see above are not branded! They are just wooden blocks which they painted with child-safe paint. The walls showcase multiple structures they already built for inspiration.
Another thing which I LOVED is the fact that the teachers DO NOT cover the walls with printables, laminated posters, and their artwork.
There is NOTHING teacher-made on the walls except posters from their official projects and professional exchanges.
The walls are filled with children's artwork, and there are plenty of photos of the process making, which was amazing to see.
All the hallways and all the walls are used as a gallery for children's meaningful artwork – not just pasted cutouts that teachers prepared in advance. The learning is exploratory and completely learner-driven.
Natural materials are all around
The science center is full of natural materials, and multiple pets as well. The whole preschool takes care of fish, snails, and spiders.
The children go outside even if it is rainy and they don't mind getting a bit muddy.
There are so many natural materials in the preschool – I was amazed and delighted to be there. Seeing a large dry sunflower on the shelf, branches, and rocks made my day. There are a few sensory sand tables as well. At this point I concluded that the Swedish environmental education is AMAZING!
The literacy room is huge, and it has cozy beds ready to be used during storytelling. The bookshelves feature not just books, but also authors' books and illustration children created inspired by the books they read.
Here are some more things from the hallway gallery.
They even use the windows in the cafeteria to grow plants! The fact that all the children eat there and that these bottles survived, says a lot about their politeness and connection to nature.
I believe that my post presents my ecstatic emotions and happiness because I was able to talk with amazing teachers and visit this outstanding preschool. My dream is to one day open a preschool with an environmental curriculum.
What do you think about Swedish environmental education? What do you think about an exploratory, nature-driven curriculum? How do you incorporate environmental education? Write via the comments or via the contact page.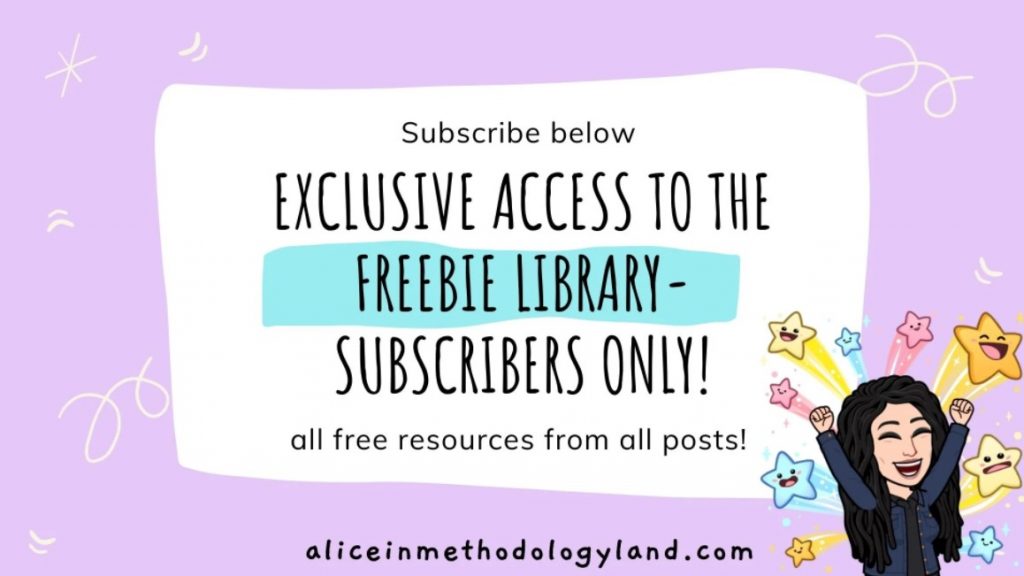 Click here to explore my store where 99% of materials are forever free!
All the materials except lesson plans and 30+ page interactive activity books will be free FOREVER! Why? Because sharing is caring, and 2020 hasn't been kind to all of us. Please consider donating so I can keep making FREE materials for everyone and keep my website open for all of you.

Don't forget to leave a review when you download materials! It's just a minute of your time and it means a lot to me.
P.S. The store and the freebie library are not the same thing – the freebie library has some extra materials like conference presentations and webinar recordings which are not available in the store ✨
The subscription link for the store is below my bio in every post.