Hello, my dear colleagues! Storytelling, ICT and digital tools, preschool in the cloud™, young learners, and professional development are some of my favorite education words. So many people ask me about the professional development trainings I conduct. They ask how did I start, how they can begin their teaching training journey, and more. It takes a lot of time, experience, and most of all, expertise in the area you are training the teachers in.
When tech fails you
✔️ When you focus on the academic areas you are thriving in, it's very easy and natural to develop a professional development program.
A few days ago, the power in my building went down in the middle of my conference presentation. So I had to present on my phone, and Blanka, the conference moderator, and organizer manipulated my interactive presentation.
People wrote in the comments: "Listened to Milica before, worth waiting for you guys" is priceless. When your colleagues from around the globe recognize you as a trainer, that's when you start to get paid.
❌ Teaching comes before training, so please don't hurry and try to skip this first crucial step.
I hope this also helps you not to panic when the tech fails you.
Screenshots from people who supported me during the power outage
4th Pan-EU Conference on Digital Teaching – for KINDERGARTENS, Primera Slovenia
How can we startusing ICT in preschooL/low-resource classroom?
You are teaching in a low-resource classroom? Explore the photo below to see some things you can use to incorporate tech in your preschool class. You can even make a DIY projector.
What are the benefits of using stories in the young learner classroom?
Stories present an authentic form of communication;
They introduce new cultures to children;
They teach young learners in an entertaining way;
Stories help develop critical thinking skills;
Stories develop reading habits and promote early literacy.
Steps for creating an interactive, storytelling digital material for young learners
Keep the tasks simple;
Include translations in their native language;
Add audio instructions which can be recorded directly in Genial.ly;
Give some students the role of a teacher assistant;
Refrain from explaining everything – let the children explore and give them time to learn by themselves;
Have a demonstration and practice using the tool before starting an activity;
The tasks should be simple enough to be done independently, at home.
Recording audio directly in Genial.ly
To record sound directly in Genial.ly, you can go to INSERT and then AUDIO. From there, you can set your audio to one page, the whole material, put it in the background, or leave the playable button. I use it to share instructions with young learners and give them some extra support in English or their native language.
Cannot invest in printed books for your classroom? Find thousands of titles online for free!

Alice's Interactive Library
The online book registry/library serves as a link/website where children can see more information about the books I have in my English library, select what we will do in our next storytelling, and play various games.
It is also useful for teachers who want to keep their book collection in one place.
3 ICT Storytelling Lessons
Not familiar with storytelling methodology? I got you covered!
Scaffolded design of a storytelling lesson
Before you start reading a story to your class, you need to pre-teach the vocabulary, grammar, language functions, and culture if this aspect exists in the book. Here are some examples of how can you organize your target language with an imaginary book which talks about animals and daily activities:
Vocabulary (names of animals, action verbs);
Language functions (expressing ability, describing what different animals can do);
Grammar structures (the present simple tense – verb to be, first-person singular, the modal verb for ability (can), positive and interrogative forms of the modal verbs).
Now that we have determined our pre-teaching outcomes, we can start planing the lesson. According to Shin and Crandall and Theme-Based Instruction, this is the structure of the lesson we should follow according to Shin and Crandall and Theme-Based Instruction).
Keep reading the post below for more detailed steps.
Storytelling and ICT/digital tools for young learners – Preschool in the Cloud™ interactive presentation
If you are not interested in exploring the original posts, explore the presentation. All of the lesson materials are embedded so that you can explore them directly in the presentation. Make sure to click the EXPLORE and PLAY buttons to see videos from those lessons.
Have you ever managed to merge storytelling with ICT? Do you believe there are some advantages while using digital tools in storytelling? If not, what do you think about the concept? Write in the comments below or via the contact page.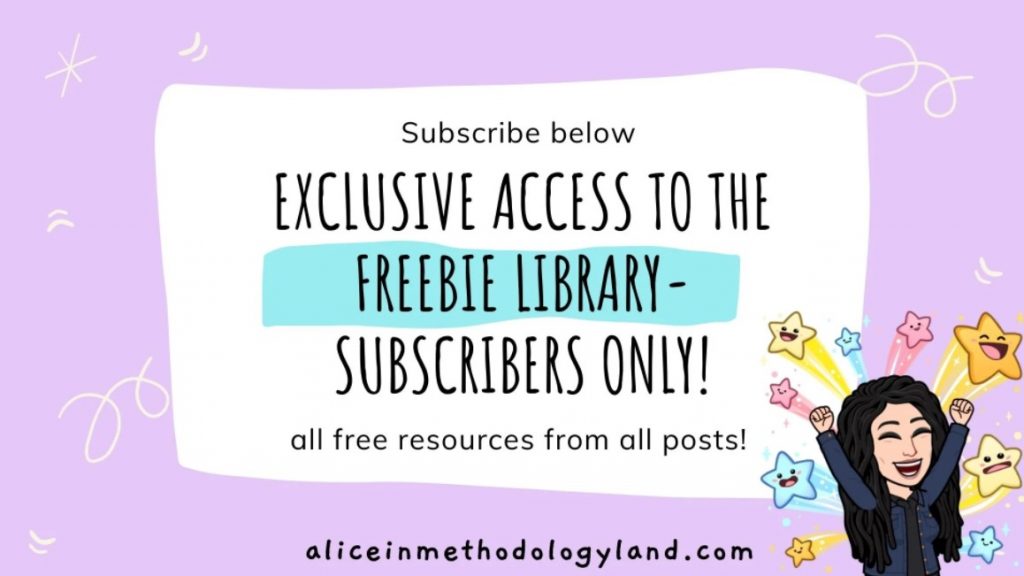 Click here to explore our materials corner where 99% of materials are forever free!
All the materials except lesson plans and 30+ page interactive activity books will be free FOREVER! Why? Because sharing is caring, and the past few years have not been kind to any of us. Please consider donating so we can keep making FREE materials for everyone.

Don't forget to leave a review when you download materials! It's just a minute of your time, and it means a lot to us.
P.S. The store and the freebie library are not the same things – the freebie library has some extra materials like conference presentations and webinar recordings which are not available in the store
The subscription link for the store is below the author's bio in every post. 
*Our articles may contain affiliate links, which is one of the ways we keep our organization functioning, and we might earn a small commission on links, at no cost to you.