Being an educator who is heavily inclined towards using meaningful EdTech in my online and offline classroom, It came very naturally for me to search for online professional development. What I didn't expect is to find plenty of quality free environmental courses for educators! I love most about the many courses listed below because they can also be taken by students and used as materials for debates, research, or projects! Also, enrolling students in the interactive online learning process can be an authentic experience. Finally, all of the courses below are research-based and created by prominent organizations or universities.
Enjoy the list and create your 365 days of environmental education professional development with these 43 courses!
These environmental courses for educators are separated based on these criteria:
Free with certificate;
With certificate – environmental content courses (free);
Free, without certificate;
Paid, affordable courses.
The best free courses that changed my whole perspective on teaching and life come from National Geographic. These courses had the perfect balance of content and teaching methods, and the educator community is truly outstanding.
National Geographic environmental courses for educators
National Geographic Conservation Courses
The following six environmental courses are about exploring conservation, and they are for everyone, not just educators. They are not connected to environmental education specifically, but they can be used in many ways. For example, If I were a high school teacher, I would use the courses and even make my students enroll and do a whole project around it. The main goal of these courses is to empower any individual to take action in any biodiversity conservation, and course number five offers practical steps on actual conservation project planning. I've only had the time to start the first course, but I can definitely say that the quality of the courses is truly outstanding.
Your journey to conservation can start with…
Courses for educators with free certificates – teaching methodology courses and skills development
To move away from National Geographic, I will share the courses I found on other websites. All of the courses on the Open University offer more reading than videos, but the quality is still great since everything is research-based.
Now that we presented the first 10 environmental courses for educators focused on teaching methodology, we can pose a question:
Is the understanding of fundamental environmental concepts important for all educators?
Before even teaching about environmental protection and issues, we must focus on learning the elementary concepts of the world around us. We do not have to be Biology or Geography teachers and study the content in detail. Still, we need to know things about our environment to understand the full impact of environmental issues. Knowledge about the world around us is crucial if we aim to awaken true environmental awareness in our students. We cannot empower the younger generations to protect something they do not cherish.
Courses for educators with free certificates – content courses:
An Introduction to Sustainable Energy – This introduction to sustainable energy presents ways of acquiring more clean energy. What is the solution: cleaner use of fossil fuels or renewable energy sources?
Can Renewable Energy Sources Power the World? – Which environmental concerns caused a rise in interest in renewable energy production? The course continues by looking at each of the main renewable energy technologies and the contributions they might make to global energy demand. The most important part of this course is that it analyzes scenarios where a combination of renewable energy resources creates enough sustainable energy. This environmental course for educators also offers a digital badge upon completion.
Biofuels – What are biofuels? Are they more sustainable than fossil fuels? How can we creat them? Do they present a future of clean energy? Join this course to find out!
Understanding Deep Geothermal Energy – What is geothermal energy? Can geothermal energy help in global energy production fast enough to stop global warming?
Energy resources: Tidal Energy Can tidal energy make any contribution to the world's energy supplies? Join this course and learn about the unexplored power of the ocean tides and the possibility to use them as energy resources.
Fishing: Can it be Sustainably Managed? – Are there any management techniques that can be applied in a quest to achieve a sustainable fishing process? What are the historical, economic, social, political, and geographical factors that shaped the UK fishing industry?
Global Water Resources – The way we use water today will determine if we will have enough water sources in the future. There are already places on Earth with water scarcity, so various decisions will have to be made if we wish to survive in the future world of rapid global climate change.
Tipping Points: Climate Change and Society – Discover how rapid changes to natural systems may make Earth look very different in the future. Usually, to get a certificate for this course you need to upgrade and pay, but this one offers a free upgrade once you finish it, which means that you can get a certificate of completion from the University of Exeter.
Social Issues and GM Crops – Finally, a course about the genetic manipulation of plants and animals. Why is the use in agriculture still one of the most controversial scientific developments? This course will take you behind the research to present the complex connections between actual science and social perceptions.
Environmental protection & sustainability courses – free, no certificate:
Affordable paid courses:
Despite this being a post dedicated to free environmental courses for educators, I still have to add some courses I liked because I believe they are worth the investment.
Project Learning Tree Courses PLT currently offers several online courses:
I haven't taken these courses since I plan to complete some free courses first. Still, the syllabuses look very good, and I'm certain they can help any teacher develop environmental awareness in their students.
Focus on learning outcomes important to today's educators
Authentic tasks and project-based learning, including modeling activities and lesson planning
Easy-to-use content focused on planning and preparation
Connections to resources such as relevant online tools, supplemental content, and local and state resources
Videos of educators modeling PLT activities and tips for how to adapt activities for your students and context
Interactive simulations demonstrating key concepts in PLT activities (available in the K-8 online workshop)
Interaction with the instructor, with clearly articulated expectations for completing the course (Taken from the website.)
Environmental Education Outcomes Online Course – Suggested donation 60$ – Participants in this course will explore different environmental education goals and methods for reaching those goals effectively. You can offer a donation to join this course, and they have other courses, which are not open at the moment. You will get a lot of interactive tasks, webinars, and a certificate. Make sure to sign up for the newsletter to get more information about their other courses.
Language Teaching for the Planet – 15$ – The course teaches English learners to talk confidently and persuasively on environmental issues to bring about change. A fellow teacher creates this course and based on the testimonials of other educators. It seems great. The structure resembles the National Geographic courses, and the level of interactivity between participants is high, which is another plus. Finally, the participants must make a lesson plan/activity, which is something I appreciate in any course.
To conclude
I sincerely hope this post with environmental courses will empower educators to develop their knowledge and skills further and make their curriculum more sustainable. Take your time, join courses that got your attention, and keep developing your practice!
Article originally published on: ELT FOOTPRINT
Do you have any sustainable goals you want to achieve in 2020 in your classroom? How about sustainable goals in your own home or community? Do you believe that these online environmental courses for educators can change your perspective on teaching? Please write in the comments. I would love to hear from you!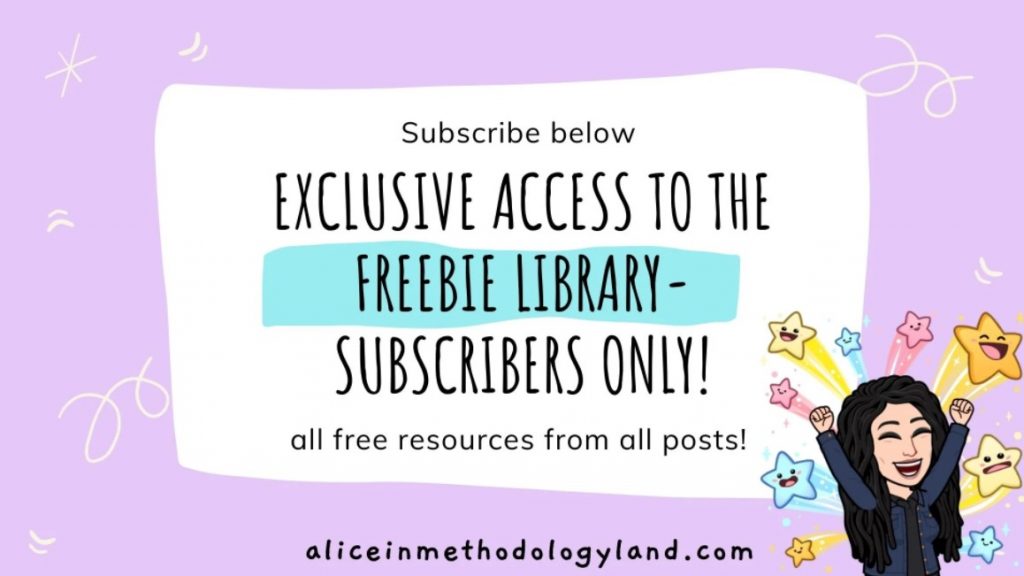 Click 

here

 to explore my store where 99% of materials are forever free!
All the materials except lesson plans and 30+ page interactive activity books will be free FOREVER! Why? Because sharing is caring, and 2020 hasn't been kind to all of us. Please consider donating so I can keep making FREE materials for everyone and keep my website open for all of you.

Don't forget to leave a review when you download materials! It's just a minute of your time, and it means a lot to me.
P.S. The store and the freebie library are not the same thing – the freebie library has some extra materials like conference presentations and webinar recordings which are not available in the store ✨
The subscription link for the store is below my bio in every post. ?