Hello, my dear colleagues! I will shortly go through the Harry Potter themed escape room and workshop I've made for a professional development workshop in International School Savremena in Belgrade. This Harry Potter escape room is interdisciplinary and it connects all school subjects, which can ultimately provide a very engaging assessment in multiple subjects.
Does an escape room belong in education? And if yes why?
I would dare to say YES! Escape rooms are exciting, and they can test multiple 21st-century skills in students, not to mention the content knowledge and logical thinking skills. Escape rooms can serve as a group assessment or even as ice-breakers at the beginning of the year. They also provide an opportunity for teachers from various subjects to collaborate and connect their subjects.
Hints for all the riddles
I had to create a Google Sites site because all the apps and websites this school uses have to be authorized and installed in their system. This actually served me well, because I used an option to create a dropdown menu for hints. When you make an escape room, it is crucial to have hints in case the participants get stuck with a task/riddle. (I completely forgot about that, so I created the hints right before the escape room.)
Three reflection posts on the Harry Potter escape room/workshop – all steps in each room
Escape room workshop with teachers
The escape room itself lasted for 2 hours, and the designing part/workshop lasted 2 hours as well. The main task the participants had was to create their own escape room, based on what you saw and using the content and knowledge of their subjects. Here are the steps of the design workshop:
Anonymously sharing feedback via Mentimeter – what the participants liked, what would they change and how would they include the subject they want to use.
Shortly presenting the steps they need to follow when they are creating their escape room.
Continuing with the classroom management strategies – I will share a few ideas and then discuss with them. Were there some steps/parts of the escape room that would cause behavior problems? How to overcome them?
Selecting a theme for their escape room. The theme can be a theme connected to a certain literature or a topic they are covering at the moment.
Putting the topics into Survey Monkey and voting on the topic. The participants should also allow students to select the topic in order to improve engagement.
Dividing the participants into groups by the subject they teach.
Every group/individual will create a task following the main theme and the content of their subject.
Brainstorming together on how to connect all the tasks into one escape room. We will use the mind map template on Padlet for this.
Finally, designing the materials – Group generators Video Scribe, Bandicam Screen recorder, QR codes, Canva for printable materials, Genial.ly for infographics and presentations, interactive videos and worksheets.
Testing the escape room again, and thinking about what can be improved and what are the 21st-century skills we managed to include.
Workshop presentation with the designing steps in Genial.ly
Padlet board – escape room brainstorming
We used a Padlet board and the pairs wrote down their ideas. We then connected them in a logical order and discussed the shift between tasks.
Workshop feedback on Mentimeter
The instructions with the signpost were indeed confusing. It was hard to set them up and I really need to work on that part. Another thing I noticed in the feedbacks is that the general opinion really depends on whether the participants were familiar with the book/movies or not. Some said that it was too easy, and some said that it is for hardcore fans. The conclusion is – select the topic carefully and make sure that it was covered in class. This was a professional development escape room for teachers, so this is a whole other story.
What do you think about using escape rooms in your classroom? Do you like this Harry Potter workshop? Can they be used as an engaging assessment? Please write in the comments, or via the contact page, I would love to hear your opinion!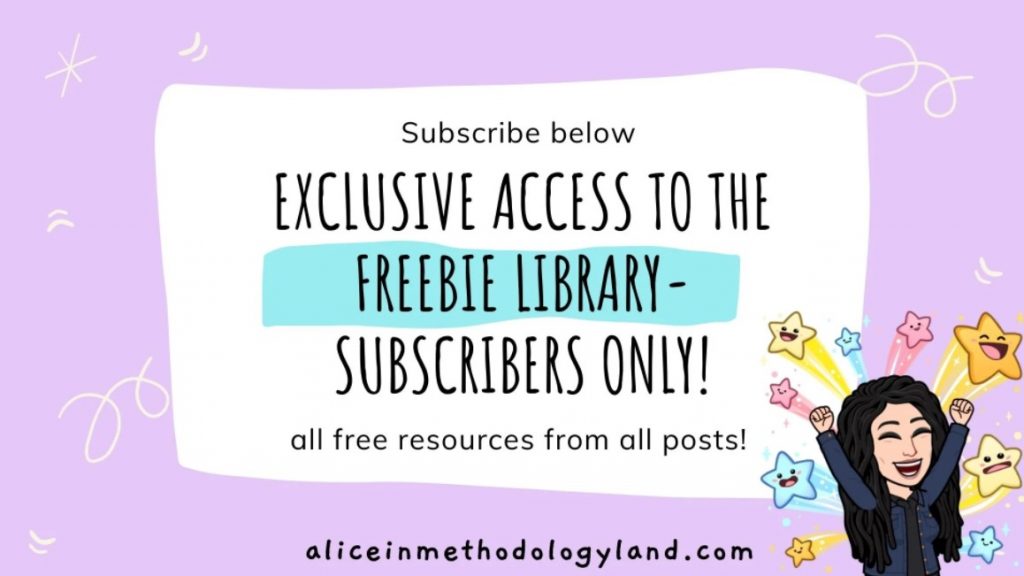 Click 

here

 to explore my store where 99% of materials are forever free!
All the materials except lesson plans and 30+ page interactive activity books will be free FOREVER! Why? Because sharing is caring, and 2020 hasn't been kind to all of us. Please consider donating so I can keep making FREE materials for everyone and keep my website open for all of you.

Don't forget to leave a review when you download materials! It's just a minute of your time and it means a lot to me.
P.S. The store and the freebie library are not the same thing – the freebie library has some extra materials like conference presentations and webinar recordings which are not available in the store ✨
The subscription link for the store is below my bio in every post. ?