Hello, my dear colleagues! In this post, I will reflect on the Edmodo & formative assessment training I conducted last week with the support from ELTA.
The first training was titled Distance Learning in 10 Steps. After the first webinar, which was lecture-based, a survey was sent to all participants to distinguish their learning gaps in using technology in education. The survey used The Cambridge English Digital Framework for Language Teachers scale to determine their digital competencies. The scale was adapted to be used by all educators, not just language teachers.
The teachers' competencies were measured in the following aspects of the digital competencies framework:
Digital teacher;
Digital classroom;
Lesson preparation/activities using digital tools;
Conducting a lesson by using digital tools;
Evaluating the learning process by using digital tools.
As a result, I have developed webinar-based workshops based on the learning gaps of the educators who filled the survey. Read the reflection of webinar number 1 by clicking on Distance Learning Webinar (ELTA Serbia) reflection: Učenje na daljinu – refleksija vebinara. For more details, read the article in the ELTA newsletter (pages 40-47). The reflection of the second webinar can be found on this link and it is titled Content Creation tools – Canva & Genial.ly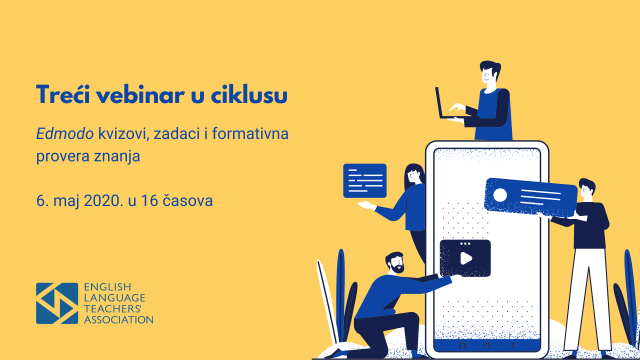 Edmodo & formative assessment webinar content
Types of assessment;
Formative assessment types;
Important aspects of assignment creation;
Grading rubrics;
Assignments we can create in Edmodo & demonstration;
Chatting with Kate Baker, senior community manager on Edmodo and a former educator;
Sharing the Edmodo certification tasks;
Q&A session.
Webinar presentation in Genial.ly
The webinar presentation is mostly in English, but a small window will pop up by clicking the speech buttons on every slide, and you can see the English translation.
We started the webinar by entering the English language level of the participants in the poll post on Edmodo. I usually use Mentimeter for this, but since the topic of this webinar was connected to Edmodo & formative assessment, I decided to use the poll feature inside of Edmodo.
General formative assessment types
We officially started our webinar by differentiating the most common types of assessment (formative, summative, diagnostic & placement tests.)
After that, I shared general types of formative assessment in groups by form/topic. They included reflection logs, presentations, goal checks, and self and peer reviews.
Important aspects of assignment creation
Before we even start an assignment, we need to complete a checklist of steps, and there are certain aspects of formative assessment we need to consider.
Consider your learning objectives & measure the outcome – SWABT (students will be able to);
Are the tasks manageable? – Can you complete them in the given amount of time?;
Articulate the task description clearly – make clear instructions that everyone could understand;
Establish clear performance criteria aka grading rubrics;
Specify the purpose of the assignment – this will motivate students to complete it since they know the purpose.
Grading rubrics
After completing the task creation checklist, we need to design a clear and concise rubric that will be used to evaluate a certain task. Some of the aspects of grading rubrics are:
Criteria: the aspects of performance that will be assessed;
Descriptors: the characteristics associated with each dimension;
Performance levels: a rating scale that identifies students' level of mastery within each criterion.
In the previous training connected to content creation, I developed the following assessment rubric used to evaluate the materials participants created:
Functionality;
Design;
Clarity of instructions.
A collection of formative assessment activities for various grades
I created a collection of ideas for formative assessment, and my initial idea was to translate them into Serbian via the Padlet comment feature so that everyone can use them. Still, we started chatting with Kate from Edmodo, and we haven't completed this activity.
Assessment assignments we can create in Edmodo
The most important part of the webinar was where we demonstrated and tested out all the features of Edmodo, which can be used for formative assessment. They include:
Assignments;
Polls;
Concept tests via the quiz function;
Group work;
Peer-feedback;
Different types of multimedia summaries (infographic, video, audio, concept map, mind map, interactive presentation, stickers.)
For detailed explanations and examples, please look at the webinar recording at the bottom of the article.
Chatting with Kate Baker, senior community manager on Edmodo and a former educator
In this webinar, we had a guest just like in the previous one. However, this time Kate Baker, senior community manager on Edmodo and a former educator, joined our session to give us advice on using Edmodo for assessment and gamification.
Additional asynchronous tasks for the official Edmodo training certificate
All the participants received the badge for attending the webinar, but there were 2 additional, optional tasks on Edmodo to get the official Edmodo professional development certificate. As an Edmodo certified trainer, I can give out official Edmodo PD certificates. There were two tasks.
The first task was to take any activity from the Padlet board with formative assessment activities and develop it on Edmodo. After that, the participants were free to choose whatever feature of Edmodo they wanted. The final task was to record this group/activity/posts/quizzes and explain what they created in a 5-minute video.
The second task was a bit simpler, and it was to make a quiz (a quiz they will use in their classroom), print it out, and submit it into an assignment, along with the explanation of how are they going to use this quiz and the description of their teaching context.
Webinar recording
To conclude & participants' feedback
The participants of this webinar were very active, and the webinar was truly amazing. Furthermore, since all of the polls and the demonstrations were done on Edmodo, the feedback was done creatively.
I posted a video to our Edmodo training group and asked the participants to write short feedback in the comment. This way of asking for feedback motivates participants to reply, and the idea came from using the Flipgrid video response feature. Here is the screenshot of the video and a screenshot of a few comments.
Featuring the webinar moderator
Like any project, hosting webinars with many educators would not be possible without the webinar moderator, which is, in this case, Kristina Grujić, a senior software engineer who was in charge of solving technical issues with the participants had and assisting in the webinar.
How do you conduct formative assessments? What are your favorite formative assessment tools and activities? Write in the comments. I would love to hear your opinion and see examples of your activities!

References:
Group and self-assessment tool (adapted from Goldfinch, 1994; Lejk & Wyvill, 2001)
​Winchester-Seeto, T. (April, 2002). Assessment of collaborative work – collaboration versus assessment. Invited paper presented at the Annual Uniserve Science Symposium, The University of Sydney
Woolf, H., 2004. "Assessment criteria: reflections on current practices." Assessment and Evaluation in Higher Education, 439–493.
Black, Paul; Wiliam, Dylan (September 2010). "Inside the Black Box: Raising Standards through Classroom Assessment". Phi Delta Kappan. 81–90.
Have you participated in conferences/workshops that shared good practice examples, just like this distance learning conference organized by Primera? If yes, did you get any new ideas? If not, do you believe that examples of good practice are equally important as presentations that share methodology? Write in the comments. I would love to hear your opinion.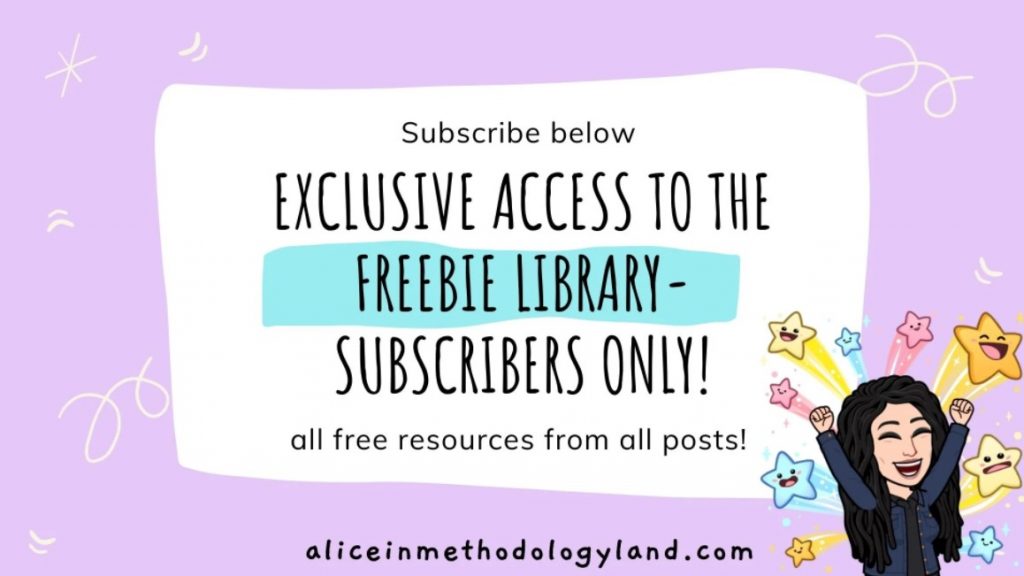 Click 

here

 to explore my store where 99% of materials are forever free!
All the materials except lesson plans and 30+ page interactive activity books will be free FOREVER! Why? Because sharing is caring, and 2020 hasn't been kind to all of us. Please consider donating so I can keep making FREE materials for everyone and keep my website open for all of you.

Don't forget to leave a review when you download materials! It's just a minute of your time, and it means a lot to me.
P.S. The store and the freebie library are not the same thing – the freebie library has some extra materials like conference presentations and webinar recordings which are not available in the store ✨
The subscription link for the store is below my bio in every post. ?