My dear colleagues, I developed training for educators titled From Distance to Blended Learning Teacher Training: Digital Competencies – Developing your Digital Instruction from Top to Bottom, with the support from Primera. The Erasmus+ program funds this training, and it is a combination of face-to-face and online learning. The training will be conducted in July and August in Slovenia and Croatia.
Here is some information about Primera, taken from their website:
We assist with psychometric assessment, the establishment of competency models, and the discovery of training needs. Over the last few years, we implemented numerous tailor-made workshops, seminars, and training that are delivered to employees, managers, HR experts, teachers, trainers, and entrepreneurs. We have received positive feedback from workshops that cover communication skills, team-building, career counseling, train-the-trainer, conflict management, change management, creativity, and entrepreneurial competencies.

Our experts frequently use individual, peer, and group coaching to support personal development and growth. One of our priorities is the sustainable development of creative thinking, basic entrepreneurial competences, and marketing skills. We help organizations to move toward the culture of innovation and exploit the full potential of social innovations.

About Primera
Teaching in 2020 requires new tools and skills from both sides, where the learning is student-centered, current, and where students are co-constructors of knowledge, while teachers are moderators and observers. To get closer to the digital natives (students born in technological growth), the educators must develop various digital competencies. To achieve that, technology has to be demystified, and teachers have to be motivated to develop their eclectic digital skillset. The program focuses on automatizing certain processes of the educational system and avoiding burnout by having time for what matters the most: teaching. Less is more, and one ring (digital tool) can rule them all. At the same time, all the technology in the world will never replace a teacher, and it can be ineffective or even negative if not used meaningfully.
This course shows how inspiring teachers can integrate digital tools and various 21st-century skills such as creativity, problem-solving, critical thinking, collaboration, communication, and, last but not least, digital literacy and digital citizenship of both students and teachers.
​
Objectives
The main goal of the course is to help teachers enhance their 21st-century skills by redefining their instruction to fit the 21st-century classroom. Distance learning is a teaching innovation, and it has multiple benefits when developed properly. The course participants will develop distance learning materials that can also be used in the blended learning classroom. A part of the instruction is happening face to face, and a part is happening online to improve efficiency.
Participants will get familiar with the fundamental concepts of distance learning and blended learning and their significance in contemporary education throughout the course. In addition, they will learn how to use various LMS (Learning Management Systems). This teacher training will create content, develop their distance and blended learning classrooms, and feel empowered to implement digital tools in their everyday instruction.
Methodology
The teachers' competencies are observed in the following aspects of the digital competencies framework (Cambridge, Digital Teacher Framework):
Digital teacher;
Digital classroom;
Lesson preparation/activities using digital tools;
Conducting a lesson by using digital tools;
Evaluating the learning process by using digital tools.
The course is designed as 23 sessions in a classroom for integrating positive psychology into a regular curriculum. The course format is didactic, experiential, and interactive, along with discussions, individual, team exercises, and content creation. The participants will create a workbook with sessions' summaries and create a network that will be used to communicate and share resources and mentor each other after the program. In addition, resources to deepen understanding and practice will be shared for further study.
Target groups
This teacher training about distance and blended learning is aimed at primary school teachers, middle school teachers, high school teachers, university professors, and IT teachers in charge of developing blended or distance learning programs at their institution. All the teachers who participate should possess a B1 level of English since the program uses many digital tools, and all the communication is in English.
Programme day-by-day
DAY 1 – 3 hours
Get-to-know-you activities:
The introductory meeting, get-to-know-you activities, discussing teaching contexts of all participants, completing surveys to understand their needs and learning gaps, explanation of practical arrangements, presentation of the timetable, information about course venue.
Introduction to Distance Learning + what is Blended Learning: The sessions will include working in teams, using survey apps, interactive discussions, creating posters and mind maps, distinguishing the use of tools and grouping them to achieve an effective digital classroom, installing and exploring digital tools, peer-instruction, presenting the posters at the end of the day.
The introductory phase will include the following topics:
What are myths about distance learning?;
What are the types of tools used in the distance learning process?;
How to avoid making mistakes and creating a broken distance learning classroom?;
LMS platforms – Edmodo, Class Dojo & Canvas;
Live lesson apps – Zoom, FreeConferenceCall & Big Blue Button;
Content creation tools – Canva, Genially & H5P;
How to motivate students in distance and blended learning instruction?;
Grouping and activities for your distance learning or blended learning classroom;
Classroom management or how not to lose your mind;
What is the difference between blended and distance learning? Why blended learning can be a very powerful instruction method in any classroom?
Coffee Q&A session with the participants;
Sharing a simple, daily individual post-workshop task.
After day 1, the participants will understand the importance of avoiding developing a broken distance learning classroom, the significance of using a proper combination of tools, motivating their students more effectively online, and comparing distance in blended learning in more detail.
DAY 2 – 4 hours
Selecting the right LMS platform for your class and developing your classroom: Participating in online and offline activities to present various levels of interactivity, exploring the aspects all LMS platforms share, developing an online classroom they can use with the students after the training. Based on this article: Setting up a Classroom or Teacher Training on an LMS (Learning Management System) – Edmodo & Class Dojo.
Focusing on Edmodo (middle school & high school), Class Dojo (primary school) & Canvas (university and course building)
The second module of the program will include the following topics:
What are the features of almost every LMS?
What should an LMS include and how to distinguish between an effective and ineffective LMS?
Create your classes;
Create small groups in your class;
Communicate only via the built-in message system;
Add parents to the students' accounts;
Create folders in the classroom library by topics/week;
Upload lesson recordings to the classroom library;
Assess your students formatively via polls, assignments, video, and audio answers;
Assess your students summatively via assignments, and quizzes
Analyze their results easily;
Add badges to students' profiles;
Post daily tasks;
Complete wellness checks;
Integrate all Google & Microsoft tools (especially Word/Google Docs and PowerPoint/Google Slides;
Conduct teacher training in the same way;
Connect with the teacher community and share ideas;
Help students install the app if they do not have the computer;
Create video tutorials on how to use the platform so that you do not have to repeat how to use the platform;
Sharing a simple, daily individual post-workshop task.
After day 2, the participants will fully understand all the functions of an LMS platform and develop a classroom that can be used both in the distance and blended learning.
DAY 3 – 4 hours
Content creation – video, worksheets, interactive presentations & games:
What is important when it comes to content creation to engage students?
What is digital aesthetics;
Canva basic tutorial & tasks – worksheet creation;
Genial.ly basic tutorial & tasks – interactive lessons, quizzes, escape rooms, and more.
PowToon explainer video creation;
Using a screen recorder to develop instructional video from an interactive presentation;
Additional presentation tools to improve engagement (spin the wheel, whiteboards, Mentimeter, Padlet, Flipgrid & Pear Deck).
Sharing a collection of useful websites with already made lesson materials and developing them with all participants;
Sharing a simple, daily individual post-workshop task.
After day 3, the participants will be able to understand the concepts and guidelines of digital esthetics, use various digital tools to create content easily, evaluate their other participants' work, and improve their students' engagement.
DAY 4 – 3 hours
Online and face to face lesson interactivity + synchronous lesson apps:
Selecting the best synchronous lesson tools with most functions;
Testing them out in the online environment;
Types of interactivity – digital tools, real-life props, engaging activities;
Sharing, developing, and demonstrating engaging activities;
Warm-up activities (beginning of the lesson, both online and face to face);
The main part of the lesson activities (both online and face to face);
Follow-up activities (end of the lesson, both online and face to face);
Demonstrating the use of flashcards, classroom props, and board games to increase interactivity.
After day 4, the participants will be able to easily use video conference tools, conduct a live online lesson, distinguish between various types of interactivity, develop interactive activities that can improve student retention seamlessly.
DAY 5 – 4 hours
Assessing your students via the integrated tools on the selected LMS platform + additional gamified ways to assess your students.
Types of assessment;
Formative assessment types;
Dos and Don'ts of formative assessment;
Important aspects of assignment creation;
Grading rubrics;
Assignments we can create in Edmodo, Class Dojo, Canvas & demonstration;
How to go from formative to summative assessment?;
Translating the formative assessment activities collection to various languages and adding new activities so that everyone can use them;
Using various easy tools to assess your students engagingly;
Q&A session.
After day 5, the participants will understand the concept of formative assessment, compare and contrast different forms of assessment, assess their students effectively, conduct engaging, innovative assessment activities, use various tools to assess their students.
DAY 6 – 6 hours, each age group has a 2 hour workshop
Special modules day: On the 6th day of the training, the participants will have a chance to work in 3 separate workshops designated to their teaching context:
Primary school & middle school;
High school;

U

niversity workshop.
In these workshops, the participants will work in pairs to develop their classroom on an LMS further, along with gamification, various subject-related resources, assessment, and more.
After the individual workshops are completed, the group will assemble in the evening to present what the other groups developed for their classrooms and how they organized distance and blended learning.
This will represent another chance to get new ideas from different teacher groups and adapt them to their teaching contexts.
After day 6, the participants will return to their classrooms fully prepared to start teaching in a distance or blended learning classroom with already organized resources and materials.
DAY 7 – 3 hours
Conclusion of the program, networking, developing summaries and instructional videos for their institutions.
Key learning points, revision of the program.
Answering all questions and solving possible issues.
Developing program summaries in groups, creating instructional videos that will help their institution implement distance and blended learning, and collecting all ideas and created content into one digital tool so that it is easily accessible by all members in the future.
Planning follow-up activities, dissemination, and implementation of learning outcomes.
Developing online training groups on an LMS platform to ensure future cooperation among participants and the sharing of good practice.
At the end of the program, the participants will be able to develop their instruction and apply innovative digital tools and activities to improve the learning process and organize professional development at their institutions and mentor other teachers.
Apply to participate in the From Distance to Blended Learning Teacher Training: Developing your Digital Instruction from top to bottom by clicking on the training title. Then, let me know what you think about the training in the comments or via the contact page.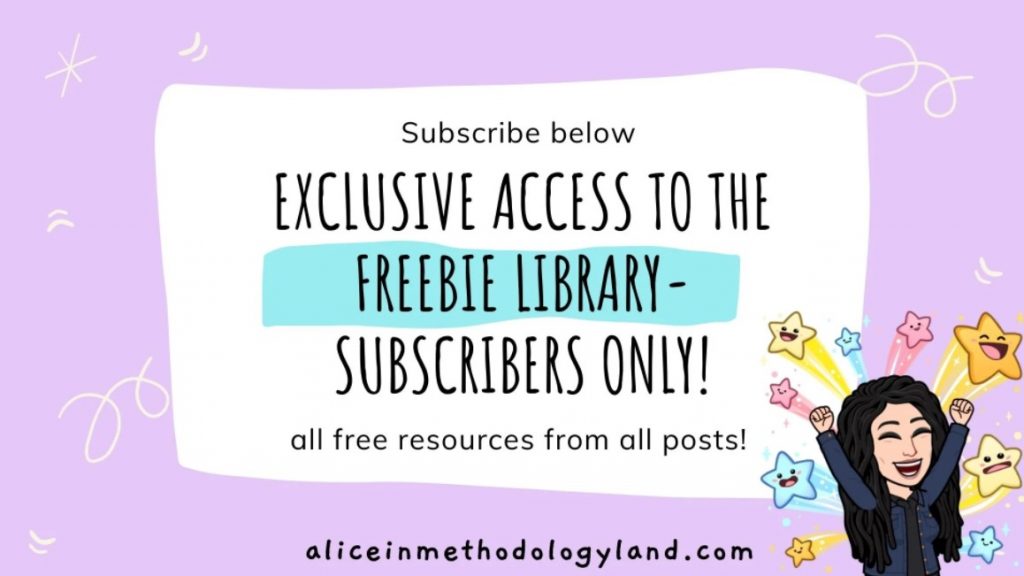 Click 

here

 to explore my store where 99% of materials are forever free!
All the materials except lesson plans and 30+ page interactive activity books will be free FOREVER! Why? Because sharing is caring, and 2020 hasn't been kind to all of us. Please consider donating so I can keep making FREE materials for everyone and keep my website open for all of you.

Don't forget to leave a review when you download materials! It's just a minute of your time, and it means a lot to me.
P.S. The store and the freebie library are not the same thing – the freebie library has some extra materials like conference presentations and webinar recordings which are not available in the store ✨
The subscription link for the store is below my bio in every post. ?