Hello, my dear colleagues! This post is a short excerpt from a Master's thesis of our dear colleague Nevena Marković and it explores the motivation behind CPD and what motivates educators to continue to develop their practice according to the latest research.
Teachers' motives for CPD
It is a universal truth that the teachers need to develop professionally and that the education system requires them to do so to some extent. However, the question arises – how much are they prepared for professional development, that is, how motivated they are to join INSET. Živković (2018) defines teacher readiness for professional development as "the temporary or permanent motivation of teachers for self-regulatory involvement in INSET and the use of scientific knowledge in terms of reflective practice." We need to understand that motivation for PD determines whether teachers will try to accomplish continuous professional development, meaning constant improvement in various areas of the profession, or attend a few seminars to acquire points.
Teaching in the 21st century
Teaching in the 21-st century differs immensely from teaching before, as it involves technology we could not utilize before. Students often know more than their teachers because they start using new tools from a young age. Teachers face an undefined bundle of information being available to their students at all times, which created the need for evolving and creating different teaching methods, approaches, and tools. Facing challenges in teaching students who require 21-st century skills requires constant improvement. Moreover, if it is organized and shared with like-minded people, progress is more likely to be achieved. States, education authorities, and schools that create systematic and structured educational forms are more likely to have better and happier teachers (Wedell, 2017, p. 16).
The specific nature of the teacher profession
Nevertheless, we must take into account the nature of the teaching profession. It is challenging to be passionate about the teaching profession after some time in practice. As Richards (vii, 2005) discusses – "maintaining the interest, creativity, and enthusiasm of experienced language teachers in their profession is one of the challenges faced by program coordinators, school principals, and teacher-educators. " This can be achieved by getting involved in activities with mutual interest, like teaching workshops. Furthermore, it is a chance for teachers to communicate with other colleagues, trade experiences, and discuss real-life teaching issues. In that way, they expand their professional network, find solutions, get meaningful or relief of confiding to a work comrade, if nothing else (Richards & Farell, 2005, p. 25).
The other side of the coin
Sometimes teachers get involved in PD, stating that they "started this research feeling that something was not right, " as said per one teaching participating in a major PD project in Chile. The insights found that teachers often need 'a tap on the shoulder' or someone to be there for them to help them improve their sense of self-worth and realize that they can influence their teaching outcomes. The same study included mentoring by master teachers, who had groups of teachers they worked with. One of the mentors (Rebolledo, final reflections) has reported that teachers have done little or nothing once she asked for their progress or felt obligated to do something. However, they were not motivated to make further progress. However, once she emphasized that she is a teacher, that they can ask anything, and even tried communicating in Spanish, she received better feedback, and teachers were more motivated (Smith, Connelly, and Rebolledo, in Hayes, 2014, p.123).
Of course, the same source shows the other side of the coin, as teachers often engage in PD because they feel obligated or pressured by the school, colleagues, authorities, and other entities. As previously explained, this results in poor performance and lack of motivation for improvement or teaching in general. Therefore, it poses a need for questioning the nature of EL teachers' motives for engaging in PD.
Research aims
General Aim: The primary aim of this study was to investigate the level of readiness of English language teachers for continuing professional development (CPD) and the attitudes of teachers in terms of different aspects of professional development (PD).
Specific Aims: The study aimed to investigate if English language teachers have intrinsic motives for CPD or engage in PD activities only because it is compulsory. Moreover, the study aimed to examine if the teachers have some suggestions for improving the PD process.
To be continued
The next few posts will disseminate Nevena's research results into smaller sections, and we will explore her conclusions and the implications of her conclusions on teaching practice and CPD.
About the researcher
Nevena Marković is a primary school teacher with a Bachelor's and a Master's degree in primary education. Her minor is in TEYL, and her special area of interest in research is the motivation for teaching and learning. Nevena excells in anything related to EdTech, and she has been teaching English online for a few years now. She is also the system administrator for Alice in Methodologyland, and a co-owner of a website hosting company, Servikus.
Literature
Živković, P. (2018). Pedeutološki ogledi. Fakultet pedagoških nauka Univerziteta u Kragujevcu, Jagodina.
Wedell, M. (2017). Teacher education planning handbook working together to support teachers continuing professional development. British Council.
Richards, J. C., & Farrell, T. S. C. (2005). Professional development for language teachers: Strategies for teacher learning. Ernst Klett Sprachen
Hayes, D. (Ed.). (2014). Innovations in the continuing professional development of English language teachers. British Council.
How do you approach professional development as an English teacher? Feel free to share your experience or opinion when it comes to teacher motivation for CPD in the comments, or via the contact page!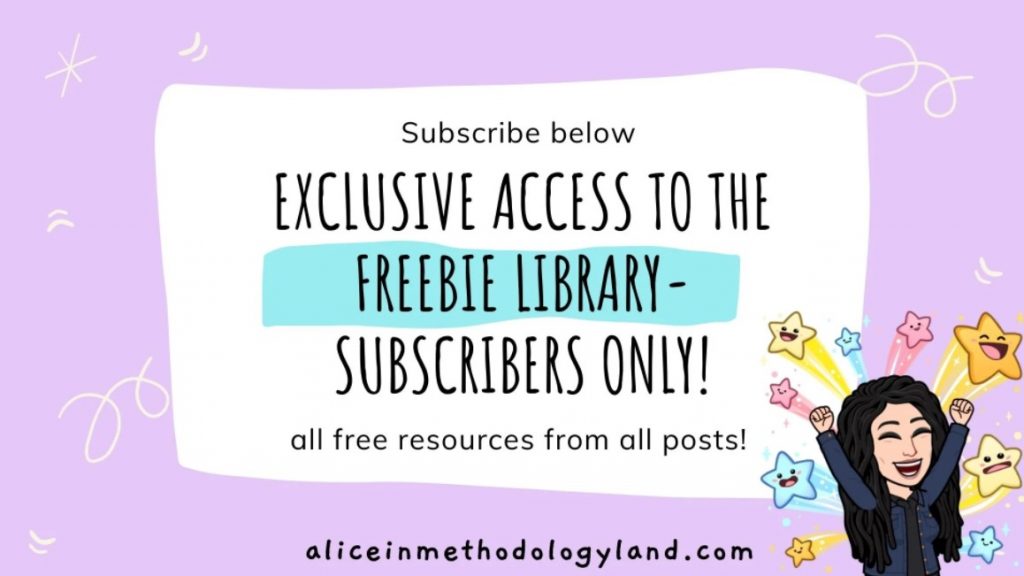 Click here to explore our materials website where 100% of materials are forever free!
All the materials except lesson plans and 30+ page interactive activity books will be free FOREVER! Why? Because sharing is caring, and 2020 hasn't been kind to all of us.
Don't forget to leave a review when you download materials! It's just a minute of your time, and it means a lot to us.
P.S. The store and the freebie library are not the same thing – the freebie library has some extra materials like conference presentations and webinar recordings which are not available in the store
The subscription link for the store is below our bios in every post.