The idea of online professional development for teachers has been lingering in the world of education for quite some time. However, despite that, a lot of teachers seem to avoid it in my country.
What is the reason behind that? Read on for some advice and links to current online professional development for teachers
I need to start this post by being completely honest. I am not pleased with the quality of professional development in my country and the educational system in general. This is probably the most important reason why I searched for online professional development opportunities.
My professional development started when I enrolled in my master's studies. I also completed a whole additional module with 7 courses connected to English teaching methodology. This made me the only preschool teacher in Serbia who can teach English in elementary schools as well. I did all that because I felt that there is so much more to learn! The official university program was somehow not enough for me.
Everyone is different, and every teacher has to develop a PD plan that fits their schedule and preferences. You can use the tools on the British Council to determine your areas of improvement. You can also use the Cambridge Framework for Teacher Development. They will both help you understand what your next steps should be.
For example, as a teacher, my professional development plan consists of:
Attending conferences as a participant (live and online);
Attending webinars as a participant;
Keeping up with current research;
Running my blog with academic articles, opinion articles, and lesson materials as a form of teaching portfolio;
Volunteering in the educational sector offline and online! I am currently an online session facilitator in Granny Cloud. I also organize eco workshops in a local high school through an ecological NGO;
Conducting research;
Attending conferences as a presenter and workshop facilitator;
Being a part of teachers groups on Facebook and discussing daily matters;
Reading, reading, reading and
Reflecting, reflecting, reflecting.
Maya Angelou once said: "I am not a writer who teaches, I am a teacher who writes." This same idea gives me the energy to write, and this probably impacts my practice the most.
My professional development plan may sound complex, but I really love my profession. I especially enjoy the academic side of teaching. When you break these activities into bite-sized learning activities, you will not even feel that you spent time doing them. If you are interested in developing teacher autonomy and struggle with reflection, I suggest that you read articles written by B. Kumaradivelu. Post-method pedagogy will give you some insight on how to develop as a reflective practitioner.
Free online professional development for teachers was a lifesaver for me, and it is a brilliant idea because:
You can often complete the PD course or watch a webinar in your free time. You do not have to be physically present in a building.
Completing your PD in pajamas while eating ice cream is possible! Professional development doesn't have to be dull.
Teachers already spend a lot of money on their university education and supplies, so why shouldn't they continue to learn for free?
Free certificates from credible organizations empower you to keep developing and improve your practice.
Connecting with educators from other countries and exchanging examples of great practice online is amazing! It ultimately leads to opening up your classroom to the world. Isn't that one of the core ideas of educational development and progress?
EDUCATION SHOULD BE FREE. For everyone. Everywhere.
When it comes to selecting professional development opportunities for teachers online, there are several aspects that impact my decision:
The presenters need to have a certain qualification (B.Ed or an equivalent degree minimum). You may think that I am asking a lot from free professional development. That may be true, but I am not interested in attending presentations from only practitioners with experience. This often happens in seminars in my country! Experienced teachers conduct workshops with topics that are basic, not innovative, and based solely on their personal experience. Education is constantly evolving! Presenting any experience without the educational theory to support it does not promote innovation and progress. I want to attend a research-based presentation. It is really important for me to see how the theory is applied in practice.
A free certificate is also important because when it comes to your CV, formal confirmation of your development is needed. Unfortunately, we live in a time where if things are not written on paper with a signature, they are not taken seriously.
Above all, webinars or courses should also offer academic references or recommendations for further reading.
Search for PD given by credible organizations – the internet is vast. That is to say. You may lose your time or get disappointed because of bad content.
Environmental education is my passion, and my current favorite free courses are from National Geographic. They offer a free certificate, the content is amazing, and you can even purchase university credit later. The community is big, and all the courses are moderated. The interaction level is amazing since you have to submit your lesson plans. You even need to teach a lesson to become a National Geographic Certified Educator.
In conclusion, I want to say that I am not interested in earning CPD credit. My primary goal is learning and showcasing my efforts. If you are looking for a free course, you will have to check with every website if they offer such credits.
References:
B. Kumaradivelu, (1994) The postmethod condition: (E)merging strategies for second/foreign language teaching. TESOL Quarterly 28:1:27-48
B. Kumaradivelu, (2001) Toward a postmethod pedagogy. TESOL Quarterly. 35:4:537-560 
B. Kumaradivelu (2003) A postmethod perspective on English language Teaching. World Englishes. 22:4:539-550.
What is your opinion of online professional development?
Have you had positive or negative experiences with it? How do you motivate yourself to develop professionally? Write in the comments or via the contact page. I would love to hear your opinion!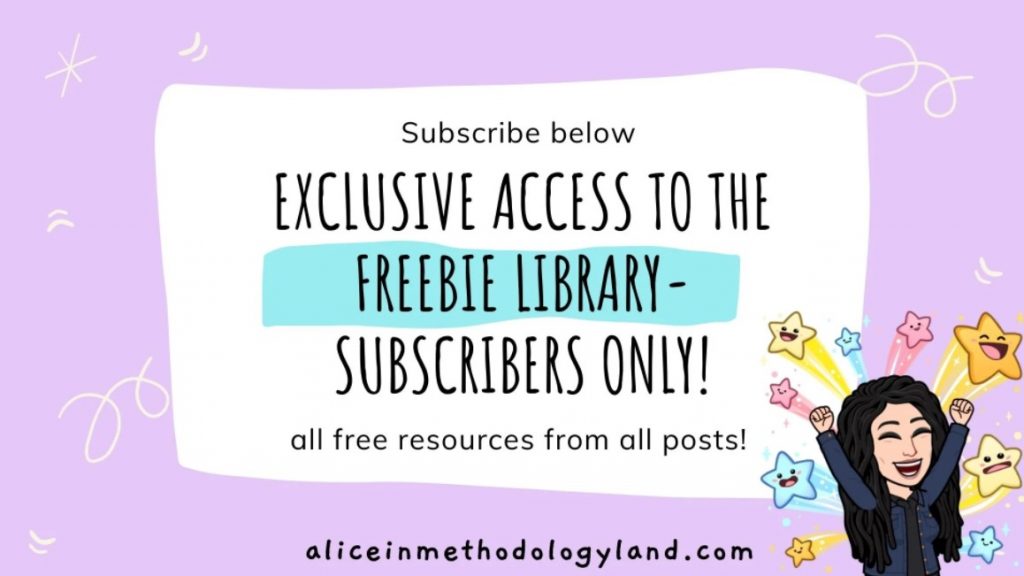 Click here to explore my store where 99% of materials are forever free!
All the materials except lesson plans and 30+ page interactive activity books will be free FOREVER! Why? Because sharing is caring, and 2020 hasn't been kind to all of us. Please consider donating so I can keep making FREE materials for everyone and keep my website open for all of you.

Don't forget to leave a review when you download materials! It's just a minute of your time, and it means a lot to me.
P.S. The store and the freebie library are not the same thing – the freebie library has some extra materials like conference presentations and webinar recordings which are not available in the store ✨
The subscription link for the store is below my bio in every post. ?