Hello, my dear colleagues! A couple of weeks ago, I presented at a distance learning conference organized by Primera that focused on sharing examples of good practice. The main part of my presentation was related to showcasing the proper steps for conducting an effective formative assessment. Here is what they say at Primera about the objectives of their conference:
Many teachers made distance teaching effective. Our role as the Erasmus+ courses provider is to make them visible. At Primera, we have decided to take the initiative and organize a Pan-European Zoom conference to enable teachers across Europe to share their best practices in distance learning with their colleagues.

2nd Pan-European Conference on Distance Teaching: Learning from Best Practice
Take a look at the full conference reflection on this post:
Formative Assessment Dos and Don'ts
Formative assessment is often hard for many educators because it represents a lot of uncertainty and vague grading. However, educators don't think that formative assessment can be as specific as a summative assessment and that you can actually create a summative grade by combining multiple formative assessments.
To start your formative assessment journey, take a lot of the Dos, Don'ts, and examples of good practice I shared in my conference presentation.
Dos
Steps of effective formative assessment include many things, but we will list a few of the easy ones you can apply in your classroom tomorrow!
Grading rubrics
After completing the task creation checklist, we need to design a clear and concise rubric that will be used to evaluate a certain task. Some of the aspects of grading rubrics are:
Criteria: the aspects of performance that will be assessed;
Descriptors: the characteristics associated with each dimension;
Performance levels: a rating scale that identifies students' level of mastery within each criterion.
In the previous training connected to content creation, I developed the following assessment rubric used to evaluate the materials participants created:
Functionality;
Design;
Clarity of instructions.
Small chunks
Are the tasks manageable? – Can you complete them in the given amount of time? Make sure to separate the content into small chunks so that your students are not overwhelmed. Take care of the time you gave the students to complete a certain task and keep your tasks clear and concise.
Student portfolios
Collect student's results in private student portfolios on Edmodo by creating small groups in the classroom (have your students participate and fill the portfolio for you).
They should add screenshots in their private portfolios every time they comment and share their documents and video recordings from the main classroom. This way, the students will fill their own portfolios, and their creations and assignments won't get lost in the classroom + you don't have to take care of the assignment and file collection.
How to make student portfolios on Edmodo and differentiate the instruction?
Take a look at this short instructional video below, which will guide you through individual student portfolio creation on Edmodo and explain how you can easily differentiate your instruction using student portfolios. Student portfolios are one of the most important steps in building quality formative assessment in your classroom.
Low stake tests and quizzes
An example of a low stake test – a test with only a few crucial questions that should be completed during the lesson. This ensures that the students have a basic understanding of the learned concepts.
Low-stake tests are not graded, and they are not stressful to students.
When you collect many low-stake tests, you can analyze them and create a final, summative grade. For example, you can see a low-stake quiz with 3 questions and 5 minutes to complete in the picture below.
Don'ts
Testing out the activity
Don't forget to test the activity before you give it to students. The best thing to do is to actually share your test with someone who is not a teacher. If this person can understand everything, this means your questions are developed properly. Leave the rest for a few days and come back to it – you will notice mistakes more easily.
Don't avoid group work
Some teachers are terrified of PBL (Project-based Learning) because they are not certain how to evaluate group work. However, group work promotes various 21st-century skills, and your students can learn and remember concepts more effectively. To grade group work, you must be a moderator – follow the process while students are working, and use this simple grading rubric presented by Cornel University:
Level of completeness:
Beginning – Does not meet expectations;
Progressing – Does not fully meet expectations;
Competent – Meets expectations;
Advanced – Exceeds expectations.
Skills and content present:
Contributions, attitude;
Cooperation with others;
Focus, commitment;
Team role fulfillment;
Ability to communicate;
Correctness.
Don't forget the SWABT
SWABT or Students Will Be Able To are the assessment objectives. After creating an assessment task, go back and see if this task fits the SWABT you set in the first place. Sometimes teachers assess aspects that were not the class objective (which is normal because we are also humans), so make sure to avoid that mistake.
Examples of good practice of formative assessment + steps
Edmodo polls:
(The question says: Rate your knowledge of the English language.)
An example of looking for feedback after teacher training:
Post a video and request a text, video, or audio answer
Post a video and request a text, video, or audio answer. Encourage students to record videos on Snapchat and use interesting filters while summarizing or answering a task! Here is a screenshot of an example of a video question on which students need to comment.
Include multimedia
Edmodo assignments can include anything – from submitting video, audio, photo, document & links to writing an essay.
Use the assignment feature in combination with another tool
Be creative and use the assignment feature in combination with some of the activities created on Padlet, and you will develop an effective & engaging formative assessment activity! :) In the activity presented below, the participants in my training had to record and submit a video explaining how they use Edmodo for formative assessment.
Formative assessment activity collection on Padlet
Explore the padlet below for more formative assessment activities. These activities can be adapted to be used online and offline with children, teenagers, and adults!
Spanish translation of the formative assessment activity collection
Marta Torreiro, a colleague, translated all the 30 formative assessment activities from the Padlet to Spanish to share the activities with subject teachers in Spain who do not teach English. This is truly an amazing gesture, and I want to say THANK YOU publicly!
Have you participated in conferences/workshops which shared examples of good practice connected to formative assessment? If yes, did you get any new ideas? What are some steps you follow to achieve effective formative assessment? Write in the comments or via the contact page. I would love to hear your opinion.
References:
Group and self-assessment tool (adapted from Goldfinch, 1994; Lejk & Wyvill, 2001)
​Winchester-Seeto, T. (April, 2002). Assessment of collaborative work – collaboration versus assessment. Invited paper presented at the Annual Uniserve Science Symposium, The University of Sydney
Woolf, H., 2004. "Assessment criteria: reflections on current practices." Assessment and Evaluation in Higher Education, 439–493.
Black, Paul; Wiliam, Dylan (September 2010). "Inside the Black Box: Raising Standards through Classroom Assessment". Phi Delta Kappan. 81–90.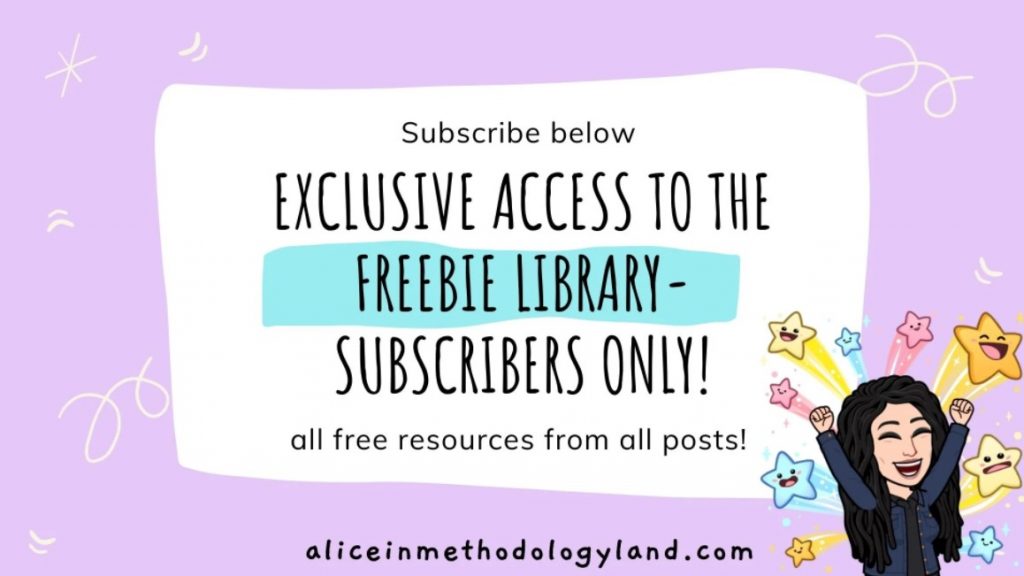 Click 

here

 to explore my store where 99% of materials are forever free!
All the materials except lesson plans and 30+ page interactive activity books will be free FOREVER! Why? Because sharing is caring, and 2020 hasn't been kind to all of us. Please consider donating so I can keep making FREE materials for everyone and keep my website open for all of you.

Don't forget to leave a review when you download materials! It's just a minute of your time, and it means a lot to me.
P.S. The store and the freebie library are not the same thing – the freebie library has some extra materials like conference presentations and webinar recordings which are not available in the store ✨
The subscription link for the store is below my bio in every post. ?