Hello, my dear colleagues! This post will summarize my reflections after teaching six public webinar-based lessons for children on Preply (group lessons for young learners with 60+ children in one session). I was proud to be one of the few tutors selected to do these webinars among 4000+ tutors teaching English on Preply. The lessons were free for the children, but the tutors were paid, even though we all applied to teach for free, as volunteers. Preply decided to pay for the lessons, probably as a reward for our desire to give back to children who need learning opportunities.
In this post, I will discuss:
The topics of the webinars;
The difference between regular group lessons and webinar-based lessons;
Teaching methods and activities used in the webinars
How to further improve the materials/books you have to use aka. things you can do to spice up your plain textbooks;
Webinar recordings.
The topics of the group lessons for young learners
The topics of the lessons were easily relatable to the children aged 8 to 10, and they were designed to be general so that children from different countries wouldn't feel any difference because of their location.
All the lessons were recorded automatically on Zoom, and all of the lessons started with the Let's talk intro:
Weather – what is it like outside?
Unusual homes – where do you live?
Disney – what is your favorite movie?
Daily routines – what are you doing every day?
Holidays – how do you celebrate?
Talk about the world!
Sadly, the lesson recording of the Let's talk unusual homes – where do you live? Unfortunately, the lesson failed to save, so I do not have a recording of the lesson, which is a shame because we had a great lesson!
Difference between regular group lessons and webinar-based lessons
The main differences between group lessons and webinar-based lessons are the number of participants and the way of communicating.
In group lessons, you can have up to 20 people, and they need to be really patient and respect other students while they speak.
When it comes to webinars, you can have from 20+ to an infinite number of participants present. But, unfortunately, you have to communicate with the students via messages in the webinar-based lessons, and they cannot talk.
The only way for the students to talk in webinars is to separate them into the breakout rooms on Zoom. In the breakout rooms on Zoom, the children can talk to each other in small groups, they will not hear the other groups, and you can switch from group to group.
Teaching methods and activities used in the webinars
The main teaching method in the webinars is the communicative method, and the skills the children worked on were listening, reading, and writing, while speaking was not possible since I had from 50 to 100 children in the lessons.
The activities we did were:
Listening comprehension;
Reading comprehension;
Prediction;
Filing the gaps;
Connecting the photos with their names;
Unscrambling words;
Discussion about various topics;
Critical thinking questions;
Creative thinking questions;
Fun activities for homework they can complete with their parents.
How to further improve the materials/books you have to use aka. things you can do to spice up your plain textbooks
Small whiteboard
A small whiteboard is a must if you want to engage children. They will eagerly wait to see what you wrote and compare it t their answers in the chatbox. Of course, you can use it for games and assessments as well.
Flashcards connected to the topics
I used plenty of my laminated flashcards when we did the weather, seasons, house and furniture, and daily activities. Don't forget to use flashcards because they are a great supplement to your online lessons. You do not have to laminate them or even print them. You can collect photos from magazines and newspapers – this is what I do, but I decided to laminate them to last longer. Newspapers rip so easily, and it's a shame when a good photo/flashcard gets ruined.
Let's talk weather and seasons – what is it like outside?
Classroom rituals develop a sense of routine and establish a connection between the child and the preschool. They also develop the teacher-child relationship, children's emotional intelligence, and prepare children for enrolling in elementary school.

Preschool – Daily and Weekly Rituals And Activities In Our Classroom
We started the webinar with a daily calendar ritual to review dates, numbers, weather, day of the week, and seasons. These concepts are sometimes tough for the children to learn, so it takes a lot of word recycling and reviewing daily. However, they enjoyed the calendar very much, and they were competing who will answer my questions first. I made this calendar out of a giant pizza box, so go wild and craft a calendar of your own from recyclable materials!
Interactive map
In the lesson Let's talk about the world, I used an interactive map to explore the children's lives. As in the lessons before this one, I also had the lesson presentation Preply provided, but I supplemented it with a real map. The children asked Where is the calendar?! and they were sad to find out that we will not use the calendar that day.
The children loved this lesson because they could relate to it, and they were ecstatic when I read their names and pointed to the countries they come from on the map.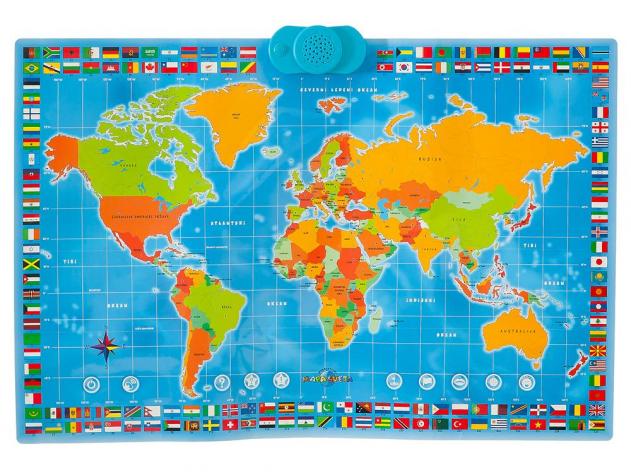 Crowd reaction sound app (Android)
The crowd reaction sound app was a great idea, and the children really loved it. I forgot to use it in one lesson, and the children kept asking, Where are our applauses?!
I installed this app because I wanted a faster way to praise the children for guessing the answers quickly without constantly typing in the chatbox. When they gave correct answers fast, I played the clapping and cheering sound effects and read their names and answers, and they liked it a lot.
Read students' names and their answers to build their confidence
Finally, if you teach a webinar-based lesson, do not forget to build students' confidence by frequently reading their answers, names and by praising them. They cannot talk, so if you do not read their names, they may think you ignore them or miss their messages in the chat.
Lesson recordings
You will not see the chat and the messages children wrote because Zoom does not record that. I believe that it is better that way since it also protects their privacy. You will hear me read out their answers only.
Let's weather and seasons – What is it like outside?
Let's daily routines – What are you doing every day?
Let's talk Disney – What are your favorite movies?
Let's talk about the world
Let's talk holidays – How do you celebrate?
Have you ever taught webinar-based lessons or held professional development webinars? What are your experiences with group lessons with young learners? How did you keep the large audience engaged? Please write in the comments or via the contact page. I would love to hear your opinion!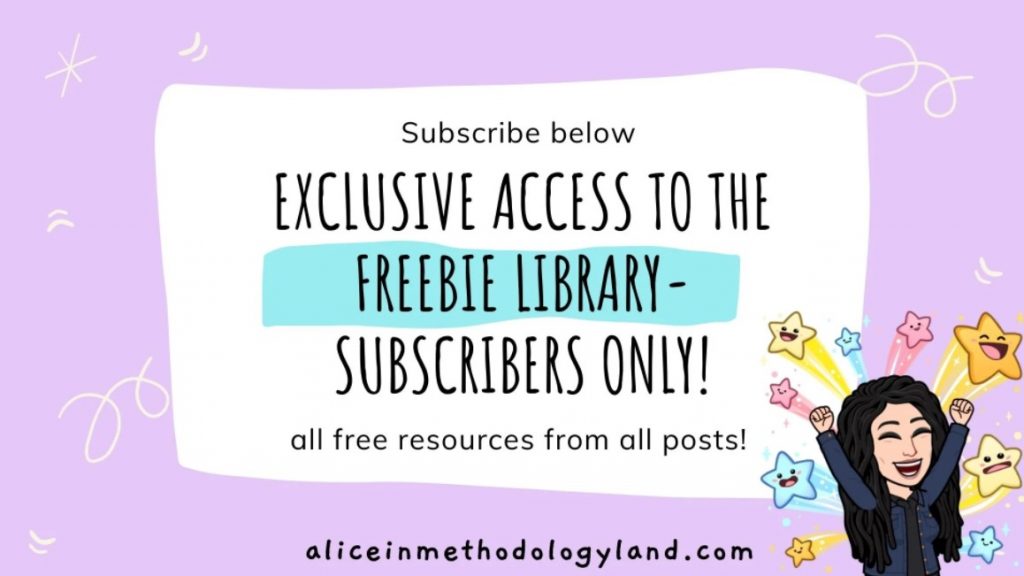 Click 

here

 to explore my store where 99% of materials are forever free!
All the materials except lesson plans and 30+ page interactive activity books will be free FOREVER! Why? Because sharing is caring, and 2020 hasn't been kind to all of us. Please consider donating so I can keep making FREE materials for everyone and keep my website open for all of you.

Don't forget to leave a review when you download materials! It's just a minute of your time, and it means a lot to me.
P.S. The store and the freebie library are not the same thing – the freebie library has some extra materials like conference presentations and webinar recordings which are not available in the store ✨
The subscription link for the store is below my bio in every post. ?